In this article, we will explore some of the best children's books on gratitude. I've included a variety of books about being thankful for different age ranges, including toddlers, preschoolers and elementary age students.
I'm sure you've heard from many influential leaders that happiness only comes when we learn to be grateful for what we already have. Learning gratitude is one lesson that we all need to remind ourselves about but how do we go about teaching this to our children?
Gratitude journals, prayer, and learning to serve others are all wonderful ways of exercising gratitude but sometimes we need a little extra help with a visual story to solidify this abstract concept for our young children. That's where children's books about gratitude come into play!
As a teacher and homeschool parent, I've come across numerous studies that highlight the significant importance of reading books to children.
I would add the importance of reading books that develop social emotional skills. Parents reading to their children will set them up for success not only academically but also emotionally.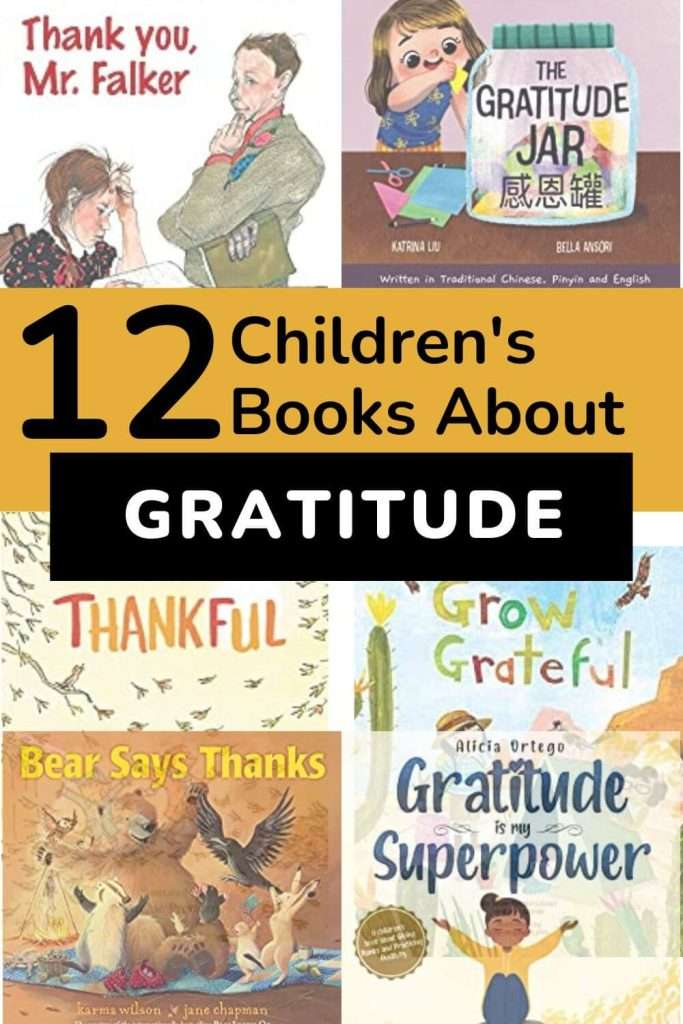 Why not throw in books that teach about gratitude into our collection of read alouds to ensure we are equipping our children with this important social emotional skill?
Whether you are a teacher or a parent, this article will provide you with valuable gratitude books for kids to help inspire gratitude and appreciation in the children in your life.
As an Amazon Associate, I earn from qualifying purchases. Some of the links in this post are affiliate links, which means if you click on the link and make a purchase, I may earn a commission. This commission comes at no additional cost to you and is how I am able to create more amazing content for you. Thank you for your support!
Gratitude Books for Toddlers
Toddlers are full of wonder and curiosity about the world around them, and teaching them about gratitude at an early age can help them develop a positive and appreciative mindset.
In this section, we will explore some of the best books about gratitude for toddlers. These fun gratitude read alouds are simple, colorful, and engaging, with easy-to-understand concepts that are perfect for little ones.
"Thank You, Bees" by Toni Yuly is a simple picture book that teaches preschoolers about the importance of being grateful for the gifts of nature. This story explores the outdoors and encounters various creatures, including bees, butterflies, and birds and explains what each element in nature gives us. The book expresses gratitude for each element in nature by saying "Thank you" for their contributions to the world. The book's bright and colorful illustrations are perfect for engaging young children, and the simple, repetitive text makes it easy for them to follow along. Through this book, preschoolers will learn to appreciate the wonders of nature and develop a sense of gratitude for the world around them.
"Bear Says Thanks" by Karma Wilson is a heartwarming picture book that teaches preschoolers the value of gratitude and friendship. In the story, Bear decides to throw a feast for his friends, but he has nothing to offer them. Each of his animal friends brings a dish to share, and Bear is overcome with gratitude for their kindness. The book's rhyming text and charming illustrations make it a great choice for young children. The message of sharing and thankfulness is presented in a fun and accessible way to young minds. "Bear Says Thanks" is an excellent tool for parents to teach preschoolers the importance of expressing gratitude and being thankful for the people in their lives.
"Thankful" by Eileen Spinelli is another great picture book about gratitude that is appropriate for preschoolers. The book encourages young children to reflect on the things they are thankful for in their daily lives, such as family, friends, pets, and nature. The colorful illustrations and simple text make it easy for preschoolers to understand and engage with the message of the book. Through "Thankful," parents can help their preschoolers cultivate a sense of gratitude and appreciation for the small blessings in their lives.
Gratitude Books for Preschoolers
Preschoolers are never too young to learn about gratitude and its positive impact on their lives. Teaching and explaining thankfulness to preschoolers at a young age can help them develop a positive mindset and increase their overall happiness.
In this section, we will explore some of the best books about gratitude for preschoolers. These fun read alouds about gratitude are colorful, fun, and offer simple lessons about being thankful for the good things in life. Whether you're a parent, caregiver, or teacher, these books are perfect for introducing young children to the concept of gratitude.
"Gratitude Jar" by Katrina Liu is a heartwarming story about a young girl named Sophia who discovers the power of gratitude with the help of her mom. Sophia is feeling down and frustrated because she wishes she had what her friends from school have. This causes her to struggle to see the good things in her own life. Her mother suggests that she start a gratitude jar, where she can write down things that she is thankful for each day. As Sophia starts to write down her blessings, she realizes that there is always something to be grateful for. The book encourages children to cultivate a habit of gratitude and reminds them of the power of positivity.
"Gracias Thanks" by Pat Mora is a book that explores the theme of gratitude from a multicultural perspective. Through the story, preschoolers will learn about how a little boy shows his gratitude for the simple things he appreciates in his life. This Gracias Thanks book is an excellent resource for parents who want to teach their preschoolers about diversity, respect, and the importance of expressing gratitude in everyday life.
"The Thankful Book" by Todd Parr is a book that teaches children to be grateful for the little things in life that they may take for granted, such as their family, their toys, and their favorite foods. The book's simple and straightforward text is easy for preschoolers to understand and relate to. "The Thankful Book" encourages preschoolers to think about the positive things in their lives and to express gratitude for them. This helps children to develop a positive outlook on life and fosters a sense of appreciation for the good things they have.
Books About Gratitude for Elementary Students
Elementary school is a critical time for teaching gratitude to elementary students. Developing a grateful mindset can positively impact their mental health and relationships with others.
In this section, we will explore some of the best gratitude books for elementary students. These books are engaging, age-appropriate, and offer valuable lessons about appreciating the good in life. Whether you're a teacher or parent, these books are a great resource for teaching children about gratitude.
"Grow Grateful" by Sage Foster-Lasser is a heartwarming story about a young girl who is nervous about her upcoming school camping trip. The girl is apprehensive about various activities such as tall climbs and hikes, as well as being separated from her friends. However, throughout the trip, she learns about gratitude through the kind acts of her peers and teacher. As she begins to appreciate the people and experiences around her, she learns how to cultivate a mindset of gratitude and appreciation. This is a wonderful book for young readers to learn about the importance of being thankful and appreciative.
Throughout the book, Emma learns about the importance of being thankful for even the small things in life, such as a warm hug or a sunny day. She realizes that by focusing on what she has rather than what she doesn't have, she can cultivate a more positive outlook on life. As Emma practices gratitude, she begins to feel happier, more confident, and more resilient.
One of the strengths of "Gratitude Is My Superpower" is its engaging and relatable storytelling. Children can easily relate to Emma and her experiences, making it easier for them to understand the importance of gratitude. The book also features colorful and playful illustrations that help bring the story to life.
"A Little Thankful Spot" is a children's book written and illustrated by Diane Alber. The book teaches children about the power of gratitude and how it can positively impact their lives. The story follows a little boy named Max who discovers a "thankful spot" on his body – a special place where he can focus on feeling grateful.
Throughout the book, Max learns about the importance of being thankful for the people and things in his life, such as his family, friends, and even his favorite toys. He discovers that by focusing on the good things in his life, he can cultivate a more positive and joyful attitude.
Books About Gratitude for Upper Elementary Students
As children enter upper elementary school, they are ready to delve deeper into the concept of gratitude and how it can impact their lives. At this age, they may be facing more complex challenges and struggles, making it even more important to focus on gratitude and the positive aspects of life.
In this section, we will explore some of the best gratitude books for upper elementary students to help them understand and practice gratitude. These picture books about gratitude are engaging and thought-provoking, encouraging children to reflect on their own lives and develop a more grateful mindset.
"The Secret of Saying Thanks" by Douglas Wood is a beautiful and inspiring picture book that is perfect for teaching elementary age students about being grateful. The book talks about discovering gratitude like discovering a secret. It explores the possible ways the reader may discover the secret of gratitude through the wonders of the natural world, encouraging readers to appreciate the beauty and abundance that surrounds them. The book's lyrical language and vivid illustrations capture the imagination of young readers, helping them to connect with the message of gratitude on a deeper and meaningful level. Through "The Secret of Saying Thanks," elementary age students will learn that expressing gratitude is a way to connect with others, and that being thankful can bring joy and contentment to their lives.
"Thank You, Mr. Falker" by Patricia Polacco is a powerful and heartwarming picture book that is perfect for teaching elementary age students about being grateful for the people who care. The book tells the story of a young girl named Trisha who struggles with reading and is mocked by her classmates. Trisha's life changes when she meets Mr. Falker, a kind and patient teacher who helps her learn to read. Through Mr. Falker's guidance and support, Trisha discovers a love for books and reading, and gains a newfound appreciation for the value of education.
The book's inspiring message about the power of kindness, empathy, and perseverance is a valuable lesson for elementary age students. It teaches them to appreciate the people who make a positive impact in their lives, and to be grateful for the opportunities and support they receive.
"Last Stop on Market Street" is a book about a boy named CJ who learned about gratitude as he rode the bus with his Nana. On the bus, Nana was a good example of showing kindness in simple ways to the other people on the bus. CJ wondered why they had to ride the bus instead of having their own car. Nana teaches CJ to be grateful that they get to meet all of the people on the bus and experience things they wouldn't if they had driven their own car. From his Nana's example, CJ learns important lessons about finding and appreciating kindness and beauty around him as they travel through the town.
Conclusion: 12 Must Read Children's Books on Gratitude
Teaching children about gratitude is an essential part of their social-emotional development. While there are many ways to cultivate gratitude in children, reading books about gratitude for kids can be a very effective tool. By using these thankful books as a resource, you can help children understand the value of gratitude and develop a more positive outlook on life. 
What's Next?
Keep the reading fun going with these other exciting social emotional books to teach your children very important skills!
Read Next: 15 Must-Read Books about KINDNESS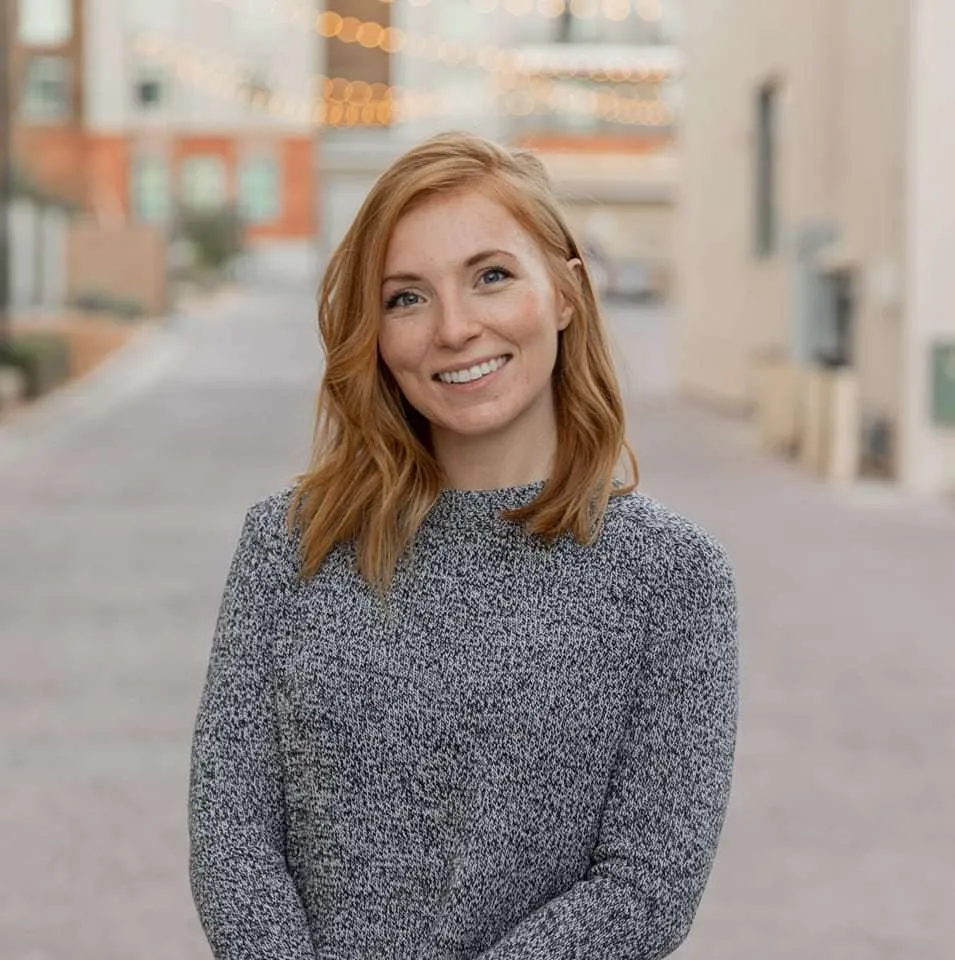 Hi, I'm Tori! I'm the founder of homeschoolnewbie.com. I'm a former elementary school teacher turned homeschool mama who has a passion for home education! I have 10+ years of experience working with children in all kinds of educational settings. As a new homeschooling parent, my mission is to navigate the world of homeschooling and share with you the best home education practices. If you want to learn more about me, check out my about page. See you there!