Learn what you need to know before gathering your homeschool supplies. Also grab your FREE Ultimate Homeschool Supply Checklist!

Whether you are just starting out or have been homeschooling a while, it is important to have the right materials and resources to ensure your child's academic success.
In this blog post, we'll explore what to consider and the essential items needed for a successful homeschool year.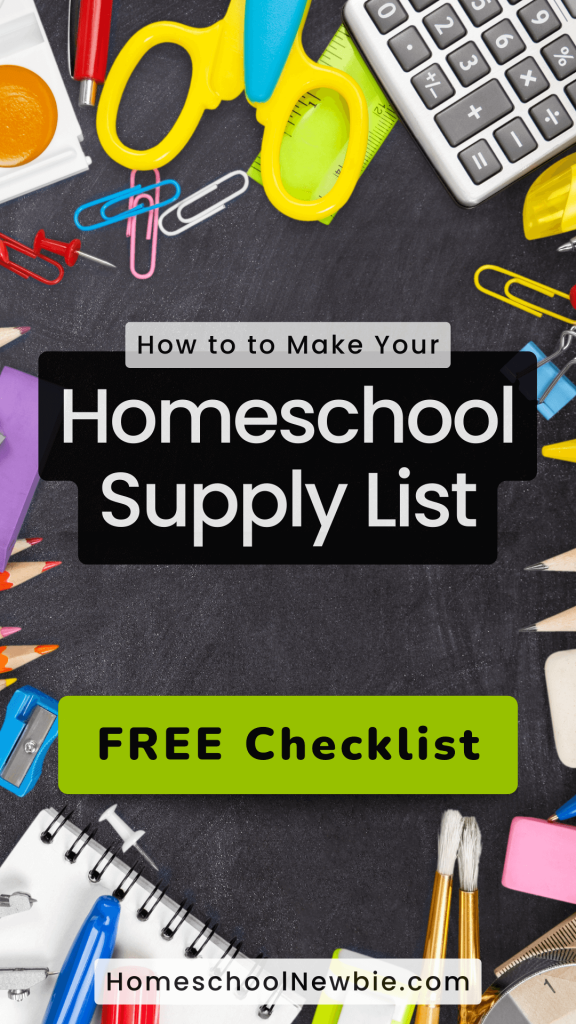 As an Amazon Associate, I earn from qualifying purchases. Some of the links in this post are affiliate links, which means if you click on the link and make a purchase, I may earn a commission. This commission comes at no additional cost to you and is how I am able to create more amazing content for you. Thank you for your support!
Table of Contents
Consider the Ages of your Students
Different age groups require different supplies to maximize their learning and help them reach their educational goals. Your homeschool preschool supply list will look different than your high school list.
For younger students, elementary, preschool & kindergarten homeschool must-haves should include colorful, hands-on, and physical manipulatives for short attention spans and concrete thinkers.
Elementary, kindergarten, and preschool homeschool supply list
Some ideas include educational toys, clocks, crafts, crayons, scissors, glue, physical science projects, magnetic tiles, puzzles, or playdough work well to help teach concepts for these early years.
For middle schoolers, you may want to invest in textbooks, online curriculum, supplies for hands-on, craft supplies, glue sticks/glue gun, rulers, computer/laptop, projects, calculator, or a student planner, in addition to the staple items such as paper, notebooks, binder, folders, erasers, and pencils.
For high schoolers, in addition to the items above, consider gathering supplies such as a graphing calculator, printer, headphones, flash drive or external hard drive, money games, and audio or physical books to list a few.
For you! Don't forget to include yourself as the parent and teacher when considering supplies. What will you need to make your homeschool successful this year? Some ideas could include a homeschool planner, organization bins, folders, binders, and a teacher survival kit – with all your favorite things in it when days are tough 😜.
Depending on the subjects and courses you plan to teach, you may also need to purchase specialized supplies like microscopes, gardening supplies, or painting supplies.
By considering the ages of your homeschool students, you can ensure that you have the supplies needed for a successful learning environment.
Consider Your Teaching Style and subjects being taught
When considering your teaching style for homeschooling, it is important to think about the supplies and materials you need to support that style. Different supplies will be needed for different teaching styles, whether it is a more traditional approach or something more hands-on or experiential.
Some parents prefer to create their own curriculum which will usually require more supplies, while others prefer to purchase pre-made packages. Ultimately, the choice is yours and the supplies and materials you need will depend on your teaching style and the subjects you plan to teach.
Create a Homeschool Budget
Homeschooling can get expensive real fast so creating and sticking to a budget is important when gathering the best homeschooling supplies for your children.
First, determine what you can afford. Look at your current household budget to see if you can create a category for your student's homeschooling supplies for the year.
Next, look at what expenses are needed for homeschool vs. what you already have around the house. You can go out and buy all new things but it may surprise you what you already have around the house.
Remember, your homeschooling budget should factor in any discounts or sales you may be able to take advantage of. Additionally, don't forget to include a budget for any extracurricular activities or field trips you may want to take.
Having a budget in place will help ensure that you are able to homeschool without breaking the bank.
PRO TIP: Many states offer funding options for homeschool students to help with your homeschooling budget. Check with your state and other homeschooling families to see what funding options are available in your area.

Make a List of Homeschool Supplies
Creating a list of supplies is one of the most important steps when starting homeschooling.
Remember to consider…
Your budget
What you already have at home
What your children can share
Discounts or sales
Shop at thrift stores or yard sales
Your child's age
Subjects being taught
Your teaching style
To make sure you have everything you need, write down all the supplies you need for homeschooling.
Make sure to swipe my FREE Ultimate homeschooling supply checklist to help you get ideas of what you might need for your homeschool. It also comes with a customizable checklist to help you create your own checklist!
Once you have an idea of what you need, prioritize the supplies based on your budget.
This helps to ensure that you are able to get the most important supplies first, while still staying within your budget. It is also important to remember that you don't have to buy everything right away and can add items as you go.
By taking the time to make a homeschool essentials list and prioritize them based on your budget, you can make sure you have everything you need for successful homeschooling.
Buy the supplies you need
When it comes to buying the supplies you need to get started with homeschooling, it is important to make sure you get all the supplies that you prioritized on your list. Shopping around and looking for discounts and sales can help you save money and get the best value for your money.
Try checking with local thrift stores, online retailers, and even homeschooling supplies companies to compare the best prices and options available. Doing your research can help you get the most out of your homeschooling budget.
PRO TIP: I personally love shopping at yard sales to get the most bang for my buck! At yard sales, you can even negotiate (kindly!) the prices with the seller, especially if you are buying multiple items at once.
Well, there you have it!
Starting homeschooling can feel like a daunting task, but with a detailed list of supplies, you'll be able to hit the ground running. Homeschooling can be a lot of work, but it doesn't have to be overwhelming. With the right supplies and a positive attitude, you can make the most out of your homeschooling journey!
What's Next?
Don't forget to grab your free best homeschool supplies checklist with all the supplies you'll need for your next homeschool year AND a customizable checklist where you can create your own list of supplies!
Read More!
Ready to check off some of the items on your supply checklist? Check out our reviews of these essential supplies below!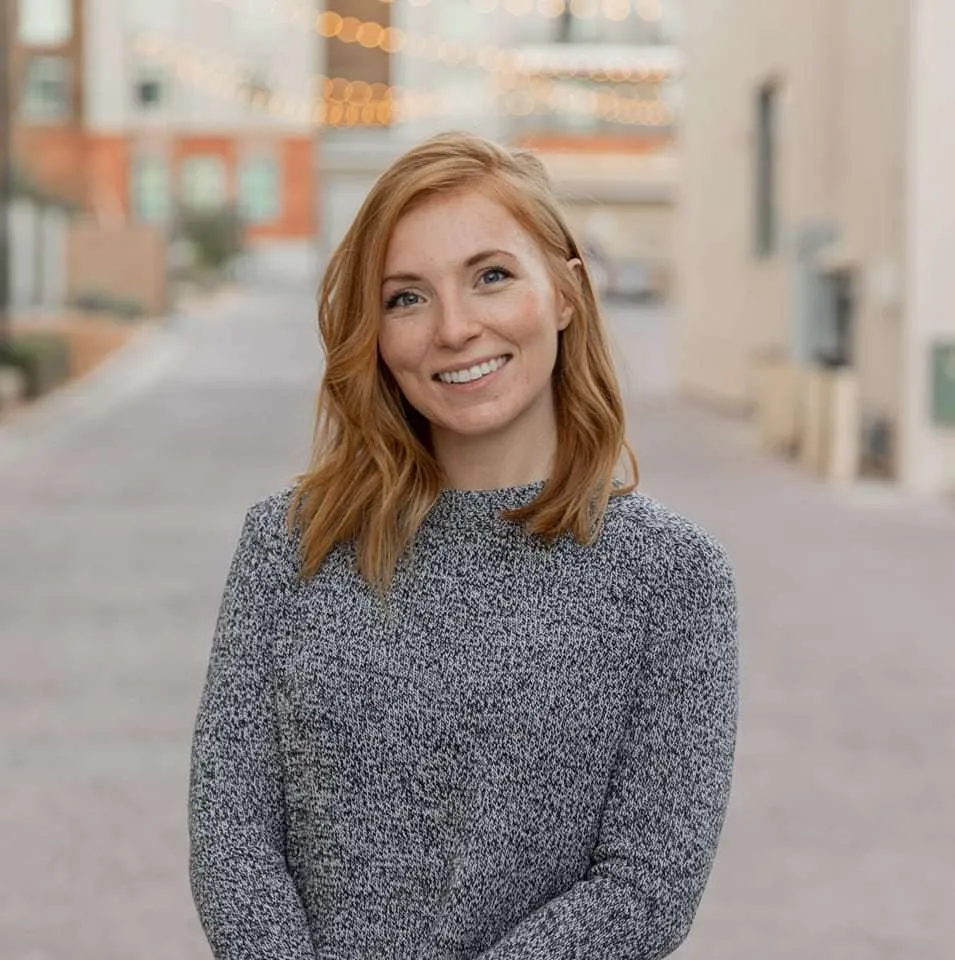 Hi, I'm Tori! I'm the founder of homeschoolnewbie.com. I'm a former elementary school teacher turned homeschool mama who has a passion for home education! I have 10+ years of experience working with children in all kinds of educational settings. As a new homeschooling parent, my mission is to navigate the world of homeschooling and share with you the best home education practices. If you want to learn more about me, check out my about page. See you there!