Get prepared with a preschool supply list to match your child's needs across a variety of learning environments – traditional classrooms, online platforms, and homeschool settings. Learn the difference between preschool must-haves from unnecessary clutter, ensuring your preschooler's readiness for their first year of school.
No time to read? Here's the gist…
Typical Preschool Supply List
Backpack
Change of Clothes
Crayons
Child-Safe Scissors
Glue Stick
Construction Paper
Copy paper
Preschool pencils
Notebook or Sketchpad
Age-Appropriate Books
Tissues
Hand Sanitizer
Want more ideas? Keep scrolling!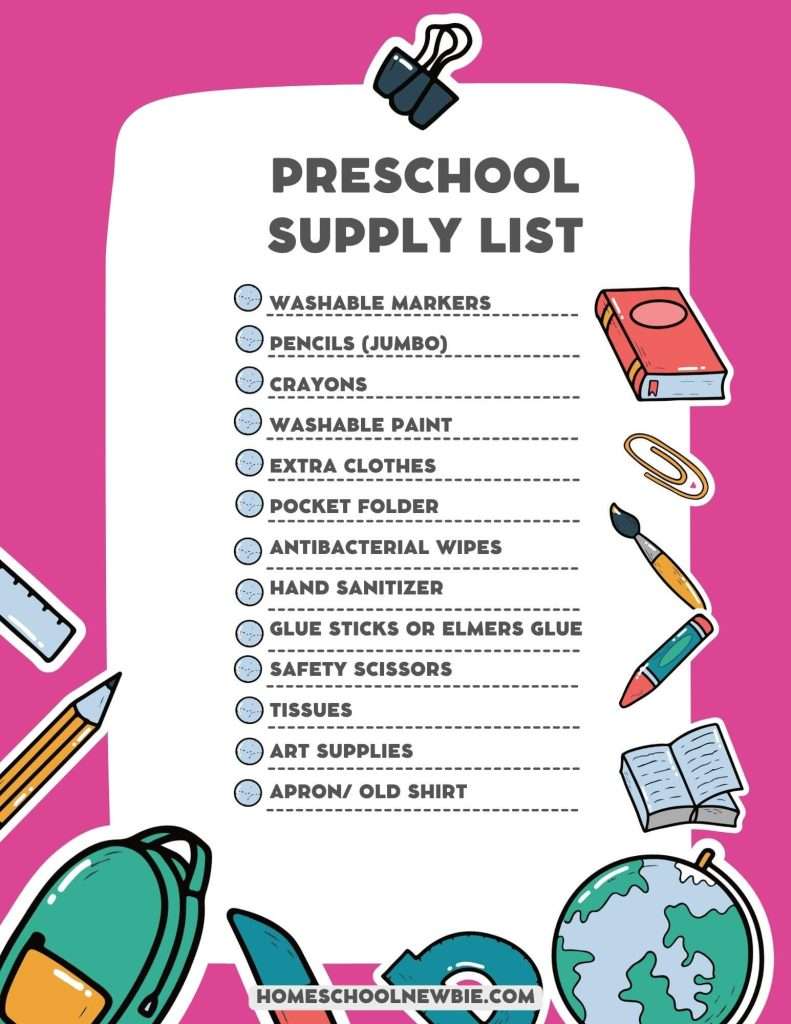 Like many of you, my educational journey, in a nutshell, was… go to public school. The preschool school supply list was relatively the same each year. Getting the typical preschool supply list is all my parents had to think about.
Is this the educational story for our children today? Not even close.
With more opportunities popping up in the world of education, there is no longer a one size fits all preschool supply list anymore.
As I'm getting my own son ready for his second year of preschool, we have several things to consider when making his preschool list of supplies.
This coming fall, I've enrolled him in a local preschool but we'll also be supplementing with an online reading program, Outschool classes, and homeschool.
Each one of these learning experiences will come with different preschool supplies.
Having taught in public schools, online education, and as a homeschool mom, I want to share with you what I've learned about school supplies for each learning environment.
I'll cover a general preschool supplies list, preschool homeschool supply list, lists for online preschool students, and more.
The lists below may surprise you! Some of the supplies you currently think are essential really aren't and supplies that used to be optional are now a must-have.
Preschool Essentials
If all you want is a basic preschool supply list, this is the list for you. This minimal prek supply list is especially nice for parents on a budget or who want to keep things simple.
Must-Have Pre-k School Supply List
Washable markers
Pencils (jumbo)
Crayons
Washable paint
Extra clothes
Pocket folder
Antibacterial wipes
Hand sanitizer
Glue sticks or Elmers glue
Safety Scissors
Tissues
Apron/ old shirt (for messy activities)
Preschool Classroom Supplies
Many public/private school teachers will ask parents for help to bring extra preschool classroom supplies to keep things clean and running smoothly.
This was something that the teachers at my district did back when I was teaching public school.
Here are some of the more common ones teachers ask for.
Pre-k School Supplies
Box of tissues
Hand sanitizers
Disinfectant wipes
Ziplock bags (various sizes)
Paper towels
Extra change of clothes (labeled with child's name)
Snacks for the class (following any dietary restrictions)
Art supplies (crayons, markers, glue sticks, construction paper)
Playdough or modeling clay
Small toys or educational manipulatives
Blanket or nap mat (for rest time)
Aprons or smocks (for messy art activities)
Recycled materials for crafting (paper towel rolls, egg cartons, etc.)
Books for the classroom library
Indoor or Outdoor toy donations

Outdoor play equipment (balls, jump ropes, etc.)
Musical instruments for group activities
Sensory materials (sand, water table items)
Costume items for dramatic play
Homeschool Preschool Supplies List
Although many of the supplies your homeschooler will need are similar to the supply list for a preschooler who is attending a physical classroom, there are some definite things you don't want to miss if you're learning from home. For a full list of homeschool supplies, read this article.
Homeschool Preschool Supply List
Curriculum
Supplies for curriculum

Science experiment materials
Nature exploration kit (magnifying glass, binoculars)
Musical instruments (for learning through music)

Laminator (for creating reusable learning materials)
Educational apps or software
Storage containers (for crafts and learning materials)
Arts and crafts materials (paints, brushes, glue, scissors)
Educational games and puzzles
Whiteboard and dry-erase markers
Activity books
Age-appropriate books and reading materials
Manipulatives (counting bears, blocks, etc.)
Learning posters or charts
Playdough and tools
Educational posters or wall charts
Building blocks and construction sets
Alphabet and number magnets
Sensory play items (sand, water, sensory bins)
Art smock or old shirt for messy activities
Online Class Essentials
As I mentioned above, I'm supplementing my son's education with an online reading program and classes on Outschool. If you're like us and want to have a smooth virtual learning experience, you'll want to consider coming prepared to class with the following supplies.
Preschool Supply List for Online Learning
Reliable computer or tablet
Headphones or earbuds
Webcam (if not integrated)
Mouse or touchpad
High-speed internet connection
Printer (optional but useful for worksheets)
Whiteboard and markers (for interactive activities)
Manipulatives (physical or virtual)
Art supplies for virtual art projects
Organizational tools (folders, digital calendars)
Art & Craft Supply List for Preschool
Preschoolers do a lot of arts and crafts activities to make learning fun, teach emotional skills through self-expression, and develop fine motor skills.
It's a great idea to have several preschool-friendly art supplies handy to enrich lessons but keep in mind that you don't need everything from this list.
Here are a few of the more popular craft supplies to choose from.
Preschool Supplies List for Arts & Crafts
Washable tempera paint (variety of colors)
Paintbrushes (assorted sizes and shapes)
Washable markers
Crayons (jumbo and regular size)
Safety scissors (blunt tip for safety)
Glue sticks or liquid glue
Construction paper (assorted colors)
Finger paints
Watercolor paint set
Colored pencils
Safety smock or old shirt for messy activities
Stickers and adhesive foam shapes
Googly eyes
Pipe cleaners
Pom-poms
Feathers
Craft sticks (popsicle sticks)
Tissue paper
Beads and string for threading
Playdough or modeling clay
Felt sheets
Chalk and chalkboard or sidewalk
Glitter glue
Assorted craft paper shapes (stars, hearts, etc.)
Recycled materials from around the house (egg cartons, milk jugs, etc.)
Optional Preschool Supplies
During the back-to-school season, our excitement often drives us to buy items that are unnecessary and unused throughout the school year. Some of the items below can be used as a reward to motivate your student to learn but aren't essential for a great learning experience.
Optional School Supply List for Preschool
Water bottle
Lunch box
Fancy pencils
Pencil bag
Individual pencil sharpener
Educational Games
Personalized Labels
Binders
Book covers
Decorative Pencil Toppers
Themed Erasers
Rulers
Scented Markers
Themed Stencils
Conclusion: Preschool Supply List
In a rapidly evolving educational world, where learning takes place in various environments including traditional classrooms, a tailored preschool supply list becomes unavoidable.
Everyone's preschool list of supplies will look slightly different but by using the ideas above, you'll be on your way to creating your own preschool supplies list that fits your child's unique needs.
What's Next?
Keep learning! Here are some of the articles that were mentioned above.
Discover how to create your custom homeschool supply list.
Start your online learning now by choosing the right tools.
Start learning now with your preschooler with the activities below.
Get your preschooler motivated to learn with the ideas below.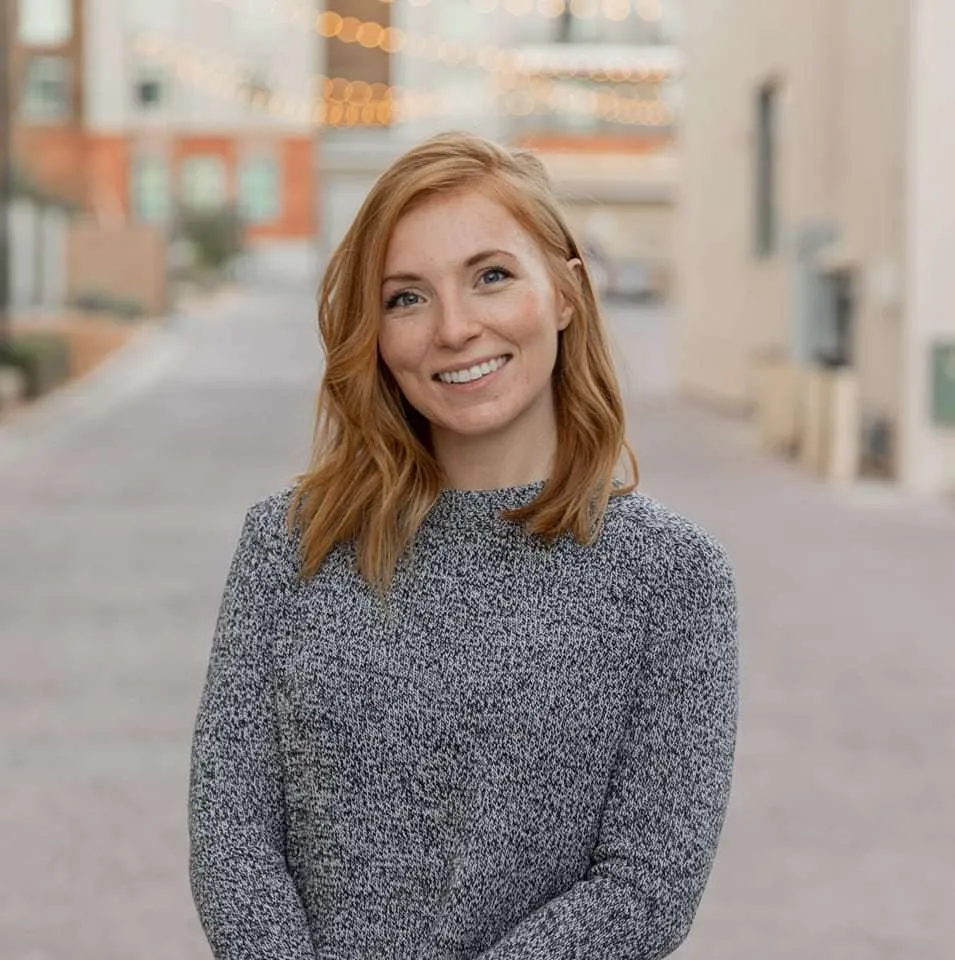 Hi, I'm Tori! I'm the founder of homeschoolnewbie.com. I'm a former elementary school teacher turned homeschool mama who has a passion for home education! I have 10+ years of experience working with children in all kinds of educational settings. As a new homeschooling parent, my mission is to navigate the world of homeschooling and share with you the best home education practices. If you want to learn more about me, check out my about page. See you there!