Equip yourself with a comprehensive list of 65 fun social emotional activities for preschoolers that parents and teachers can use to help your kids develop crucial emotional and social skills.
Are you like most normal parents and teachers who have preschoolers who throw temper tantrums, don't seem to get along with others, or could use a boost in their self-confidence?
I'm with you!
As both a parent of a preschooler AND a former preschool teacher, I know that it can be tough navigating through how to encourage healthy emotional and social habits in our young kids.
That's why I've created not only a massive list of social emotional learning activities but below I've also explained what social emotional learning is, why it's important for preschoolers, and how you can incorporate them into your child's daily routine. You're welcome!
Let's get started!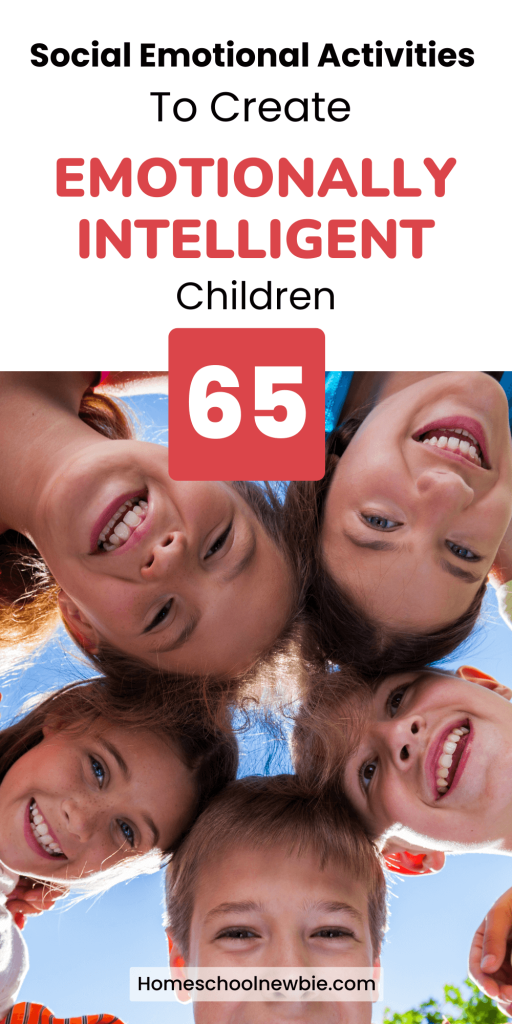 Table of Contents
Definition of social emotional learning
Social emotional learning, or SEL, is all about helping your kids develop the skills they need to navigate their emotions and build positive relationships with others.
It's not just about learning math and science, but also about learning how to communicate effectively, understand and express emotions in a healthy way, and work collaboratively with others.
By creating emotional and social skills lesson plans with our little ones, we can help them develop important life skills that will serve them well as they grow and mature.
These SEL skills include:
Self-awareness
Self-management
Social awareness
Relationship skills
Responsible decision-making
Importance of Social and Emotional Development in Early Childhood
As your preschool-aged children begin to interact and play more with their peers, they will have the opportunity to learn skills like managing stress, regulating their emotions, and problem-solving.
Using effective social emotional strategies to guide your child through these opportunities can give them the tools to set a strong foundation for their future as healthy adults.
Benefits of Social Emotional Learning
One of the main benefits of SEL is that it helps children develop crucial emotional and social skills for preschoolers that lead to opportunity. Skills like empathy, self-awareness, self-regulation, communication, and problem-solving equip your children to navigate their emotions and build positive relationships with peers and adults.
Social emotional learning can also help children develop resilience and cope with challenges. By teaching them strategies for managing stress, regulating their emotions, and problem-solving, we give them the tools they need to face adversity with confidence and adaptability.
These activities can also have a positive impact on academic achievement. When children feel emotionally safe and supported, they're more likely to engage in learning and perform well academically.
Regular SEL practice can have long-lasting effects on your child's mental health and well-being. When children learn to manage their emotions, communicate effectively, and build positive relationships, they're more likely to have a positive outlook on life and experience less stress and anxiety.
This can set them up for success in all areas of life, from personal relationships to professional endeavors later on.
65 Easy Social Emotional Learning Activities
It's time for what you've been waiting for!
The list of engaging social emotional learning activities below will help your preschooler practice many different areas of social emotional skills.
I suggest you pick a handful to do with your child to give them a well rounded experience and expose them to many different SEL opportunities.
SEL Activities Preschoolers Can Do Independently
Play with sensory toys, like playdough or kinetic sand, and other creative sensory hacks to regulate emotions
Use a mirror to identify and label facial expressions
Draw self-portraits are great self-concept activities for toddlers and preschoolers
Practice deep breathing exercises to promote relaxation and emotional regulation
Listen to music and discuss how it makes them feel
Create emotion faces for preschool with a positive self-image collage to promote self-esteem
Read books about emotions and discuss how characters feel
Use guided imagery to visualize positive outcomes and reduce anxiety
Practice self-reflection through a coloring journal
Practice positive self-talk through affirmations and mantras
Practice mindfulness through yoga or stretching exercises
Create a feelings jar to shake and release strong emotions
Create feelings crafts for preschoolers to use as self-concept activities for preschoolers
Use relaxation techniques, like progressive muscle relaxation, to promote emotional regulation
Use crafts about feelings like painting emotions on rocks to encourage self-expression
Use fidget toys or stress balls to regulate emotions
Listen to calming music or sounds to promote relaxation and emotional regulation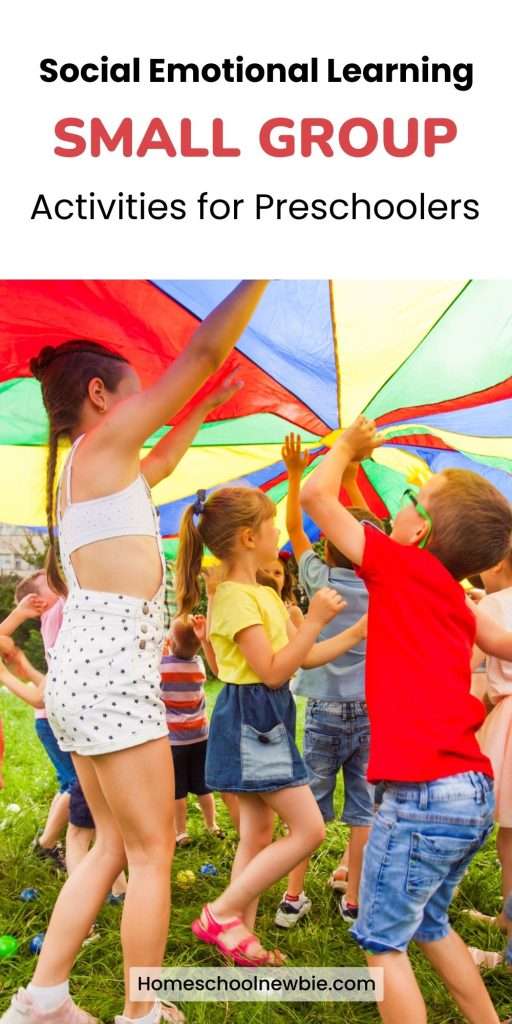 Small Group Activities for Preschoolers
Play the hot potato game to promote socialization and connection
Use cooperative games, like Pass the Hoop to encourage teamwork and cooperation
Play a game of emotions bingo to reinforce emotional recognition and labeling
Use puppets to act out social situations and encourage problem-solving
Create a feelings collage as a group to label and discuss different emotions
Play a game of guess the emotion with facial expressions or body language
Use role-playing to practice problem-solving and social scenarios for kids
Have a group discussion about empathy and compassion
Use music and movement to promote emotional regulation and expression
Play feelings charades to reinforce emotional recognition and labeling
Use cooperative physical activities, like group jump rope, to promote teamwork
Use games, like feelings Jenga, to reinforce emotional recognition and regulation
Use movement activities to promote self expression
Use cooperative SEL art activities, like a group mural
Play group balloon volleyball to promote teamwork
Create a feelings scavenger hunt to reinforce emotional recognition and labeling
Use social stories to teach conflict resolution and problem-solving
Play freeze tag to reinforce self regulation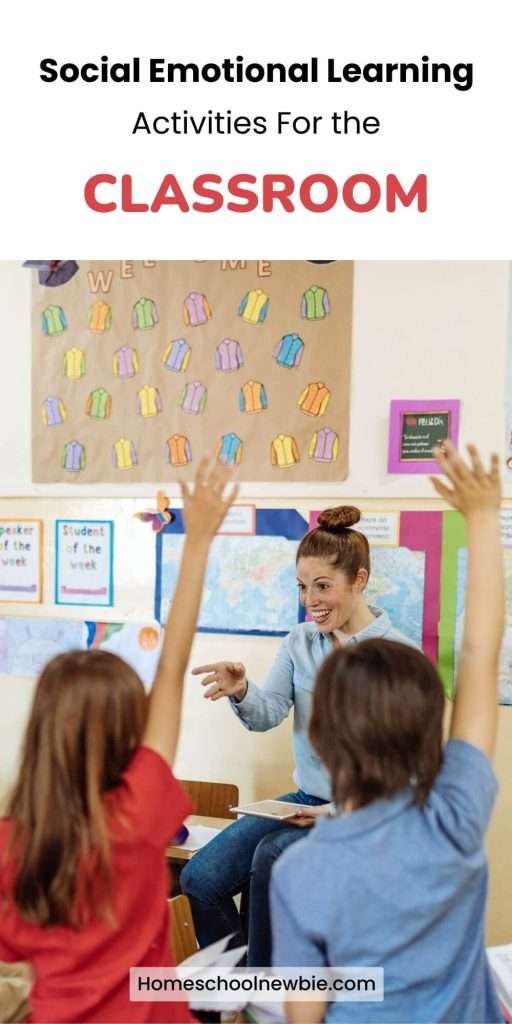 Social Emotional Learning Lessons for the Classroom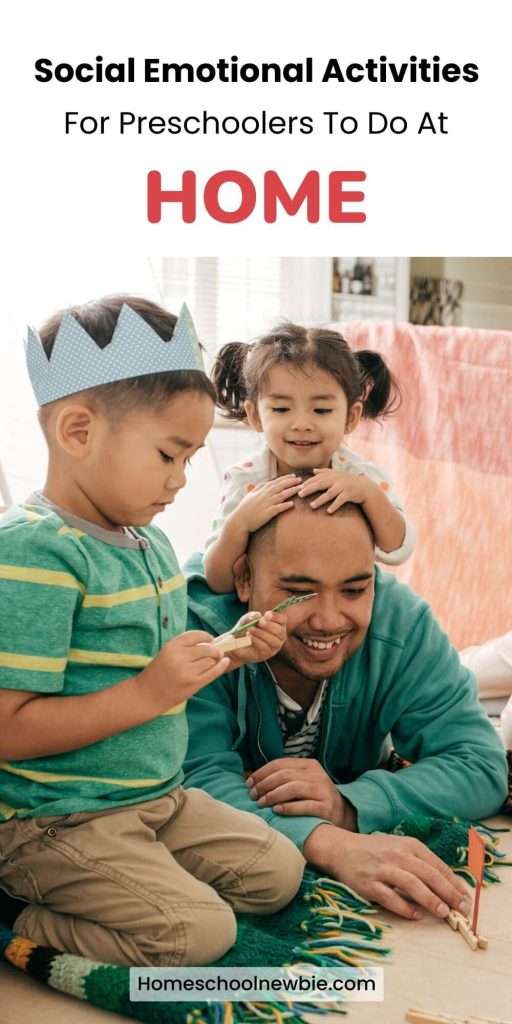 Social Emotional Activities For Preschoolers To Do At Home
Use board games, like Candy Land or Chutes and Ladders, to teach social skills and turn-taking
Color growth mindset coloring pages to encourage mindfulness and calming skills.
Practice mindfulness through nature walks or outdoor exploration
Make a feelings collage with pictures from magazines to label and discuss different emotions
Create a vision board to encourage to encourage positive self-love
Practice gratitude through a family thankful jar
Use imaginative play to practice social skills and problem-solving
Create a feelings wheel to identify and label different emotions
Make your own emojis to identify emotions
Create a feelings tree to label and discuss different emotions
Use coloring sheets to promote self-regulation and creativity
Learn preschool emotion faces with playdough to for self-expression
Have a family discussion about emotions and encourage sharing
Create a feelings puzzle to reinforce emotional recognition and labeling
Set up a low-prep family obstacle course to promote cooperation and teamwork
Create a feelings memory book to reinforce emotional recognition and labeling
Conclusion: 65 Fun and Easy Social Emotional Activities for Preschoolers
Remember, social emotional learning is a lifelong journey that requires patience, consistency, and intentional practice (especially when you are working with wiggly preschoolers!).
But with your guidance and support, your child can develop the skills they need to succeed in both their personal and academic lives.
So, don't be afraid to try out several of the activities listed above to find what works best for your child.
What's Next?
One of my favorite ways to develop SEL in my preschooler is by reading social emotional stories!

Check out this list of my favorite SEL read alouds to develop emotionally intelligent kids!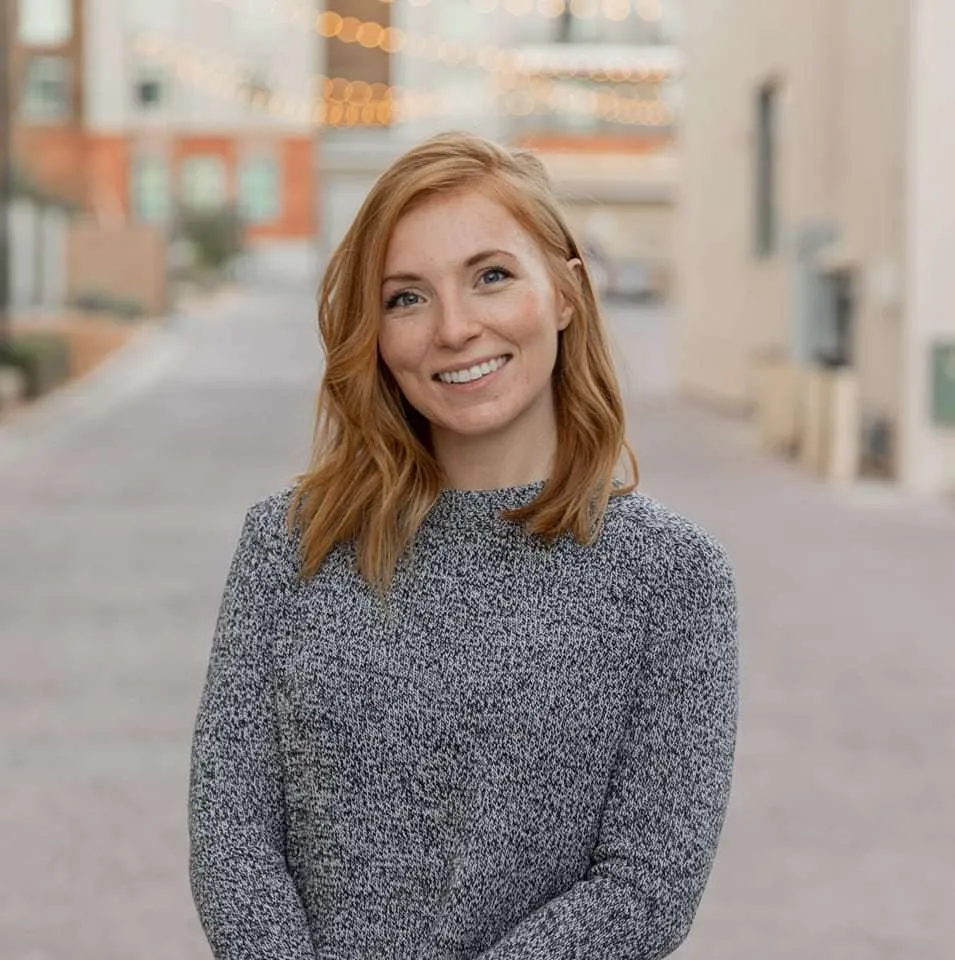 Hi, I'm Tori! I'm the founder of homeschoolnewbie.com. I'm a former elementary school teacher turned homeschool mama who has a passion for home education! I have 10+ years of experience working with children in all kinds of educational settings. As a new homeschooling parent, my mission is to navigate the world of homeschooling and share with you the best home education practices. If you want to learn more about me, check out my about page. See you there!