So you need school supplies for kindergarten for your soon-to-be kindergartener? Well, walk away with a kindergarten supply list made by a teacher with public school, online, and homeschool teaching experience.
Education isn't what it was even just 5-10 years ago. This means the supplies that our sweet little kindergartener friends will need have also changed.
No longer do we only have the option to go to public school. In this survey, 53.7% of parents said that they were considering public school alternatives. Learning opportunities have adapted.
With my background as a public school teacher, online educator, and homeschooling parent, I'm here to offer valuable insights into the essential supplies required across each of these unique settings.
From a comprehensive kindergarten supply list that covers all bases, to tailored lists for homeschooling and online learning, I'm here to guide you through the essentials.
Together, we'll navigate the difference between what's truly necessary and what's optional, ensuring your kindergartener is well-equipped for an enriching year ahead.
Table of Contents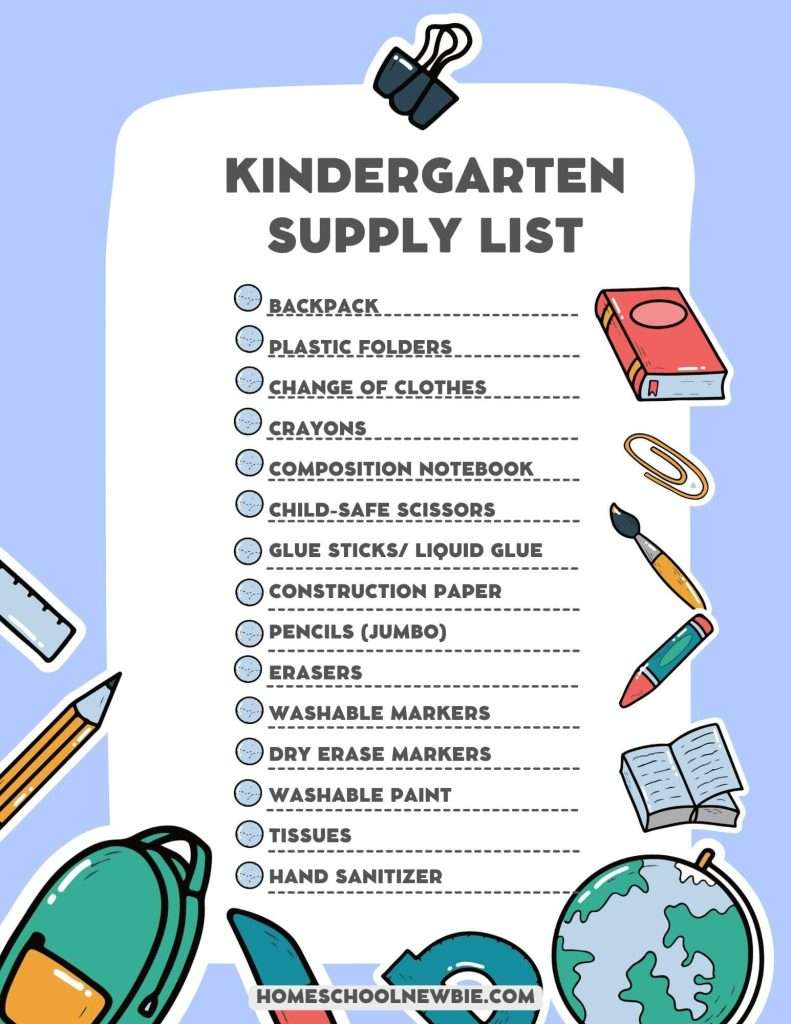 Kindergarten Must-Haves:
If you're a parent looking for a list of kindergarten must-haves, this section is designed to provide you with a straightforward breakdown of the most important supplies your child will need for a confident and thriving kindergarten experience.
Kindergarten Supply List for Parents
Backpack
Plastic folders
Change of Clothes
Crayons
Composition Notebook
Child-Safe Scissors
Glue Sticks/ liquid glue
Construction Paper
Kindergarten Pencils (jumbo)
Erasers
Washable Markers
Dry Erase Markers
Washable Paint
Tissues
Hand Sanitizer
School Supplies for Kindergarten
Kindergarten classroom supplies often extend beyond the individual needs of your child. As a parent, you might find that the requests from teachers for classroom supplies include resources that contribute to a collective learning experience. Back when I was a public school teacher, I remember needing the parent's help to provide supplies that the class used as a whole because of low classroom budgets.
In this section, we'll explore the supplies that teachers may ask you to contribute to your child's classroom so you can prepare your kindergarten supply list and budget ahead of time.
Keep in mind that some teachers may not require that each student supplies the items below but instead send out a signup list for parents to volunteer to contribute one or two items from the list.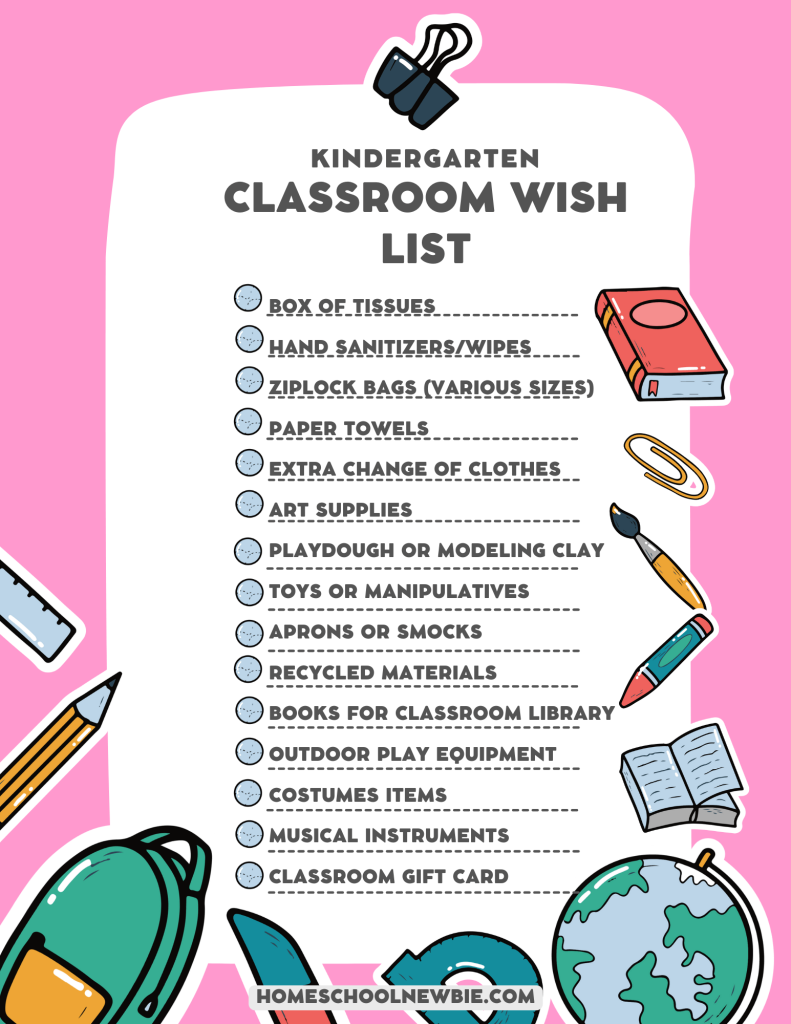 Kindergarten Classroom Must-Haves
Box of tissues
Hand sanitizers
Disinfectant wipes
Ziplock bags (various sizes)
Paper towels
Extra change of clothes (labeled with child's name)
Snacks for the class (following any dietary restrictions)
Art supplies (crayons, markers, glue sticks, construction paper)
Playdough or modeling clay
Small toys or educational manipulatives
Blanket or nap mat (for rest time)
Aprons or smocks (for messy art activities)
Recycled materials for crafting (paper towel rolls, egg cartons, etc.)
Indoor or outdoor toy donations
Outdoor play equipment (balls, jump ropes, etc.)
Musical instruments for group activities
Sensory materials (sand, water table items)
Costume items for dramatic play
Some teachers appreciate a classroom gift card
Kindergarten Homeschool Supplies
The beauty of homeschooling lies in its flexibility, and that extends to the supplies you'll need.
Unlike traditional classroom settings, your homeschool supply list doesn't necessarily require a whole new set of supplies.
In fact, you might be surprised at how much you already have at home that can be repurposed for educational activities. Below is a kindergarten list of supplies to look for around your house (or to buy) to prepare your child for your homeschool year.
Homeschool Kindergarten Supply List
Books (Bob books, social-emotional learning books)
Art Supplies (markers, crayons, colored pencils)
Craft Materials (buttons, beads, fabric scraps)
Kitchen Items (measuring cups, utensils)
Nature Treasures (leaves, rocks, twigs)
Toys (building blocks, puzzles, board games)
Household Objects (empty boxes, cardboard tubes)
Musical Instruments (pots, pans, shakers)
Digital Devices (tablets, computers)
Household Tools (magnifying glasses, measuring tapes)
Old Magazines (cut-out pictures)
Maps and Globes
Science Supplies (water, oil, vinegar)
Outdoor Gear (bikes, balls, jump ropes)
Family Photos
Homeschool Planners for Parents
Student Planners
Kindergarten Supplies List for Online Learning
Whether you're diving into online education full-time or supplementing your child's traditional schooling, this section will guide you through the must-have essentials for online kindergarten success.
Your online kindergarten supply list will look fairly different when compared to a traditional classroom supply list. The list below will make sure that you are prepared with all that you need for your kindergartener's online needs.
Online Kindergarten List of Supplies
Headphones or earbuds
Webcam (if not integrated)
Mouse or touchpad
High-speed internet connection
Printer (optional but useful for worksheets)
Whiteboard and markers (for interactive activities)
Manipulatives (physical or virtual)
Art supplies for virtual art projects
Organizational tools (folders, digital calendars)
A safe place to store passwords
Online curriculum
Desk or table
Office chair adjustable for your short kindergartener
Optional Kindergarten School Supplies
Now, let's dive into additional kindergarten supplies – those items that might not be essential, but can certainly add a fun and personalized touch to your child's learning experience.
While the basics are covered, these optional supplies offer a chance to cater to your kindergartener's unique interests and provide them with extra tools for engagement and exploration.
Feel free to pick and choose from this list to create a kindergarten journey that suits your child's individual preferences and learning style.
Educational board games
Art and craft kits
Specialty writing tools (colored pencils, gel pens)
Interactive learning apps
Building blocks and construction sets
Musical instruments for creative expression
Educational puzzles
Storytelling props (puppets, story cards)
Math manipulatives (counting bears, shapes)
Dress-up costumes for imaginative play
Outdoor exploration tools (magnifying glass, binoculars)
STEM kits (robotics, coding)
Creative writing journals
Themed activity books
Building materials (LEGO, magnetic tiles)
DIY science experiment materials
Fine motor skill tools (beads, lacing cards)
Art supplies for self-expression activities
Gift card for teacher (great way to butter teacher up!)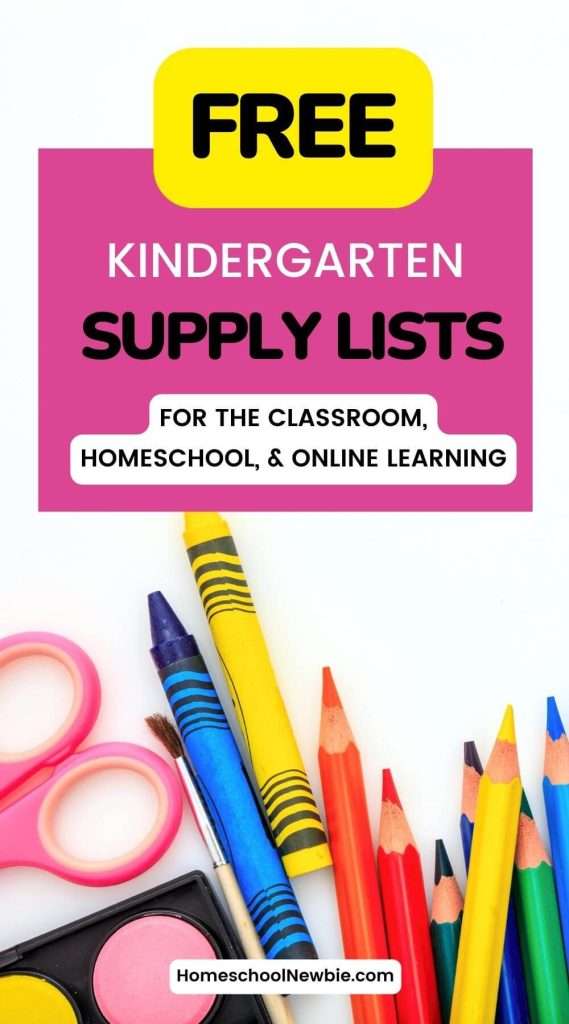 Smart Ways to Cut Costs for Your Kindergarten School Supplies
With a few savvy strategies, you can save money on essential school supplies while ensuring your child has everything they need for a successful year ahead. In this section, we'll explore smart tips and tricks to help you keep your budget in check without compromising on quality.
Use Items You Already Have: Reuse items you already have at home, such as scissors, rulers, or art materials, to save on kindergarten supplies.
Shop Sales and Discounts: Keep an eye out for back-to-school sales, clearance racks, and special promotions from retailers, both online and in-store.
Buy in Bulk: Purchase items like pencils, crayons, and notebooks in bulk, as it often reduces the cost per unit.
Use Coupons and Promo Codes: Search for coupons and online promo codes before making purchases to get discounts on school supplies.
Shop Secondhand: Explore thrift stores and online marketplaces like FB marketplace for gently used or even unused school supplies at a fraction of the original cost.
Yard Sales: Yard sales are my personal favorite way to cut costs because not only do you save but you can also negotiate. Where I live, I was surprised by how many yard sales had new and lightly used items. For example, I bought a tub of 50-100 like-new books for $5 by simply making an offer. You can't beat those prices!
Compare Prices: Take the time to compare prices across different stores or websites to ensure you're getting the best deal.
Repurpose and Reuse: Before buying new supplies, check if there are items from previous years or around the house that can be repurposed for kindergarten use.
DIY Supplies: Create personalized supplies at home, like customizing pencil cases or decorating notebooks, which can be both fun and cost-effective.
Group Shopping: Consider teaming up with other parents to purchase supplies in bulk, potentially qualifying for volume discounts.
Off-Brand Alternatives: Opt for store-brand or off-brand supplies, which are often just as functional as name brands but at a lower price.
Conclusion: Teacher's Picks: School Supplies for Kindergarten & Homeschool
I hope this article was helpful in creating your kindergarten supply list as you gear up for the upcoming school year with your soon-to-be kindergartener. Don't stop here though! I've got a lot of helpful articles to make your kindergarten year amazing.
157+ Easy STEM Activities Your Kindergartener will LOVE!
7 Clever Books About Tattling for Kindergarteners
The Best Computers For Homeschooling: A Parent's Guide
Are you homeschooling your kindergartener this year?
Get more details on things you don't want to miss when gathering your homeschool supply lists as you plan for homeschool!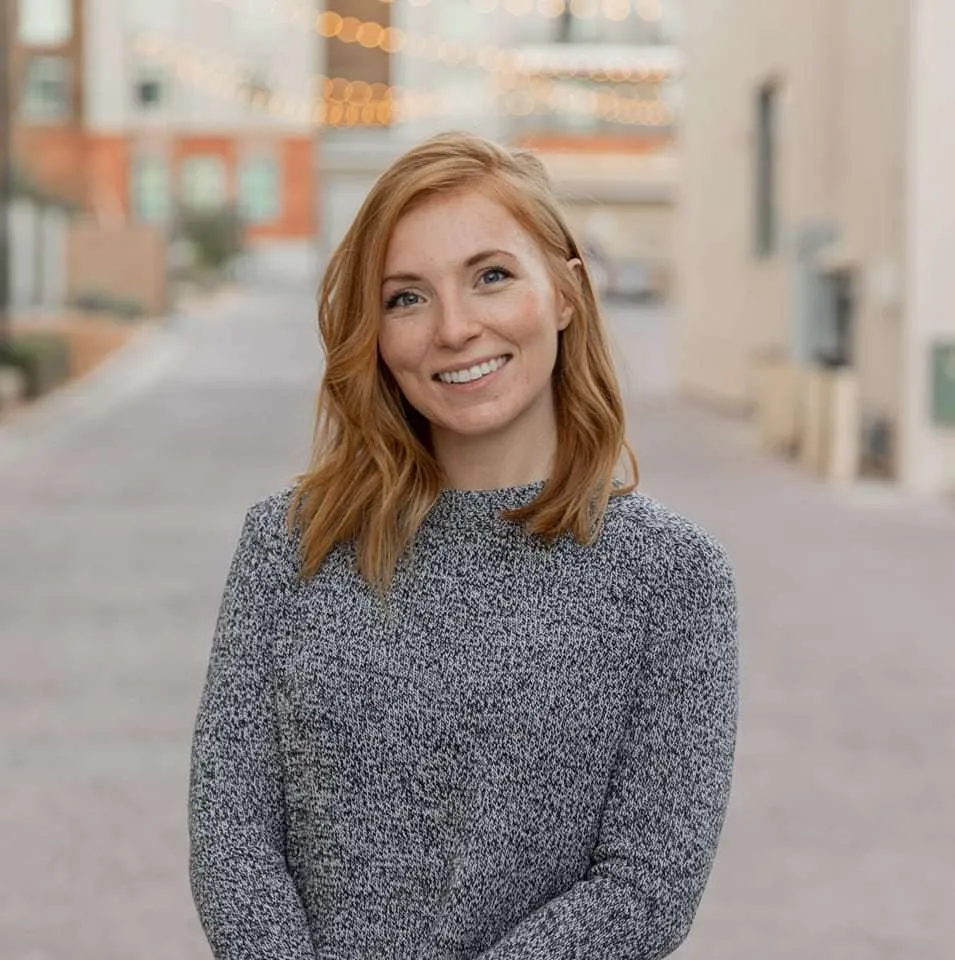 Hi, I'm Tori! I'm the founder of homeschoolnewbie.com. I'm a former elementary school teacher turned homeschool mama who has a passion for home education! I have 10+ years of experience working with children in all kinds of educational settings. As a new homeschooling parent, my mission is to navigate the world of homeschooling and share with you the best home education practices. If you want to learn more about me, check out my about page. See you there!