7 easy steps to master your homeschool planning this year. Learn the top tips for planning homeschool and take a peek into the homeschool routines of actual homeschooling families! Plus, walk away with a free daily routine chart to help you get started.
Congratulations! You're here, ready to start the ambitious task of planning for homeschool with bright eyes and bushy tails!
Or not…
What?? Planning a whole homeschooling year?! How in the world do you go about creating a homeschool plan?
That's what I nervously thought as I decided to homeschool my son for the first time.
And… I'm even a former elementary school teacher with experience planning and prepping for a year jam-packed full of subjects and standards for a class of 32 young students!
If you're like me and a little confused about where to start with homeschooling planning for the year, you'll want to give this article a close read.
I've gathered the best advice and examples of what real-life homeschooling families are doing so you can take the shortcut to planning for homeschool like a champ!
I've even thrown in my son's current preschool homeschool routine. The best part? I'm giving you an editable version of his routine chart for FREE! Get your free routine chart here.
Below, I take you step-by-step through the process to take when planning for your homeschool year.
Spoiler alert – no one's process is the same or perfect! BUT, I've found some common themes and tips that you don't want to miss. 
If you also have a preschooler and want some tips on a preschool supply list, I've written a post with supply lists for classroom, homeschool, and online students.
Table of Contents
Here is how I'll walk you through the homeschooling planning process…
Before we dive straight in, it's worth getting a few things set in place before you start the actual planning process.
1. Before Planning for Homeschool
First, you'll want to start planning homeschool by setting goals, getting your curriculum/subjects figured out, and getting organized with a homeschool planner.
Once we've covered this, we'll dive into how to plan for the year, school breaks, week, and daily homeschool routines.
3. REAL Homeschool Schedule Ideas
Finally, you'll see real-life homeschool routines to inspire your own. You'll see different family dynamics, ages, and homeschool rhythms to give you ideas similar to your family's needs.
Last, you'll walk away with the best practices for creating a plan of execution. You'll learn how to evaluate how things are going and how to make adjustments to your plans throughout your homeschool year.
Getting excited? I hope so! Because it's going to be GOOD.
1a. Before Planning For Homeschool: Let's Set Goals!
As promised, we're going to set goals before we get into the details of planning for the year. Below are a few places to start when deciding on some goals for your homeschool year.
Reflect On Your Reasons For Homeschooling
Before diving into the nitty-gritty of planning, it's crucial to pause and reflect on why you've chosen to homeschool.
Consider your unique values, educational philosophy, and long-term goals that led you down this path.
Reflecting on your motivations will serve as a compass throughout your homeschool journey, helping you stay focused and true to your purpose.
Here are some questions to ask yourself to help you set these important goals:
How do you envision homeschooling benefiting your child?
What values and principles do you want to prioritize in your child's education?
Are there specific educational goals or objectives that you feel traditional schools may not adequately address?
What are your child's unique needs and learning style, and how can homeschooling cater to them?
Are there any specific religious or cultural beliefs that you want to incorporate into your child's education?
How do you see homeschooling fostering stronger family relationships and connections?
What are your long-term aspirations for your child's education and future?
Consider your values, educational philosophy, and long-term goals
Think of what your long-term goals are for your children. Start thinking about how adding your family's core principles to your homeschooling goals will help you achieve them.
It may be helpful to start a list of what your family values and goals are. Keep them in your homeschool lesson planner or other places you reference often. This way, throughout the year(s) you can stay aligned with your goals.
Here are some questions you can ask yourself:
What are the core values and principles that are important to your family?
How can these values and principles be incorporated into your children's education?
What are our long-term goals for our children's education and overall development?
How can our homeschooling approach align with and support these long-term goals?
Are there any specific skills or areas of focus that we want to prioritize in our children's education?
Pray/Meditate and Communicate Your Goals
Taking time to decompress and mentally prepare for the upcoming homeschool year is important to start fresh.
Have a deschooling period if you've just come from a traditional or public school mindset.
Transitioning from a traditional or public school mindset to homeschooling can be both exciting and overwhelming. Allow yourself and your child a period of deschooling, a time to let go of any preconceived notions or expectations.
Seeking divine guidance is important for many homeschooling families. If you are a family of faith, remember to ask, ponder, and consult about your decisions through prayer. Listen throughout your planning journey for promptings and ideas that may come as you make decisions for your family.
Be sure to consult and communicate with your partner, spouse, or other important people who will be involved in your children's education about the values and goals you set for your children.
1b. Before Planning For Homeschool: Test and Buy Curriculum
Before you start your homeschool year, you'll want to have a good idea of what curriculum you'll be using. Knowing what you'll be teaching will be useful for mapping out a general idea of your homeschool schedule for the year.
I've written a more in-depth article where you can learn more about how to choose the best homeschool curriculum for you but below I've outlined some basic tips for getting your curriculum locked and loaded for the year.
Request Samples of the Curriculum
Before making a final decision, request samples of different curriculum options. Many curriculum companies will send you samples of their curriculum before you commit to buying it.
This will give you a better understanding of the content, teaching style, and overall structure of each curriculum.
Take the time to review the samples and consider how they align with your educational goals and your child's learning style.
Choose Your Curriculum Type
My top recommendation is to use an open-and-go style of curriculum.
This curriculum type allows you to do the least amount of preparation for each lesson with the most flexibility. You can go at your own pace, add or omit anything you need, and it's easy to adapt to your needs and learning preferences.
The open-and-go curriculum style is especially great for reducing the overwhelm of planning your first year of homeschooling when everything about homeschooling is new.
Purchase and Dive In
Once you have selected your curriculum, purchase it and flip through its contents. Take note of the topics covered, the teaching methods, and the overall organization of the curriculum.
Flipping through your child curriculum will help you plan on what want to keep and what you'd like to adjust. It will also give you an idea of how long you'll need to dedicate to complete it (if you choose to!).
Remember, while the curriculum you choose provides a framework, it is not set in stone. You have the flexibility to adapt and customize it to meet the specific needs and interests of your child.
1c. Before Planning For Homeschool: Homeschool Planners
A planner is not a requirement by any means but can be a very useful tool for keeping yourself and your goals for the year organized.
Not only do planners help you get organized, but they can also help you reflect on what you've learned throughout the year – similar to a journal.
You can find planners as simple as a traditional paper planner or as detailed as an online homeschool planning program.
Take a peek inside the top 10 homeschool planners in this article where I talk about the pros and cons of each one. Walkthrough videos included!
1d. Before Planning for Homeschool: Popular Homeschool Planners
While you are mapping out your subjects to cover, using simple tools to keep you organized will definitely help this process. Here are a few popular planning tools to consider.
Homeschool checklists are the simplest ways to keep track of your subjects. Some homeschool parents like to simply cross off homeschooling tasks as they complete them.
Traditional/Paper Planner for Homeschool
Many homeschool parents enjoy being able to write thoughts down with a good old-fashioned pencil and paper.
Paper planners typically have enough space for extra notes and more detailed homeschool lesson plans.
Planners for homeschooling have specific sections that many homeschoolers find handy like attendance pages, curriculum trackers, space for planning field trips, and more!
Printable Homeschool Planner
Printable planners have the same benefist as paper planners except they are a bit more customizable. You can decide what pages to print and how many copies of each page you will need. This added benefit works great if you need to make more than one copy for multiple homeschool students or like planning in more detail.
Homeschool Spreadsheet Template
A homeschool spreadsheet template is useful for similar reasons to paper or printable homeschool planners but it comes with a few bonus benefits.
First of all, spreadsheets are editable – which I find extremely useful because your homeschool needs are ever-changing.
Another benefit of online spreadsheet planners is you can access them on any device (with internet or data). This means if you are traveling, at the library, standing in line, or at the park you can make edits easily.
2a. Time For Planning Homeschool: Planning Your Homeschool Year
Now that you've got your foundations set, it's time for the meat of your homeschool planning!
To start us off strong, I'd like to give you a few tips to help you make your planning session(s) a success.
3 Helpful Tips for Planning Success!
Before you dive right into planning it is important to keep a few things in mind. Below are three tips to help you get into the right mindset and avoid pitfalls many newbie homeschoolers make.
TIP 1: Don't Plan Too Far Ahead
Many, many seasoned homeschool parents that I've talked to say don't plan too far ahead. The reason is that anything you plan too far in advance is subject to change.
Unlike public school, homeschooling is a lifestyle that is integrated with your family life. This means that just as your life will change and adapt, so do your homeschool plans.
Influences such as curriculum changes, learning needs/preferences changes, schedule changes, family events, sickness, and more can present changes to what you've worked hard to plan.
So make your plans flexible!
But how can you feel prepared if you can't plan too far ahead? Check out tip 2 below. ↓
TIP 2: Start A Rough Outline of Your Homeschool Year
Start an outline with a bird's eye view of your schedule BUT… write it with a pencil.
I love to look at the year ahead with a zoomed-out perspective. Mapping things out generally helps me to get a sense of direction without having to get into too many details.
This allows me to make sure our goals are being met throughout the year while allowing for flexibility to make changes.
Here are a few things to consider when you are outlining your homeschool year.
What subjects do you want to cover this year for your children?
What curriculum or units will you use and about how long will your children need to complete them?
Consider any specific events, holidays, or milestones to incorporate
Create a loose outline or timeline for each unit or theme – not specific lessons
Do you need to account for seasonal activities such as sports or other extra-curricular activities?
TIP 3: Plan Your First Few Weeks
Start small by just planning out what your first few weeks will look like. The first few weeks are more about establishing routines, and expectations, and testing out what works rather than diving right into the meat of your school curriculum.
Trust me, you'll want to invest time into this trial-like period where you are testing the waters and finding what works for your family. It will help you lay important foundations to make the rest of your learning year strong.
During your first few weeks consider adding the following things to your homeschool weekly schedule:
Establishing daily rhythms/routines
Setting expectations for your children
Testing and adjusting your teaching methods and curriculum
Joining homeschool co-op groups
Start small with just one or two subjects then add on more as you get the hang of your routines
2b. Time For Planning Homeschool: School Breaks
Taking time to decide when your family will take breaks from homeschooling is important for forming your yearly schedule.
Of course, your schedule can be adjusted as your needs change but it may be helpful to plan ahead when preparing for routines, vacations, and other plans during the year.
Planning for learning breaks will also help to complete the minimum amount of learning days required by your state each year.
Figure Out How Many Required Learning Days You Need This Year
The public school system typically stays in school for about 36 weeks. Homeschoolers, however, have much more flexibility when it comes to how quickly they move through their schoolwork.
This could mean that homeschoolers could finish their school year earlier than 36 weeks but this depends on your state requirements.
Click here to learn how many learning days your state requires.
Consider These Popular Homeschool Break Schedules
Many families find different benefits in how they schedule their breaks throughout the year. The break schedules below are some of the more popular ways that homeschool families schedule breaks and they may inspire you as you consider your own preferences.
Traditional Schedule:
Taking a traditional break schedule follows the same or a similar pattern to the public school system. Learning usually starts in the fall then students have breaks for holidays, spring break, and a longer break during the summer.
Traditional Schedule Advantages
Take longer breaks for vacations in the summer
Breaks correlate with seasonal sports, summer camps, and other elective activities
Your kid's breaks will match with friends and family who follow traditional school schedules
Use summer breaks to reset mentally so you can start school refreshed again in the fall
Year-Round Schedule:
This break schedule is where homeschoolers learn throughout the year usually without taking a large break in the summer.
Homeschoolers with a year-round schedule often take breaks throughout the year.
Some homeschoolers learn one week and then take a week off.
Others choose to homeschool 3-4 days a week instead of 5.
Year-Round School Advantages
Year-round allows students to homeschool fewer days a week or fewer hours in the day
Helps kids to avoid summer learning regression
To beat the crowds on vacations
Allows for more time to accommodate special learning needs
Flexibility for working around parent work schedules
More flexibility to decide when your child wants to learn and when they need to take time off.
Questions To Ask Yourself Before Planning For School Breaks
Here are a few questions to ask yourself to help you decide what your break schedule will look like.
While reading these questions, consider your state's laws, family rhythms, specific needs, preferences, vacations, your child's learning style and temperament, and your work schedule when deciding how many days on/off to take.
How many days are required by your state for learning?
Are there certain times of the year when you typically have more or less flexibility?
Do your children thrive with a consistent routine, or do they need more frequent breaks to maintain focus and motivation?
Do you take long trips and vacations or short ones?
Do you want to take breaks around the same time as your children's friends and family who follow the traditional school break schedule?
Do you want to beat the crowds for vacations?
Bonus Tips for Taking Breaks:
Leave time for unscheduled breaks. This will come in handy because life happens and unexpected events easily eat into the school year. Sick days, family events, family emergencies, and work emergencies are just to name a few!
You don't have to commit to one schedule. As you go throughout your school year, you may see a need to change up what you had originally planned. This is completely normal and homeschooling allows you to adjust as you go. It doesn't matter when you school, as long as you are learning the number of days required by your state.
2c. Time For Planning Homeschool: Homeschool Weekly Schedule
It is healthy for your children to have a bit of structure in their homeschool routines. This doesn't mean you need rigorous or inflexible schedules, it just means to provide consistency in what you decide to do.
Once you get your rhythms organized, you can always allow for flexibility within your routine to meet the needs of each day.
Homeschool Weekly Schedule: Decide How Many Days You'll Homeschool Each Week
Many homeschoolers focus on the core subjects 3-4 days a week and have a separate day to focus on other important subjects such as science, history, and electives.
Others find it easier to fit what they want to learn in 5 days.
Keep in mind, it doesn't really matter what other homeschoolers are doing because ultimately, this decision is what is best for your family. However, looking at what others do is just a starting point to give you an idea of what you might want to give a try.
Click here to jump to the real-life homeschool schedule ideas that I've listed below! ↓↓
Pros of Homeschooling 4 Days a Week:
Allows for learning 4 days a week but then a more flexible time for a co-op day activity, extracurricular activities, or break day during the week.
Learning can happen on the 5th day but isn't always traditional school work.
Homeschoolers can use the 5th day for catch-up time.
Pros of Homeschooling 5 Days a Week:
Homeschool for less time each day
Can complete schoolwork with less hours each day.
Fit in more learning time and subjects
Some homeschoolers like doing core subjects 4 days/a week and electives 1 day a week
2d. Time For Planning Homeschool: Your Homeschool Daily Rhythm
Having a routine for starting your day is one way to have a smooth learning experience. It helps to establish rhythms that your children learn to follow and reduces pushback from your children.
Thoughtful routines also start the tone for the day. If you start on the right foot, you're more likely to get more accomplished.
When you start your homeschool day and how you schedule activities throughout doesn't necessarily have to rely on the actual time of day, however!
Homeschool Daily Rhythm: Homeschool Morning Routine
Here are a couple of popular ways to start the day strong among homeschool families. Consider what type of daily homeschool plan works best for you.
Homeschool Morning Routine Option 1 – Have a Task-Based Start Time
Many homeschool families feel it is best to start when they are ready. They start the day when a number of tasks have been completed vs. a specific time of day.
They eat breakfast, get dressed, do chores, and start homeschooling when those tasks have been completed.
This schedule is still following consistency, it's just not based on time on the clock.
Homeschool can happen in a shorter amount of time than traditional school so many families feel there is plenty of time to fit homeschooling into the day without stressing about a dedicated start time.
Questions to ask yourself to see if a task-based start time is best for you
Do I feel stressed, in a hurry, or have a hard time creating a peaceful vibe if I don't have a consistent start time?
Are my children still willing to learn without a regular start time?
Am I more at ease with doing the next task instead of sticking to a strict timetable?
Can we manage to accomplish most of what we want to do during the day even if we don't start at a specific time?
Homeschool Morning Routine Option 2 – Have a Consistent Start Time
Consistent start times help families find a steady rhythm. It is especially nice for families who have to work around busy schedules or like more predictable routines.
Because homeschooling can be completed in less time than public school, you have more flexibility in deciding when you want to start and finish your homeschool lessons.
Advantages of a consistent start time:
It may help kids avoid complaining from your children
Accommodate parents who work
Work around busy schedules for extracurricular activities
Reduces anxiety from children who like more consistency
More predictable start and stop times to plan activities around
Questions to ask yourself when deciding to start at a consistent start time:
Does it gives you a sense of steadiness or stress you out?
Do you need it to feel organized or do your children need to know when they are expected to start?
Will a specific start time make it easier to fit everything into your busy schedule?
Which Homeschool Morning Routine Is Best?
I sent out a poll in which 230 homeschool families responded on if they use a routine-based or time-based start time for their homeschool schedule.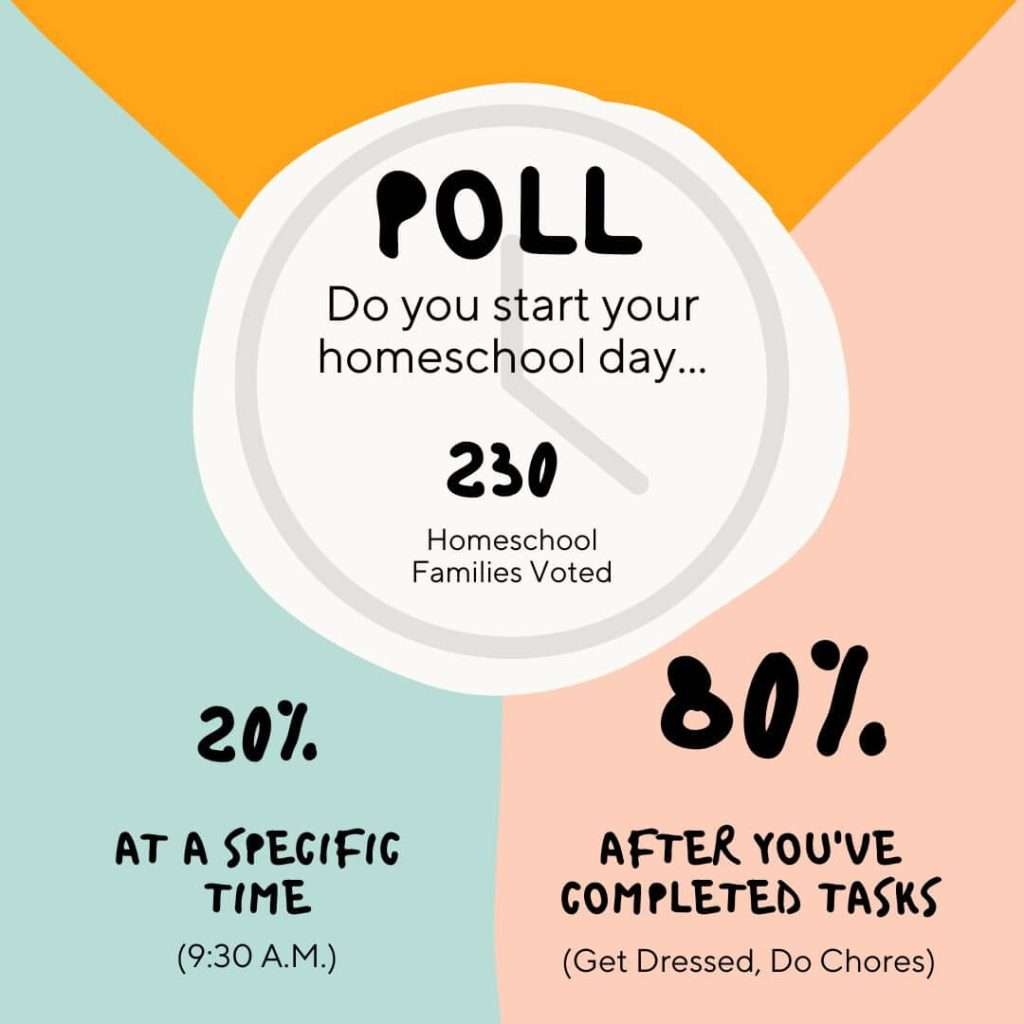 A routine-based start time was by far the most popular among these homeschooled families. Surprisingly, 80% of families preferred a routine-based start time while only 20% of homeschoolers stuck to a time-based schedule.
Many of these families commented that the routine-based schedule allowed them to have more flexibility for their children while the time-based parents said it helped them stay consistent and more productive during their day.
Regardless of which style of start time you choose, the important thing to set in place is a consistent routine to follow. Children learn best with rhythms and consistency no matter what your routine looks like for your family.
Homeschool Daily Rhythm: Decide What to Teach
When planning your homeschool curriculum, it's essential to consider both state requirements and subjects crucial to your child's development.
While language arts and math are universally important, you have the freedom to include subjects that will set your child up for success.
Below are some steps you can follow when prioritizing what subjects to fit into your schedule.
a. Decide What To Teach: Start With The "Critical" Subjects
It may be obvious but there are a few subjects you don't want to miss teaching in your homeschool. How and when you teach these subjects is up to you, but they are critical to include in the development they bring to your children.
Consider how you want to incorporate non-negotiable subjects into your homeschool. Here are a few suggestions on subjects to include as "critical" subjects.
I would suggest that these subjects are prerequisites to all other subjects and are important for your child's, language, emotional, and brain development.
It is important to set in place the critical subjects before arranging other subjects you'd like to cover to ensure that you are consistently covering the most important ones.
b. Decide What To Teach: Add In The "Important" Subjects
Once you've decided how to add in your critical subjects, it's time to consider when you'll fit in the other subjects that are important for your children to learn. These subjects are a step above electives but not as essential as the critical subjects mentioned above.
"Important" Subjects to Consider:
History
Science
Typing
Financial Literacy
Music/Art
c. Decide What To Teach: Integrate or Merge Subjects
Other homeschoolers integrate more than one subject together. This is a great way to make learning the core subjects fun and enjoyable while also simplifying your schedule.
Examples of Integrating Subjects Together
Nature studies with math
Art and reading
Music and language arts
d. Decide What To Teach: Start Slow and Don't Be Afraid to Cut Back
Don't feel like you have to pack all the subjects you want your child to cover all at once!
You can keep learning simple by starting with the most important subjects. Then slowly add in elective subjects as you establish routines over the course of the year, different seasons of the year, or even over several years.
If you started the year over-ambitious and find yourself overwhelmed, give yourself permission to let go of some things. It is better to have a strong routine of a few subjects rather than spreading yourself too thin and not getting anything accomplished.
Homeschool Daily Rhythm: Plan When You Teach Each Subject
Just like all of the other aspects of planning your homeschool year, scheduling subjects is completely dependent on your family's needs. However, here are a few areas to consider to help you get started.
Prioritize core subjects during optimal learning times
Some parents find it helpful to tackle the more challenging subjects first in the day, while others prefer starting with easier ones. Experiment to find what works best for you and your children.
Consider your child's natural rhythms and energy levels
Think of times of the day when your child can focus the best, or times when they may need mental or mealtime breaks.
Create a schedule that balances challenging and engaging subjects throughout the week
Sometimes it is easier for homeschoolers to plan one critical subject each day of the week and pair them with fun subjects.
For example
Monday – Math, music, and art.
Tuesday – Language Arts, typing, and science.
Think of external schedules and appointments.
Before you block out time during your week for specific subjects, it is important to consider things in your family's schedule that have fixed times such as play/co-op groups, doctors appointments, or music, dance, or other extracurricular lessons outside your home.
Leave room for flexibility and unexpected events
Unexpected events can arise, such as children falling ill, days where no one can seem to focus, and other needs that will interrupt your plan for homeschooling. By being flexible, you can better respond to your children's needs rather than strictly adhering to a rigid plan. Remember, the beauty of homeschooling lies in the ability to adapt and tailor the learning experience to best suit your family's unique circumstances.
3. REAL Homeschool Schedule Ideas
Of course, everyone's schedule will look different – because everyone's family dynamic is different! However, it always helps to get started by looking at what other homeschoolers are doing.
Not to compare but to emulate and adopt what you like!
I've asked a few of my homeschooling peeps to share their homeschool routines and schedules with us. Enjoy reading them below!
Year-round homeschool schedule idea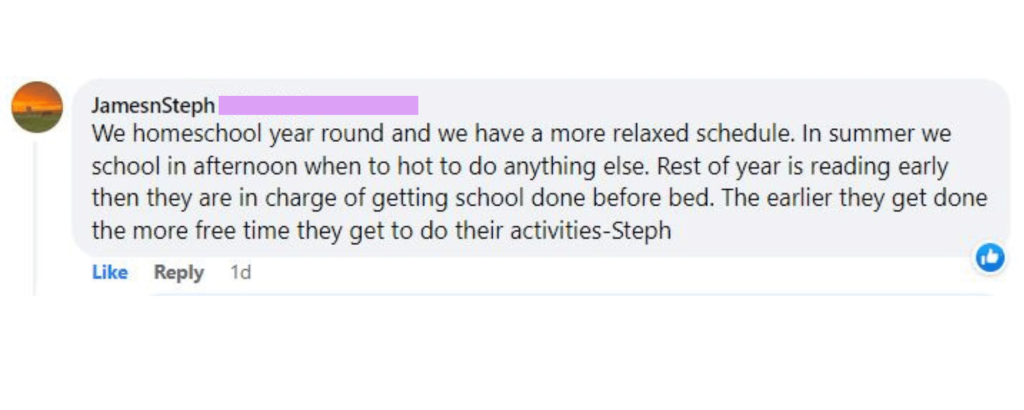 Homeschool daily schedule idea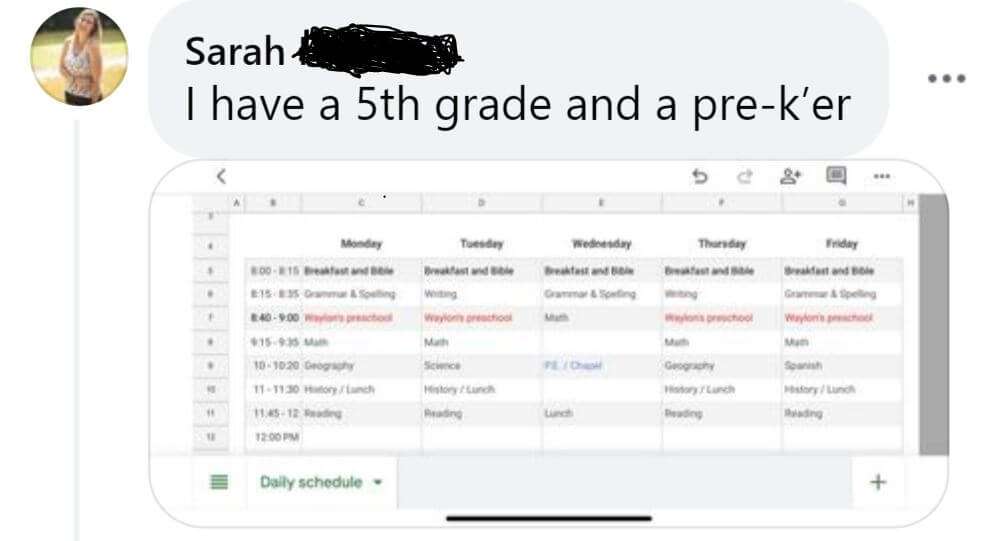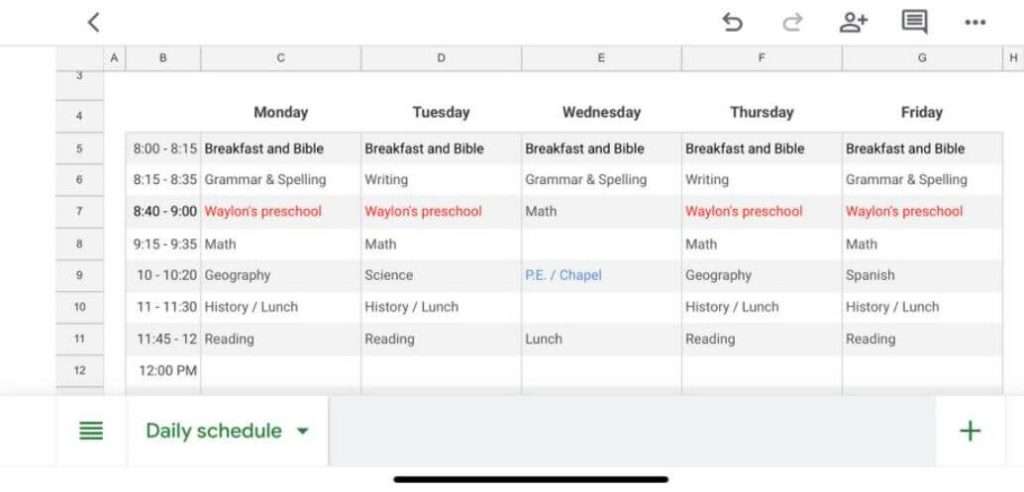 Multiple child homeschool schedule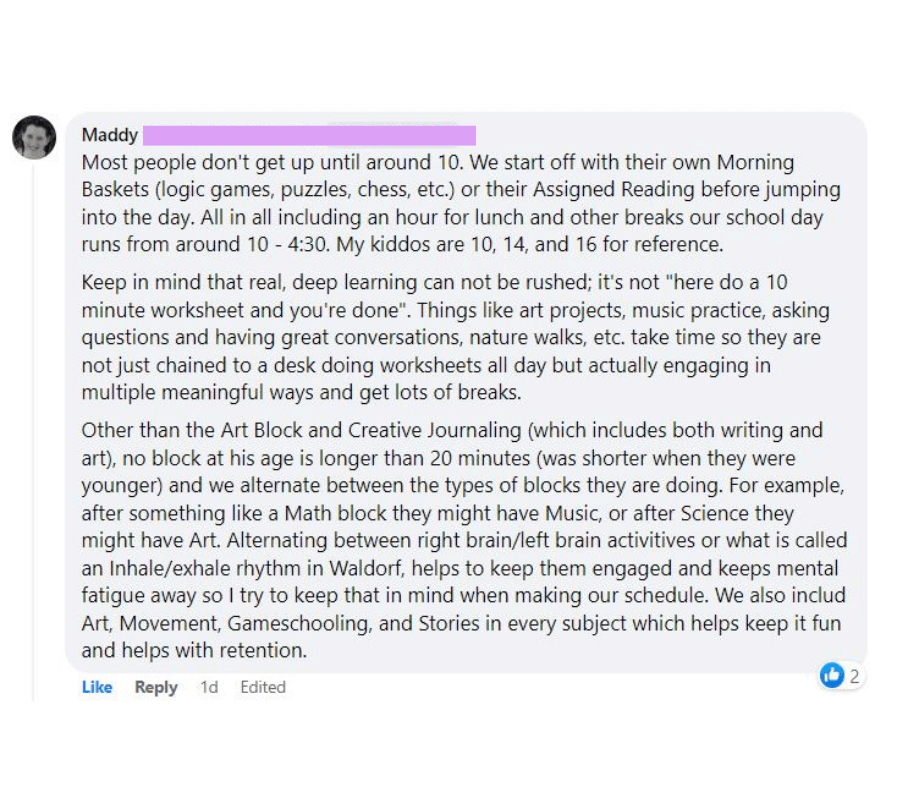 Preschool homeschool schedule idea
This is the routine chart that I made for my son's current preschool schedule (I've changed his name for privacy). You can grab an editable copy of this daily homeschool plan template for free here.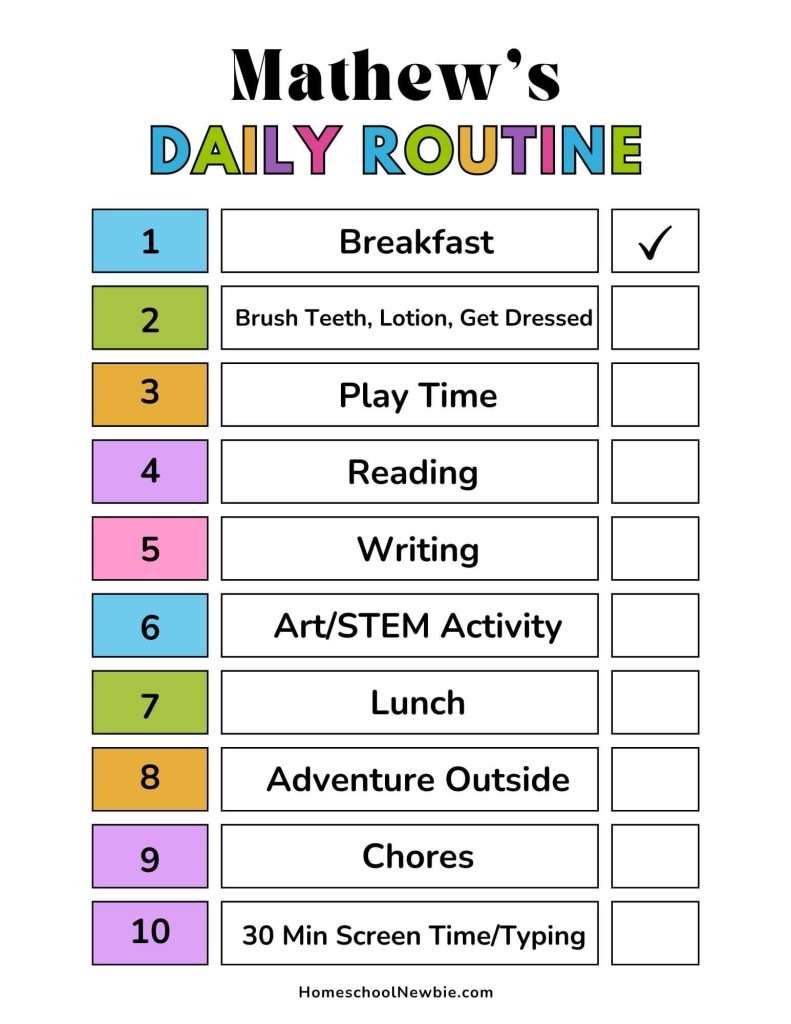 We follow a task-based routine so I've numbered his tasks instead of including specific times. If you follow a schedule with specific times, you can easily add them to your copy of this free editable routine chart.
Once he completes a task, he moves on to the next. I often let him choose the order of the tasks with a few exceptions. For example, he can only have his screen time when his chores are complete.
Our schedule often morphs to meet the needs of the day. Our routine is mainly a guide to follow, not the rule.
Kindergarten homeschool schedule idea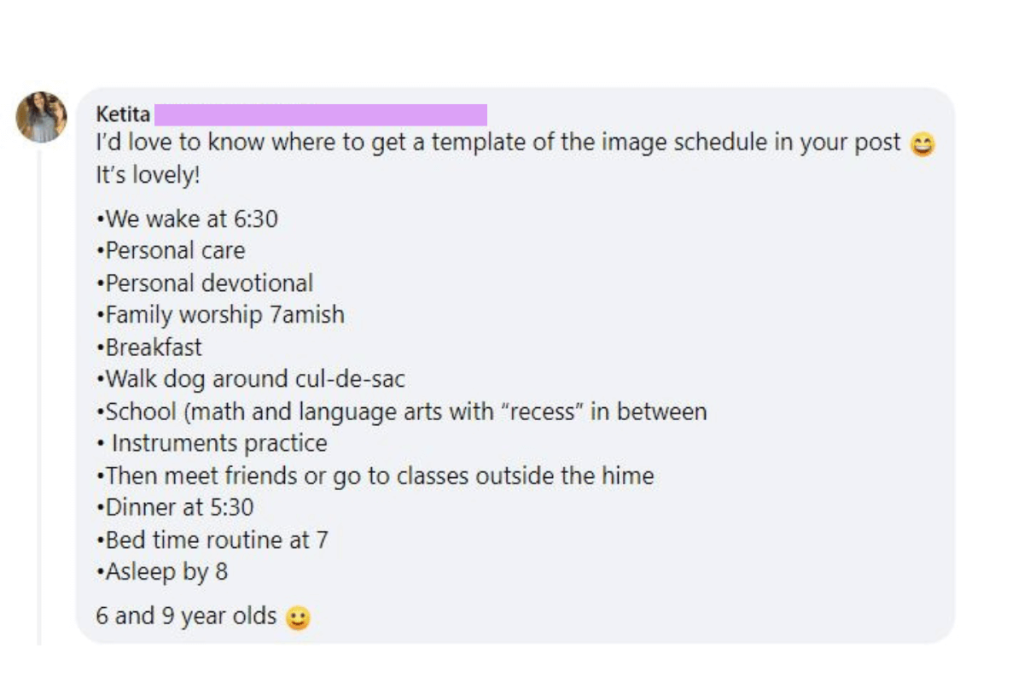 Homeschool schedule ideas – 2nd & 7th grade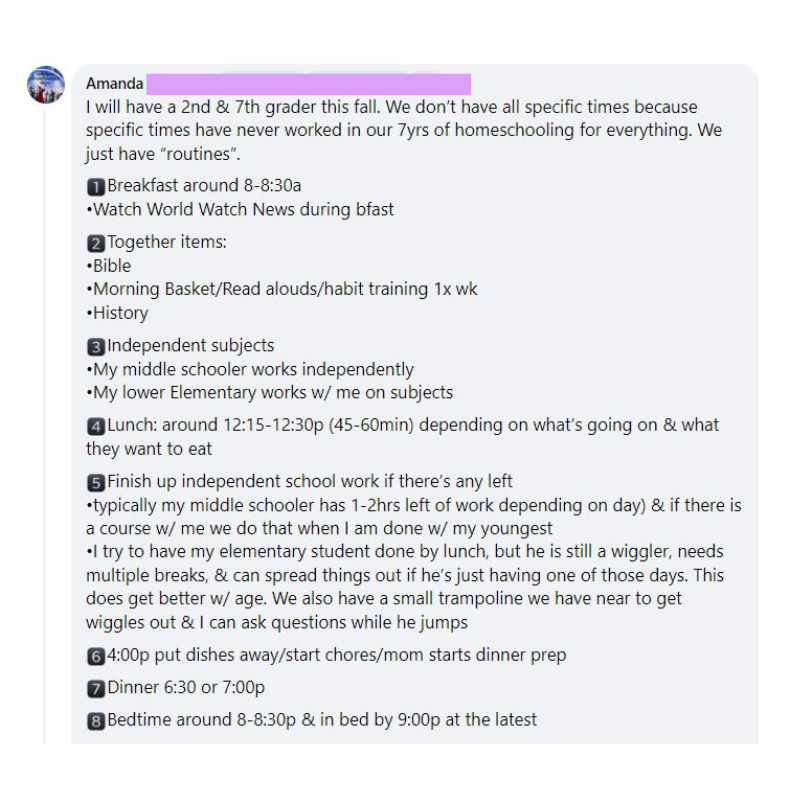 Homeschool Middle school schedule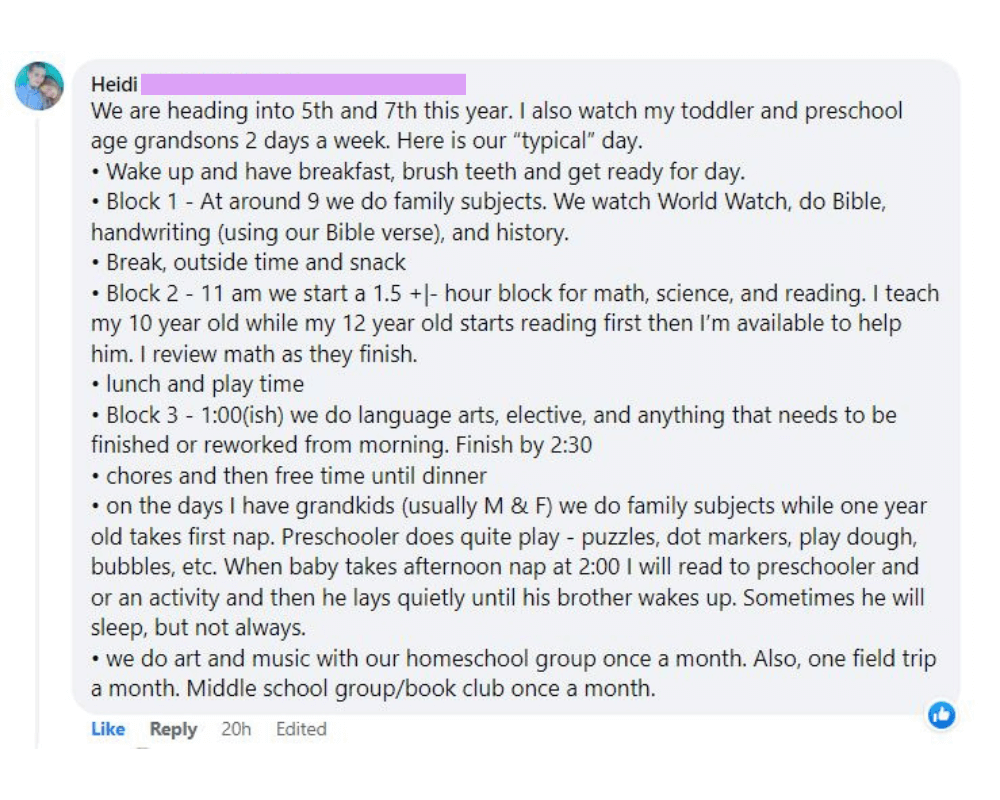 Homeschool high school schedule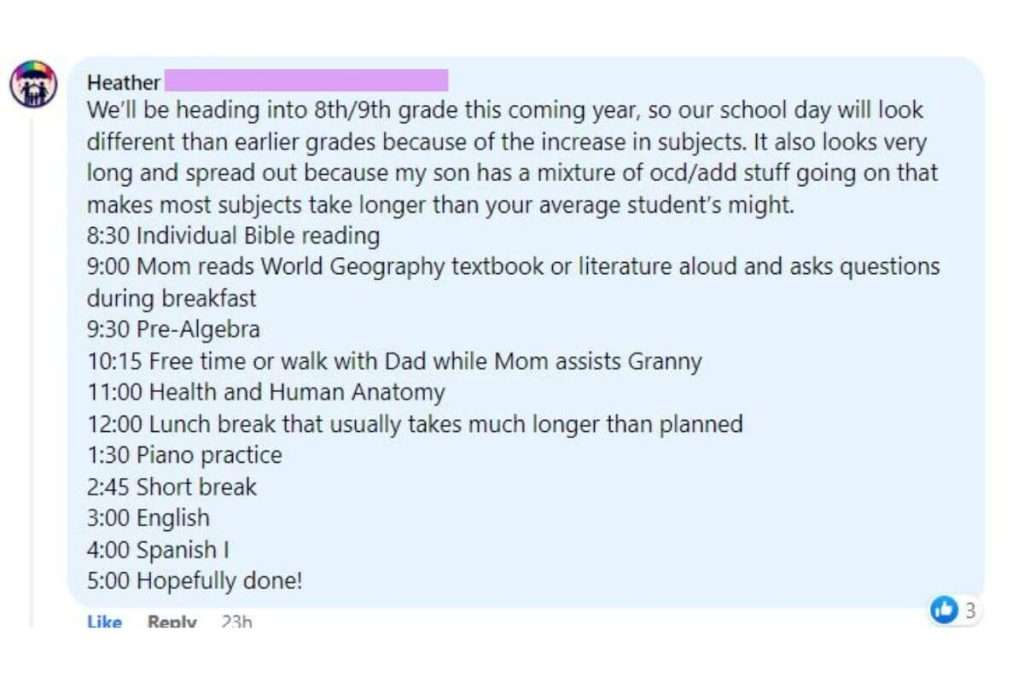 4. Evaluating and Adjusting Throughout the Year
Evaluating and adjusting throughout the year is a natural part of planning your homeschool year.
As I mentioned above, you'll want to limit how far in advance you plan your lessons in detail because change is unavoidable. It's important to regularly reflect on how things are going to ensure your plans continue to meet your child's needs.
By now, both you and I are getting tired of hearing it but… be flexible, flexible, flexible!
If something isn't working or could be improved, don't hesitate to adapt and modify accordingly.
Seeking feedback from your child can provide valuable insights into their learning experience and help guide necessary adjustments.
Conclusion
Planning for your homeschool year can seem daunting – especially if you've never homeschooled before.
Simplicity will be your best friend while you think through the homeschool planning process.
We talked about A LOT of tips, tricks, and suggestions for planning homeschool. But don't worry, you only need to remember three things to plan a successful homeschool year.
Remember these 3 things and you'll be good to go!
Only plan what you need to do ahead of time
Maintain flexibility during year
And be open to adjustments
The rest will come as you think through this process and test out what works for your family.
Don't forget to grab your copy of the editable daily routine chart! It's a super simple homeschool resource yet effective for keeping your homeschool activities running smoothly.
What's Next?
Having the right planning and organization tools in place will help you create a smooth planning experience. Check out these fun planners specifically for homeschooling parents.
I've bought and reviewed the top 10 paper homeschool planners from Amazon so I could find the best ones specifically for homeschool mamas.
I walk you through these planners from a perspective of a teacher and a homeschool parent. See what's inside these homeschool planners!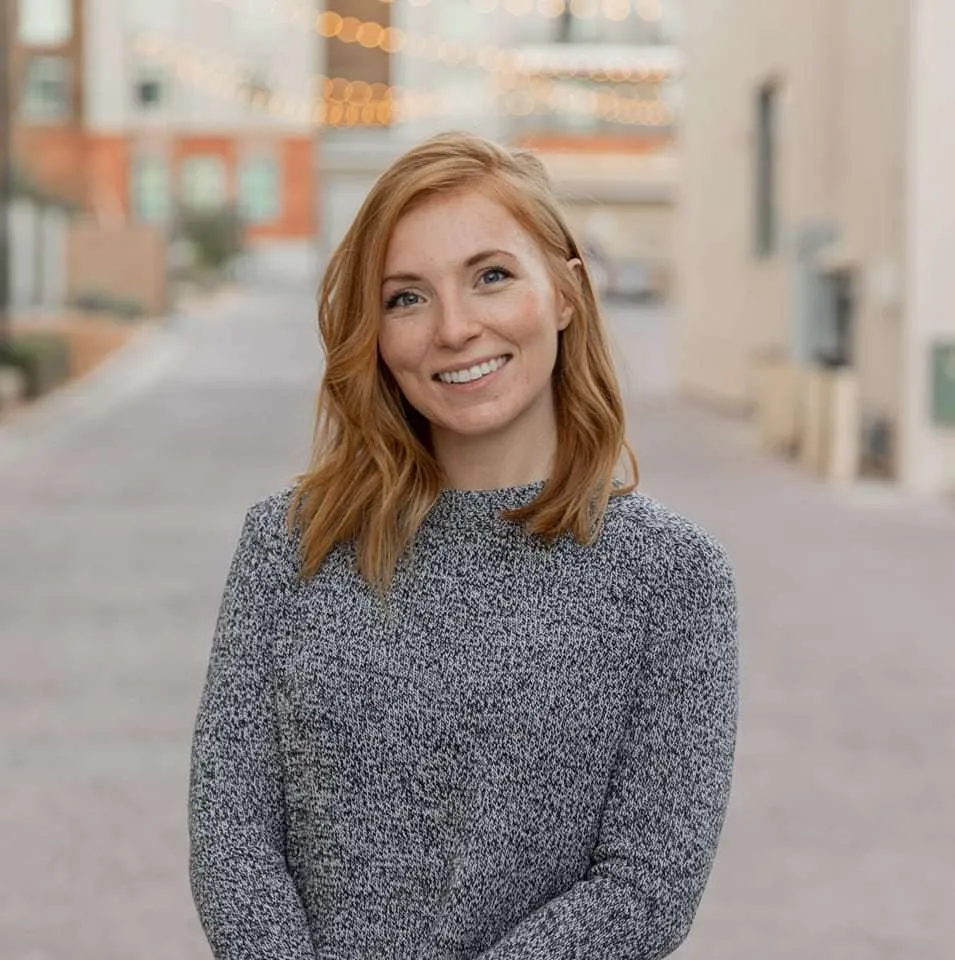 Hi, I'm Tori! I'm the founder of homeschoolnewbie.com. I'm a former elementary school teacher turned homeschool mama who has a passion for home education! I have 10+ years of experience working with children in all kinds of educational settings. As a new homeschooling parent, my mission is to navigate the world of homeschooling and share with you the best home education practices. If you want to learn more about me, check out my about page. See you there!