Over the last few weeks, I've been on a mission to find the best planner for homeschool. Homeschool planners are one way to get organized and set up a successful homeschool plan.
SO, I went on Amazon and bought 10 of the best homeschool planners with the highest reviews.
In this article, I've narrowed them down to my favorite 6 planners.
Watch the videos below where together we'll flip through each page and talk about the pros and cons of each planner.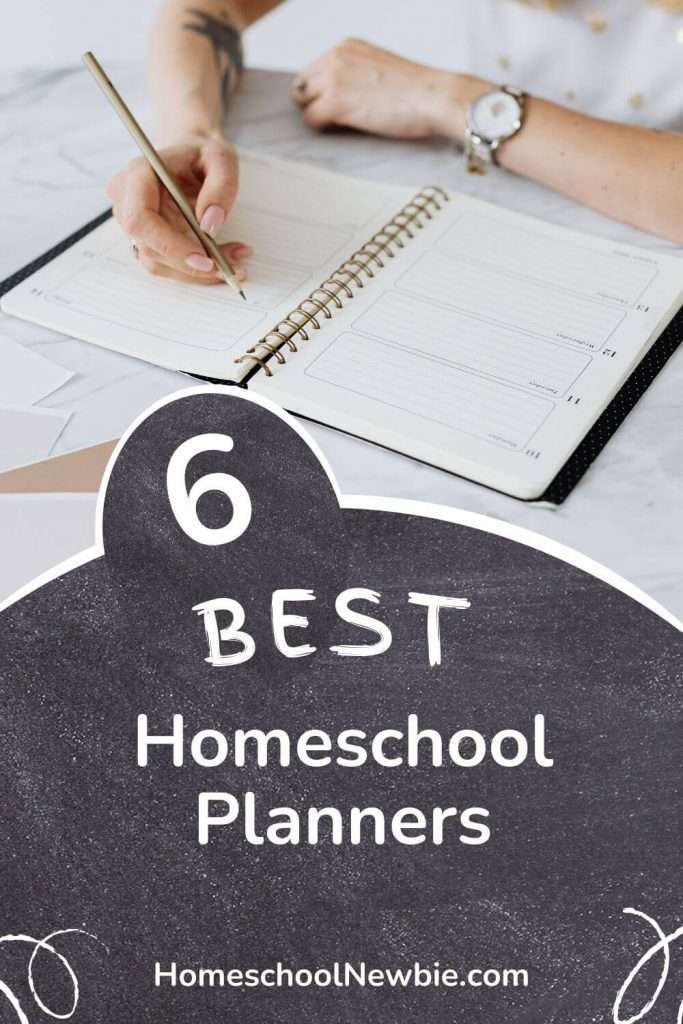 As an Amazon Associate, I earn from qualifying purchases. Some of the links in this post are affiliate links, which means if you click on the link and make a purchase, I may earn a commission. This commission comes at no additional cost to you and is how I am able to create more amazing content for you. Thank you for your support!
A planner can be powerful to organize, save time, and keep a record of memories of your homeschool journey.
However, not every homeschooling family uses a planner to help them get organized. In fact, many don't!
But for a lot of homeschool parents, using a planner as a starting point helps them find what works best for them.
Also, consider that the planners listed below are all undated! This means they will accommodate any time of the year. This way, you can start homeschooling any month of the year and take months off and pick up where you left off without wasting any space.
Read on to look inside the top-rated homeschool planners on Amazon and what they have to offer you.
Best Undated Planners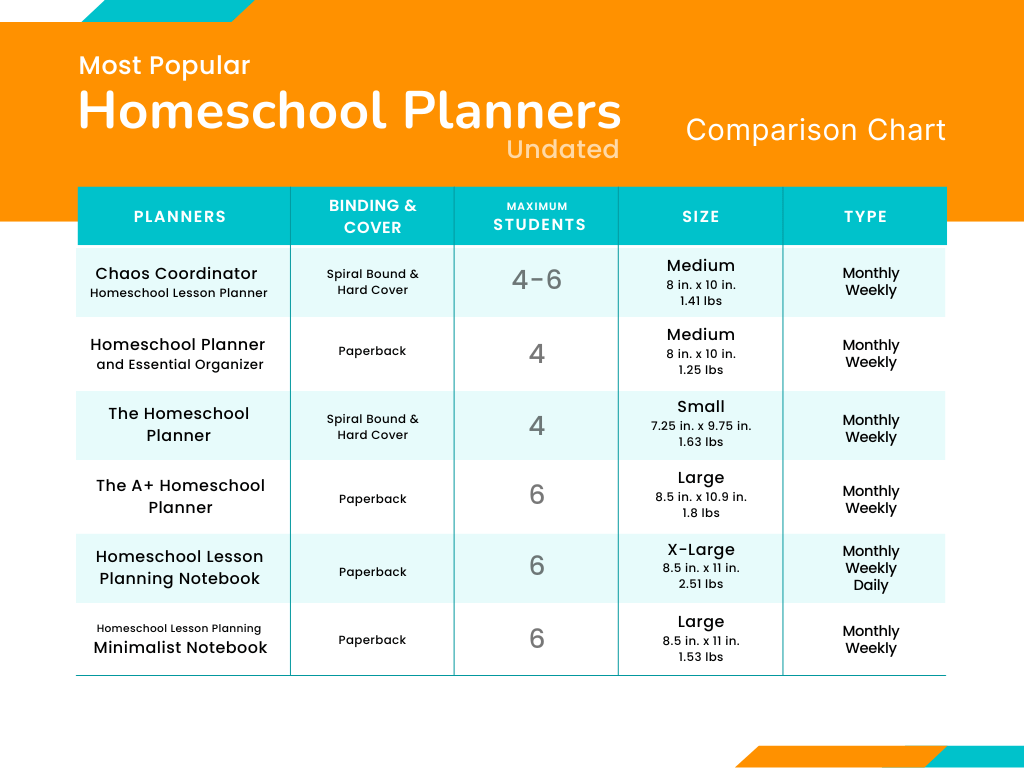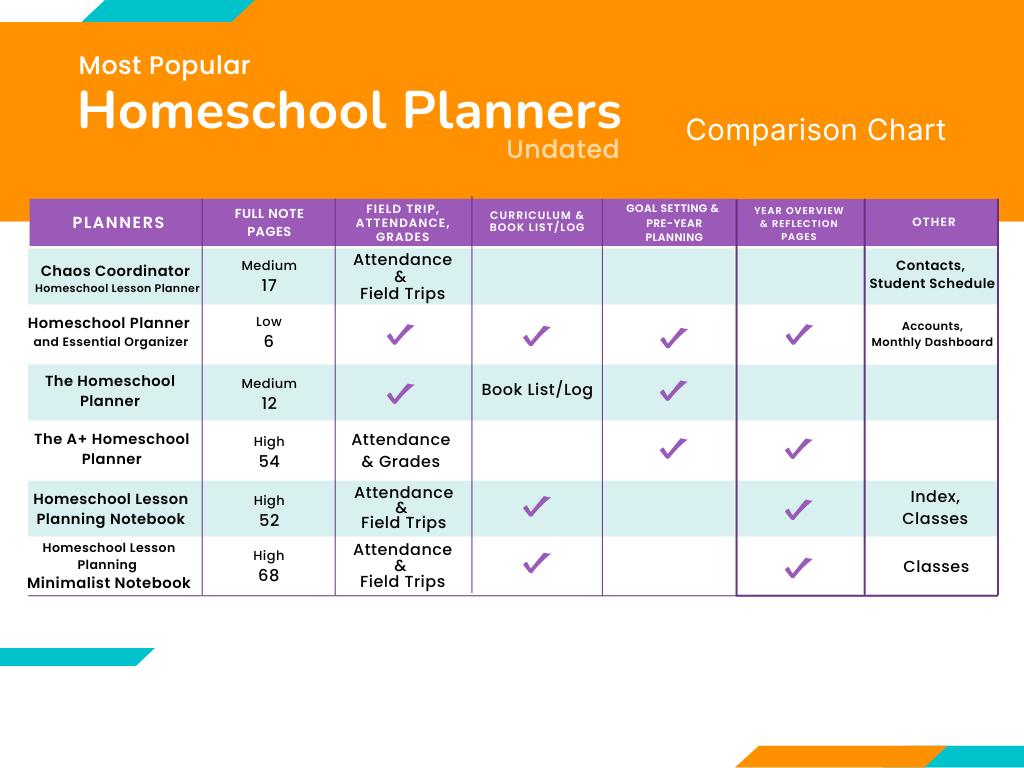 Best For – Simplicity
This planner is best for homeschooling parents looking to focus on the basics. The lack of extra resource pages in this planner may help avoid feeling overwhelmed.
Pros and Cons list
Pros
Durable material and spiral bound
Pretty and clean design
Sticks to the basics and avoids overwhelm
Natural flow to the placement of pages
A lot of places to write notes
Cons
Missing pre-year and daily planning pages
Some of the pages seem excessive (4 attendance pages)
Not clear how many students this planner accommodates. Some pages suggest 4 and others suggest 6.
Features
Hardcover
Spiral Bound
4-6 Students
1 Year
Undated
Monthly & Weekly Planning
Medium Size (8 in. x 10 in.) – Medium Weight (1.41 Pounds)
Extra Resource Pages

Attendance
Field Trip
Notes Pages
Checklists (Weekly)
Appearance
Cover
The planner is made with a hardcover giving it a durable feeling. Its design is flattering and vibrant while maintaining a clean feeling.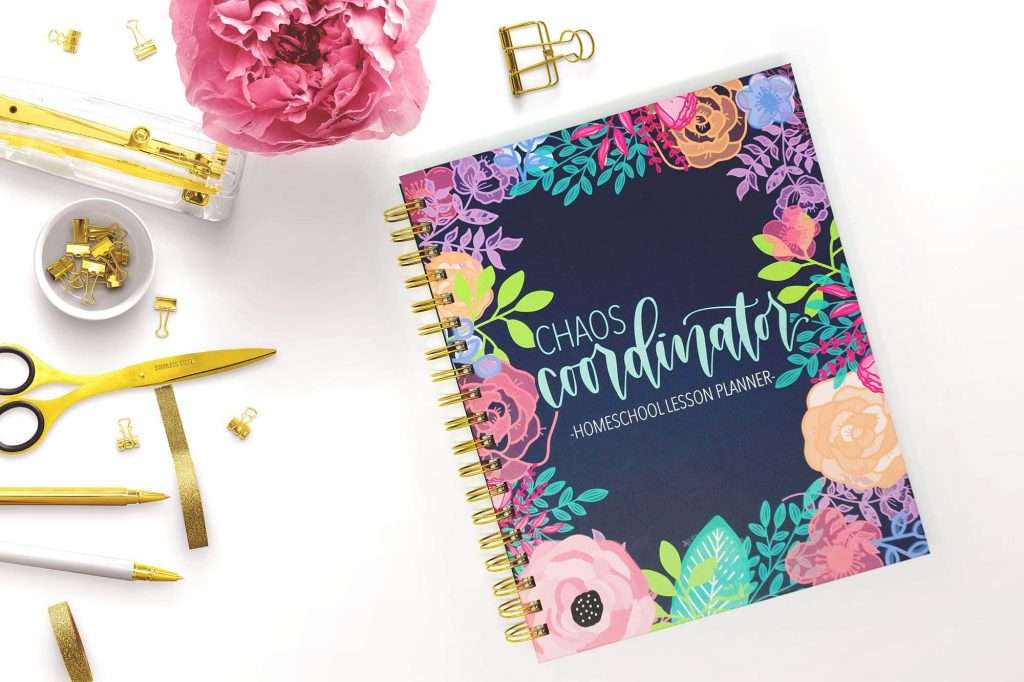 Binding
The binding is spiral bound. This makes it easy to flip through and write on the pages in this book.
Font
The fonts are generally clean and easy to read. Some of the headings are written with a handwritten script. This makes it slightly harder to read but doesn't take away from the pleasant design.
Page Design
The design is playful yet clean throughout most of the planner.
Intro pages
You can add your personal information such as name, email, phone and address.
You may find this page unnecessary unless you want a way for people to contact you if your planner becomes lost.
Contact & Class Info
You then come to a page where you can get in contact with the creators of the planner.
The classroom information page includes a class schedule including times of the day. It also has a space to record your contacts.
This is useful for homeschool parents who plan to follow a routine that is based on the time of day or time blocks.
Parents who have a more flexible routine may not use this section or will need to adapt it to their needs.
Attendance
There are 4 pages total accommodating attendance for up to 4 students.
You can easily adapt these pages for more or fewer students than originally intended.
Using tally marks within the boxes can allow you to record individual students.
If you prefer to record your whole family at once, simply color in a block to represent the family.
Field Trips
It is well-designed, clean, and organized.
Each month has a box that includes when, where, and contact lines. Below each box has blank lines for you to write more details and notes.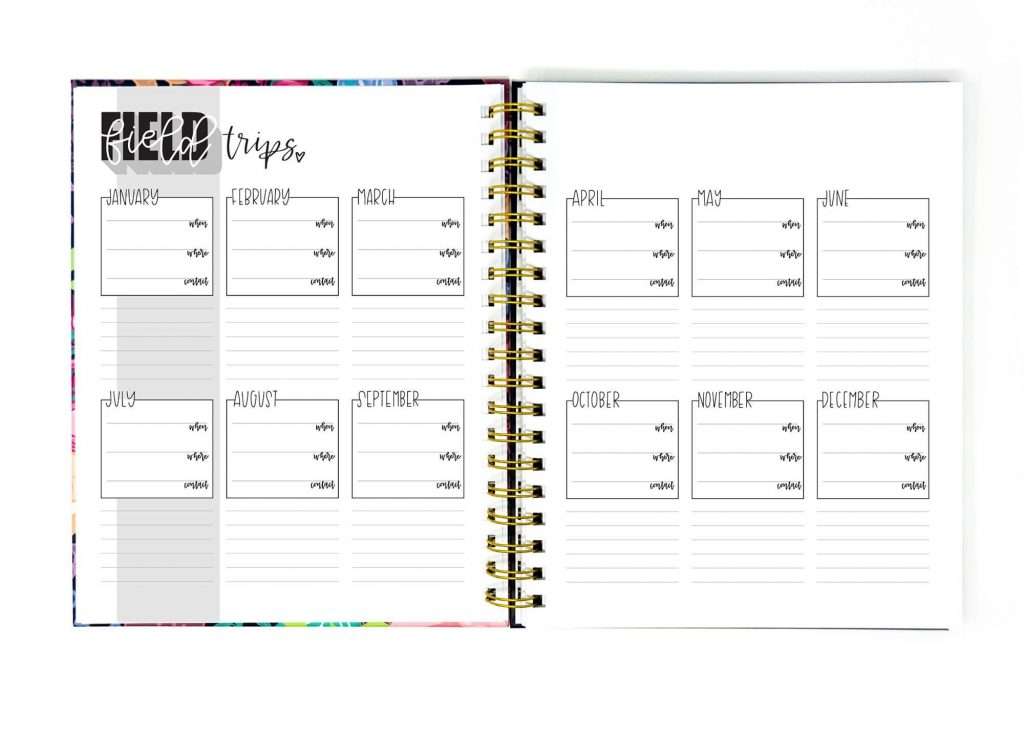 Calendar Pages
Month at a Glance
You then turn to the first month page which is customizable and undated.
As you'd expect, the calendar starts on Sunday and ends on Saturday. The page has a small column with a dotted grid section to add any notes, to-do's, doodles, or brainstorms.
Things To Do By Week
This section provides you with more note-taking and list-building for each week that month.
Uniquely, you can see to-do lists for the 6 weeks in one place.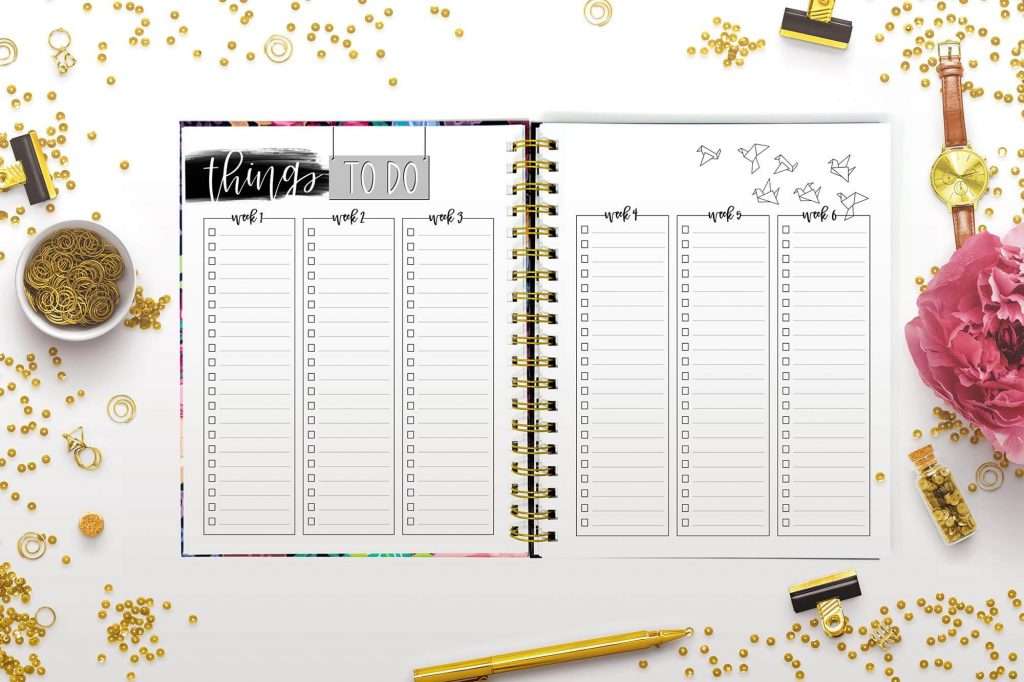 Each line in these lists has a checkbox provided. To the side of the to-do lists, there is a dotted grid section to add further notes.
One thing to consider is the to-do lists and the monthly calendar are located on separate pages. This may bother some people to have to flip back and forth if they want to reference both.
Weekly Lesson Planner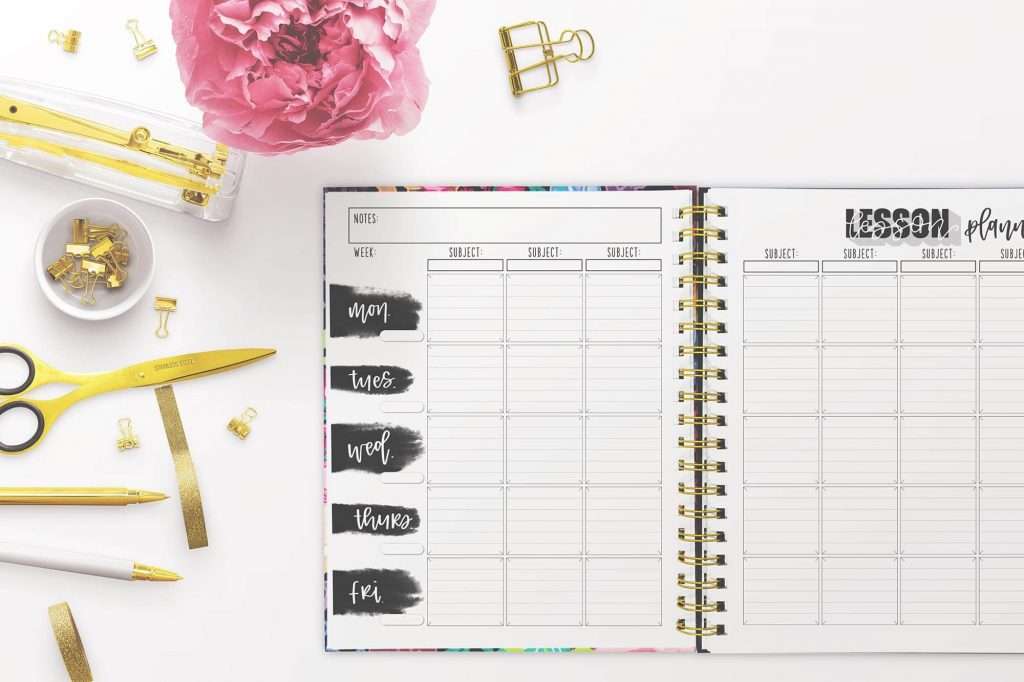 Next, there are 4 weekly lesson planner sections to represent the 4 weeks of the current month.
The blank formatting makes it easy to adapt to your homeschool needs.
These pages accommodate up to 7 subjects, Monday-Friday. Each box has 6 blank lines to write notes.
After the 4 weekly lesson planning pages, it repeats back to the "Month at a Glance" section and so on. This repeats up to week 52. (1 whole year)
End Pages
Notes
The end of the book has 17 full pages for notes. The note pages are formatted with a dotted grid. This gives you the freedom to use the space for notes, mind maps, or other forms of note-taking.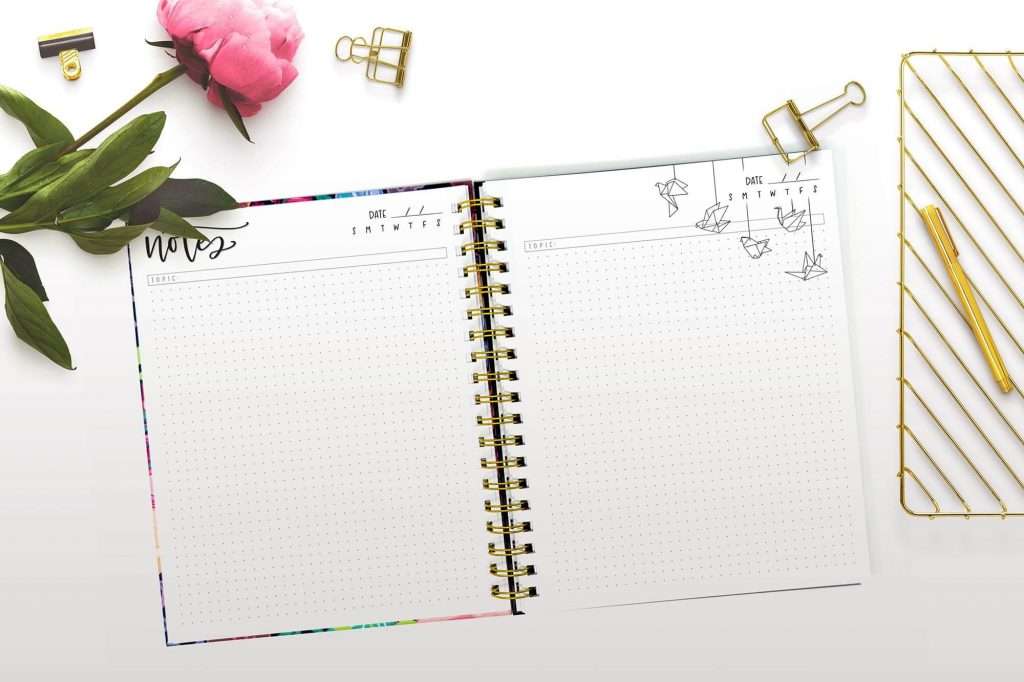 These pages have a place to record the date, day of the week, and a small section to record the topic.
If there are extra resource pages that you need, you can adapt these note pages to those needs.
Best For – Big Picture Planning
This planner is for parents looking to organize their school year by looking at the big picture. It has resources to help you preplan the school year and is built for flexibility.
This planner holds your hand with planning and organization.
Pros and Cons list
Pros
Clean format and design
Great for goal setting and planning ahead
Flexibility to accommodate most homeschooling families
Big picture planning sections to get you organized
Includes extra sections to keep for your records
Guides you through the planning process
Cons
Paperback thin cover
The binding is stiff making it hard to write in
Some sections' formatting could be improved (reading list section)
Features
Paperback
Undated
4 Students
1 Year
Medium Size (8 x 10 in.) – Light Weight (1.25 lbs)
Monthly & Weekly Planner
Extra Resource Pages

How to Use Section
Curriculum & Resources
Accounts and Password Trackers
Field Trip & Event Tracker
Homeschool Connections
Reading List
Attendance
Student Checklist
Budget
Year in Review
Notes
Appearance
Cover
The cover is soft cover and flexible. The design is pleasant, clean, and has cute graphics.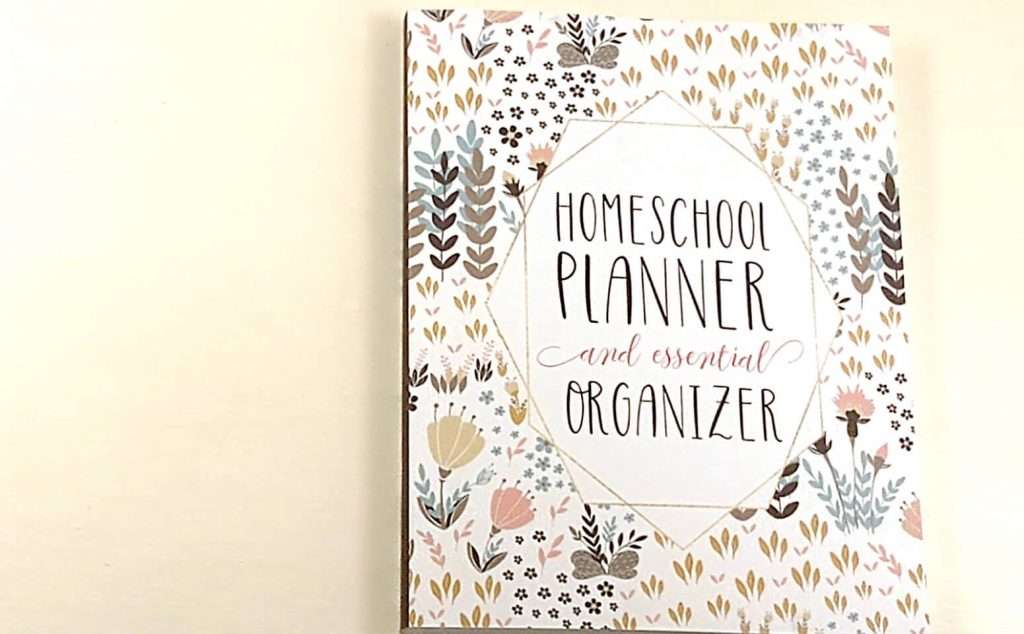 Binding
The binding in this is a bit stiff and tugs back as you open the book. You'll need to crease the pages to help with the resistance or rebind it.
Font
Fonts are generally clean and easy to read. Some of the titles and headlines are cute handwritten script that adds to the design but is slightly harder to read.
Page Design
The pages inside are formatted in a way that allows you to write in neat lines. A lot of the fonts are clean and easy to read.
Intro Pages
How to Use Guide
This section takes you on a tour of your new planner. Along the tour, the author gives you tips on how to adapt this planner to your homeschool needs.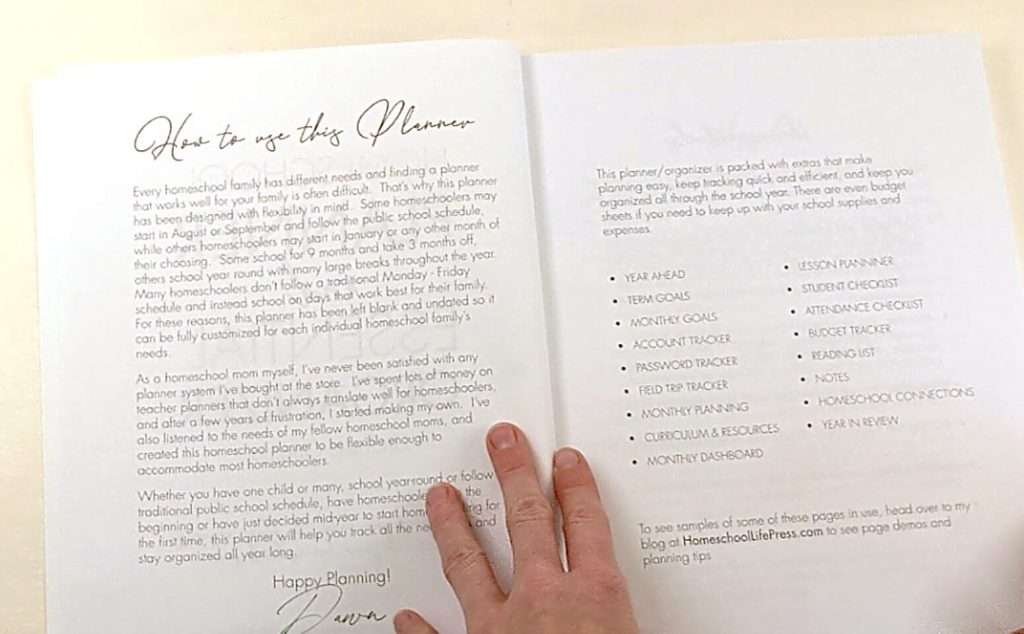 Curriculum and Resources
This 2-page section is organized according to subject. This was intended to help you create balance across each subject. The format is straightforward, clean, and spacious.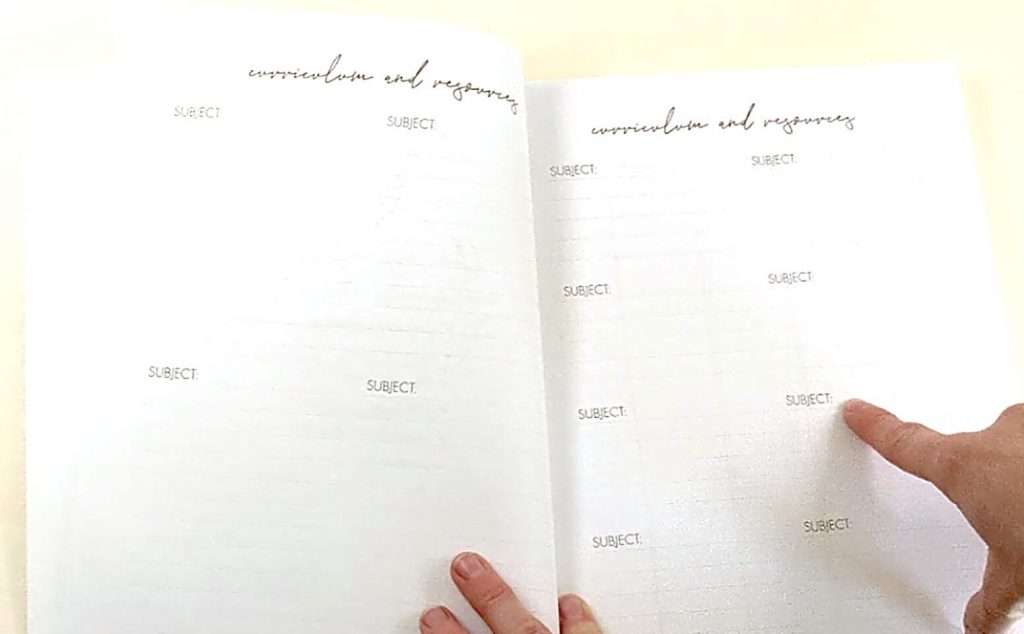 Accounts
There are two full pages for recording online resources.
The sections include an account name, purchase date, expiration/renewal, and price. This is handy if you want one place to record all of your classes, resources, and educational websites.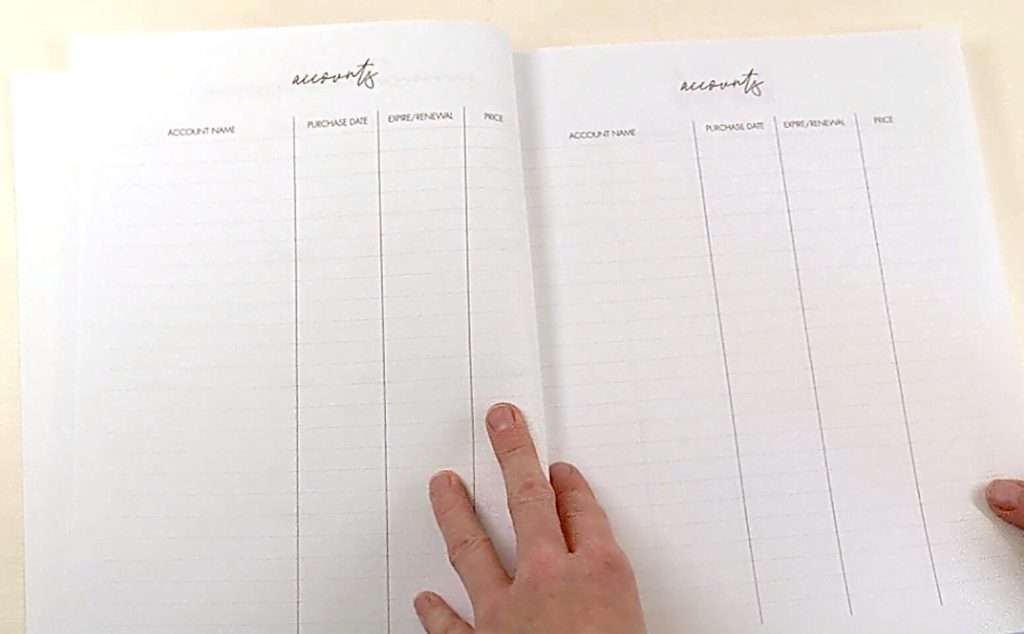 Passwords
The next two pages are dedicated to recording passwords. I find this helpful for parents who don't want to store their passwords online. Just be sure not to record passwords that are sensitive.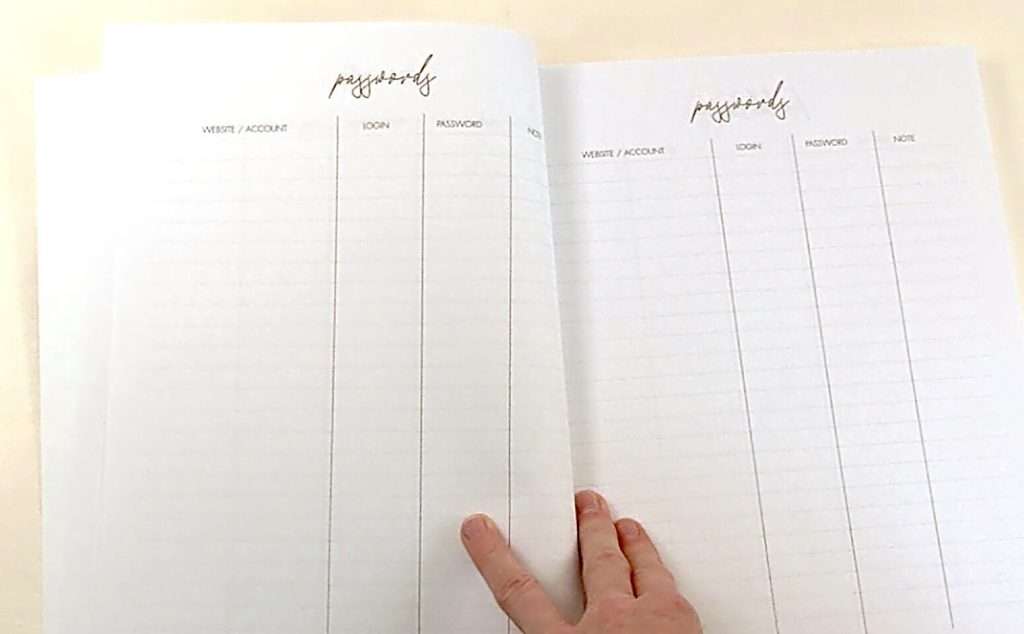 Field Trips
There are a generous 4 pages to record field trips. If you are an avid field trip family, you'll have plenty of space to record. If you rarely go on field trips, you may find this space wasted or need to adapt to your homeschool needs.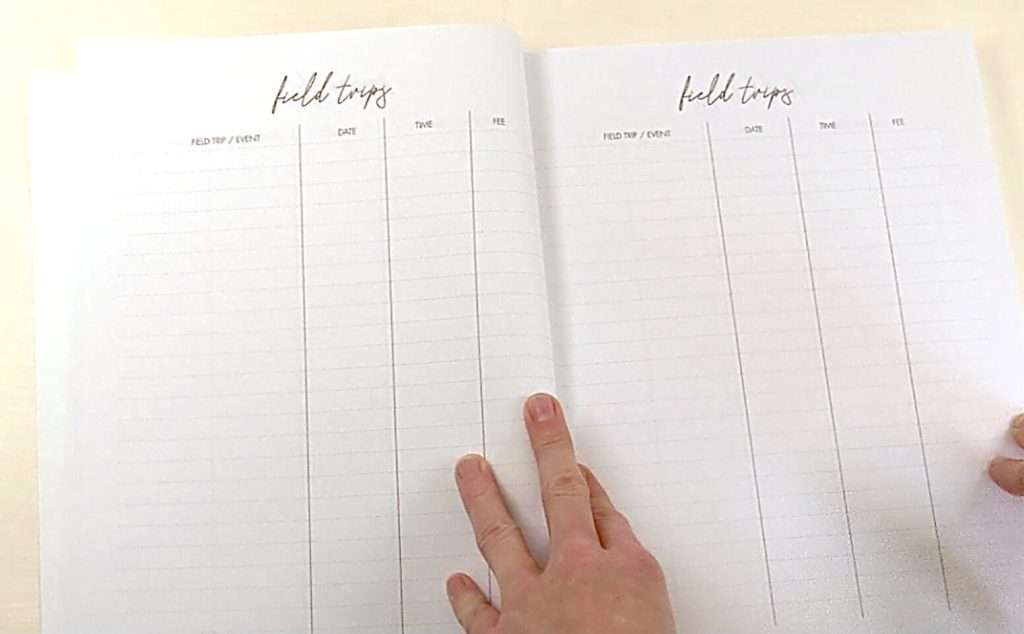 Homeschool Connections
There are, again, 2 pages dedicated to writing down people's contact information. The columns include name, phone, and email.
A lot of people put this information on their phones these days however, for some, this may be useful to have on paper.
Reading List
The next 4 pages are designed with wreath circles. The intention for this section is to keep a list of the books you read during the year and to mark them off as you go.
However, from the design, it isn't obvious how to use the circles. Do you add one book per circle or more? The space seems visually pretty but not as functional.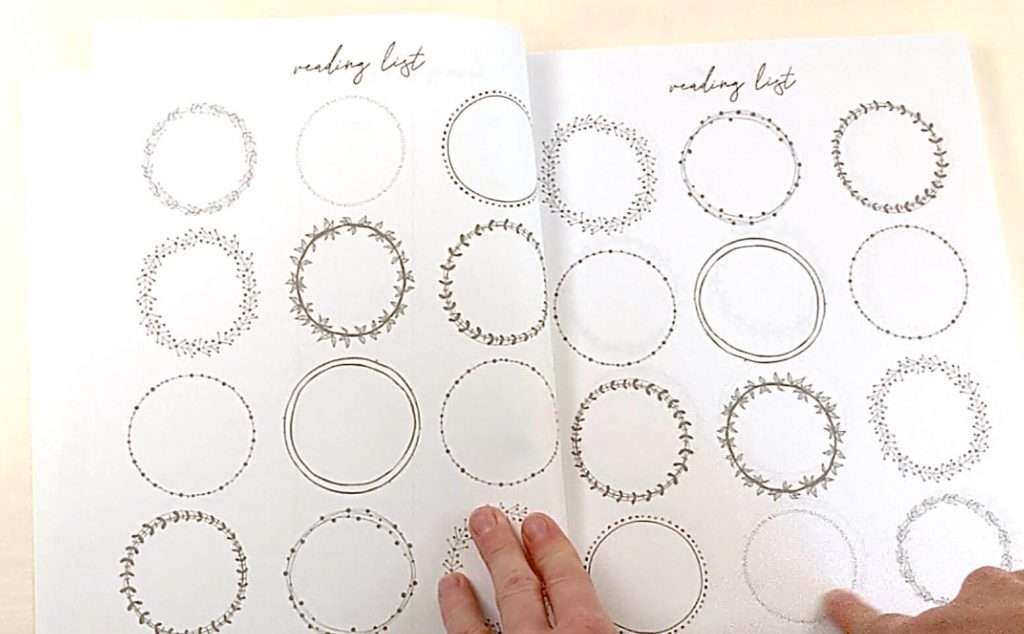 The Plan
The Year Ahead
The plan starts with a vertically designed monthly calendar. You can view 3 months per page totaling 4 pages to write down the months and dates.
Each month is left blank for flexibility. The vertical design is a unique setup that allows you to see several months at a time.
The only downside is you don't have much space to write for each day in these months.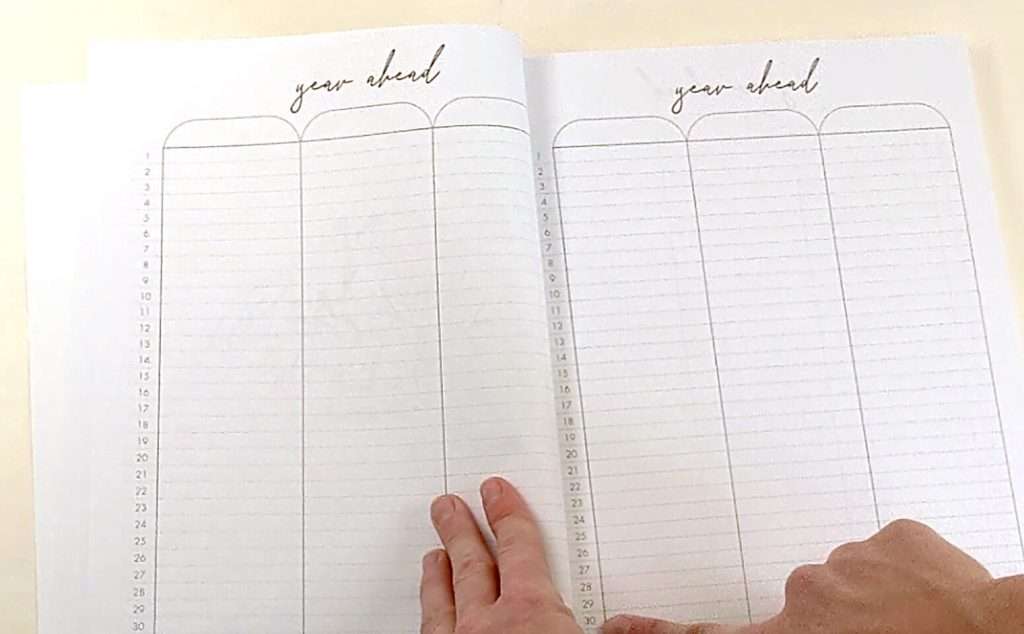 Term Goals
This section is divided into 6 terms. Under each term, there is a section for you to write notes as you see fit. You can write your goals as a family or for individual students using color coding.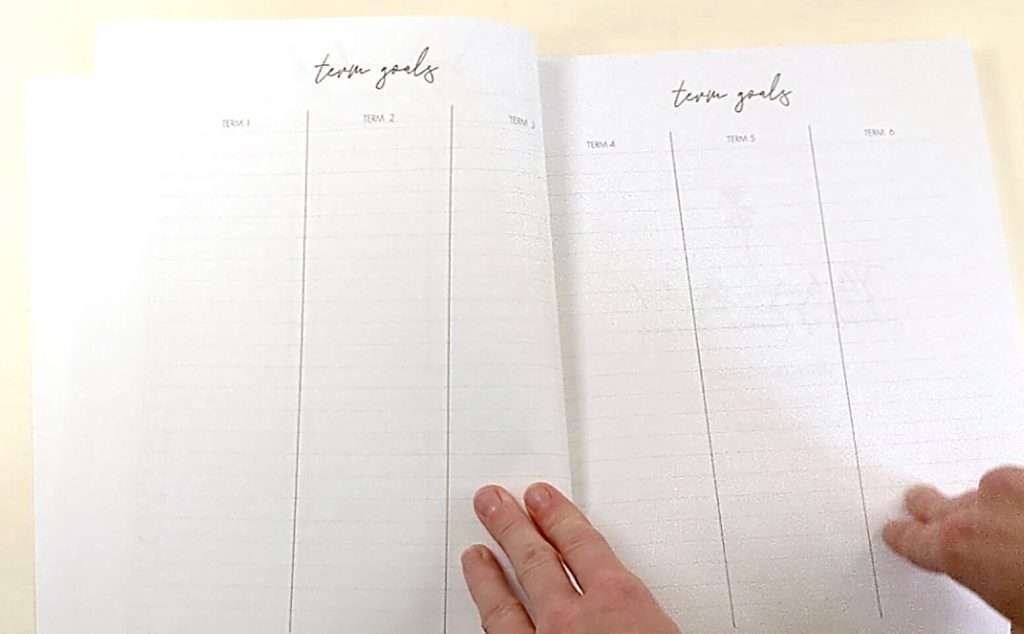 The Schedule
Monthly Dashboard
Pre-planning for the month is useful here. It has sections for goals, to-do's, important, and notes.
This gives you a bird's-eye view of the month ahead. You could also adapt this page to be a reflection page to record memories of what you did during the month.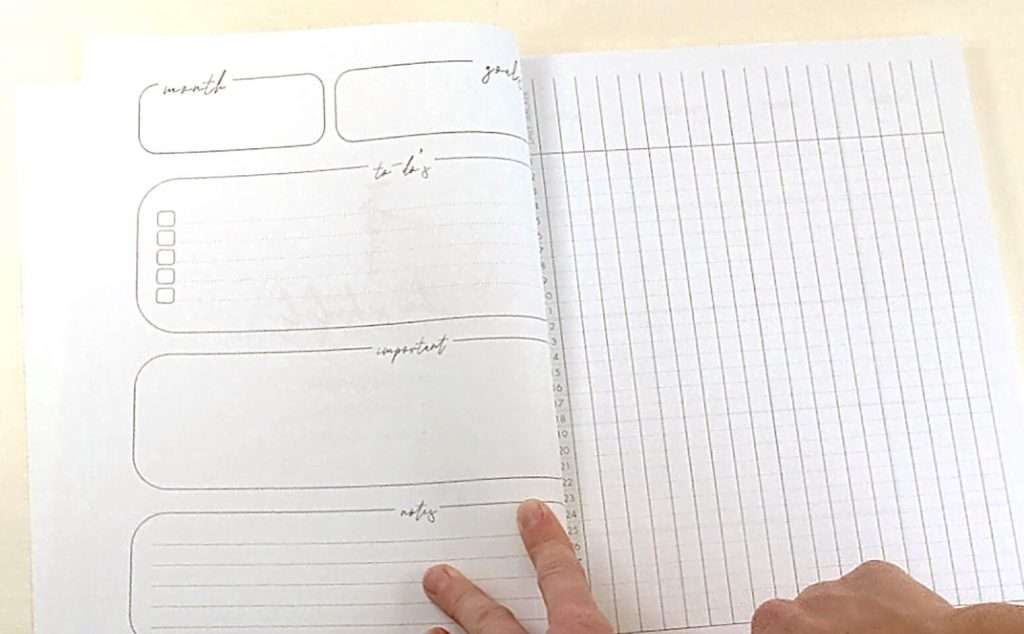 Daily Tracker
You can use this page as an attendance tracker or as any other habit tracker. (Reading, exercise, goals, chores, you name it.)
Monthly Calendar
This calendar view is a more traditional format. Monday-Sunday and rows for 5 weeks. This page also has a column to the side for notes.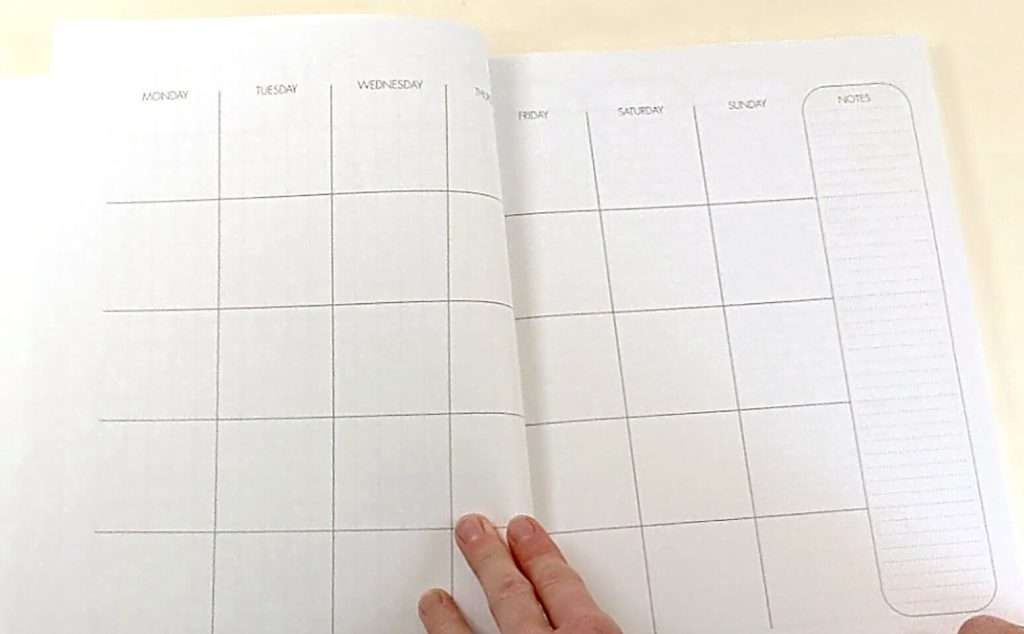 Weekly Lesson
There are 5 weeks dedicated to planning each week in more detail. The weekly planner is completely blank – even the days of the week are blank to allow full flexibility.
Another nice feature in this section is there are 7 columns and 5 rows. You can use the 7 columns for subjects or dates depending on what works best for you.
Tracking Attendance
There is an additional section at the back of the planner for you to track attendance. This is useful if you chose to use the other trackers for other purposes.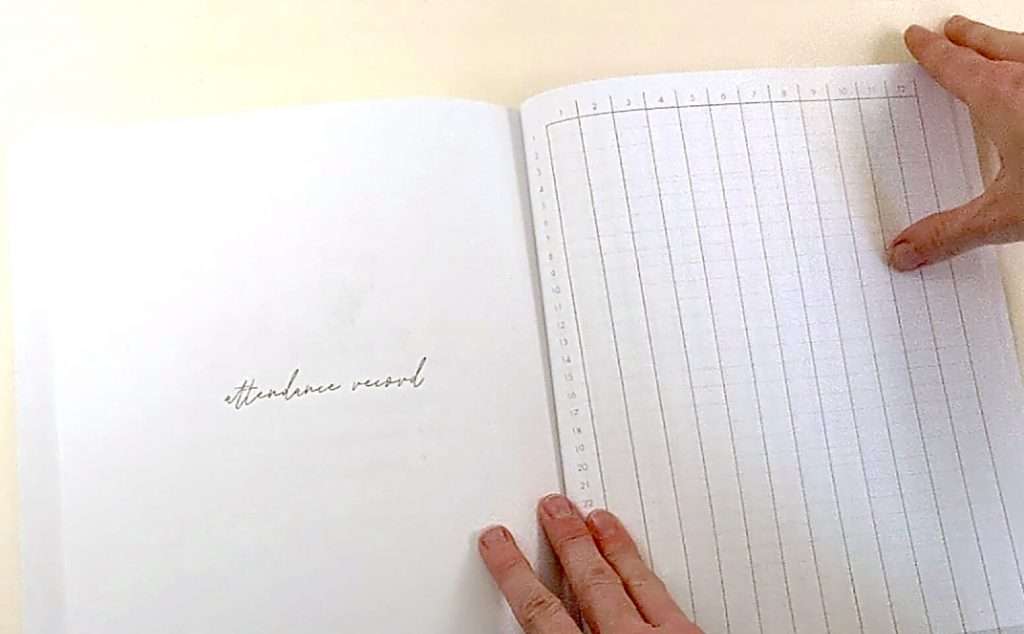 Student Checklist
Track your students' grades with this 6-page grid. You can also use this for other records and lists if you don't use grades in your homeschool.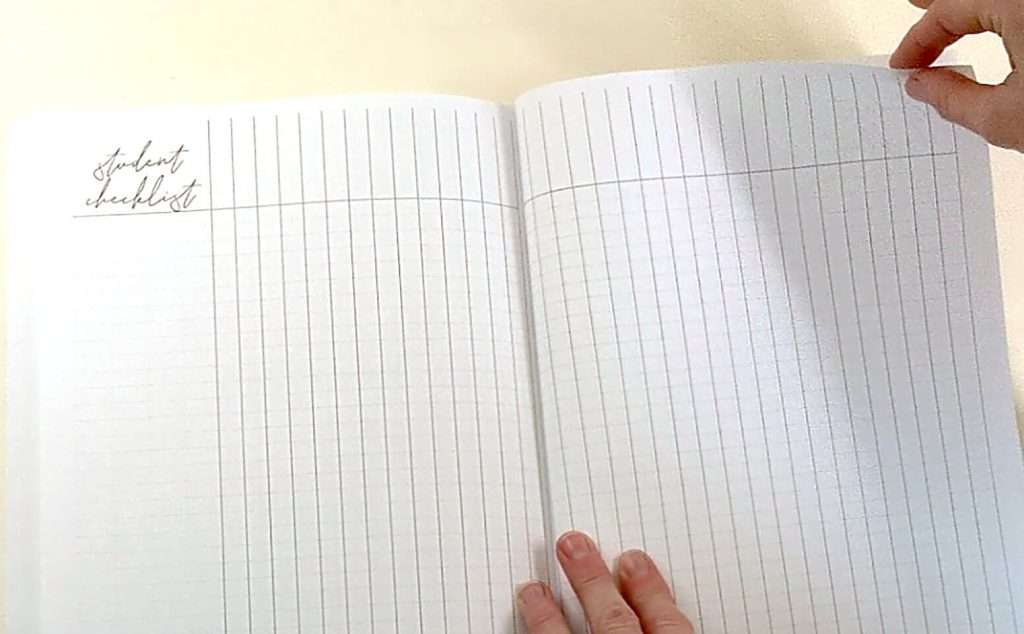 Homeschool Budget
There are 2 whole pages for you to track your homeschool expenses. This is particularly helpful to reference for reimbursements if your state offers them. There are columns to record expenses, amounts, dates, and notes.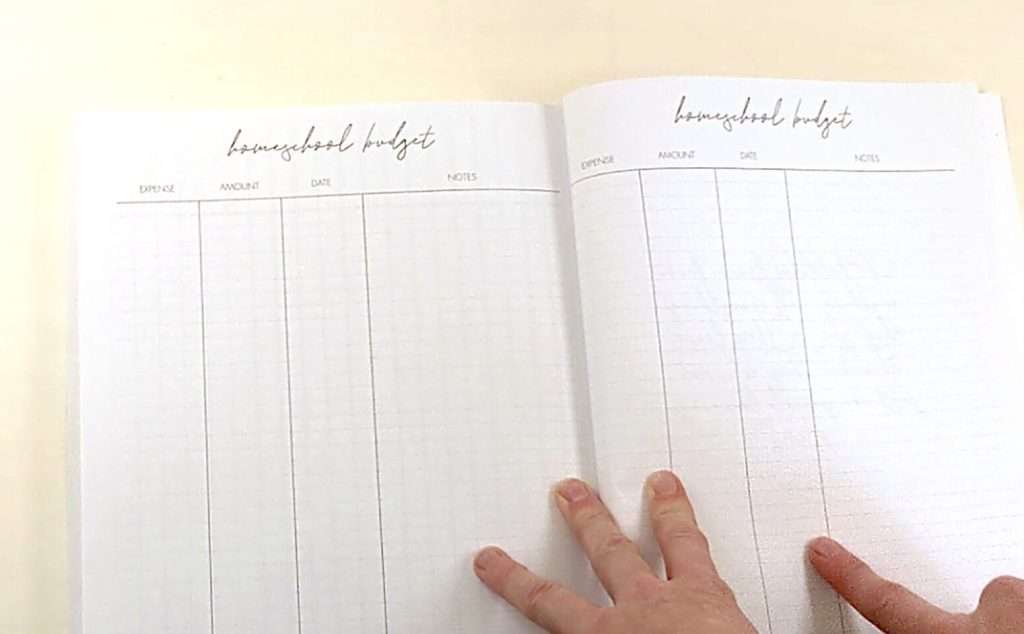 End Pages
Year in Review
The year-in-review page has suggestions for family favorites and highlights.
The accompanying page is a section for a photo collage.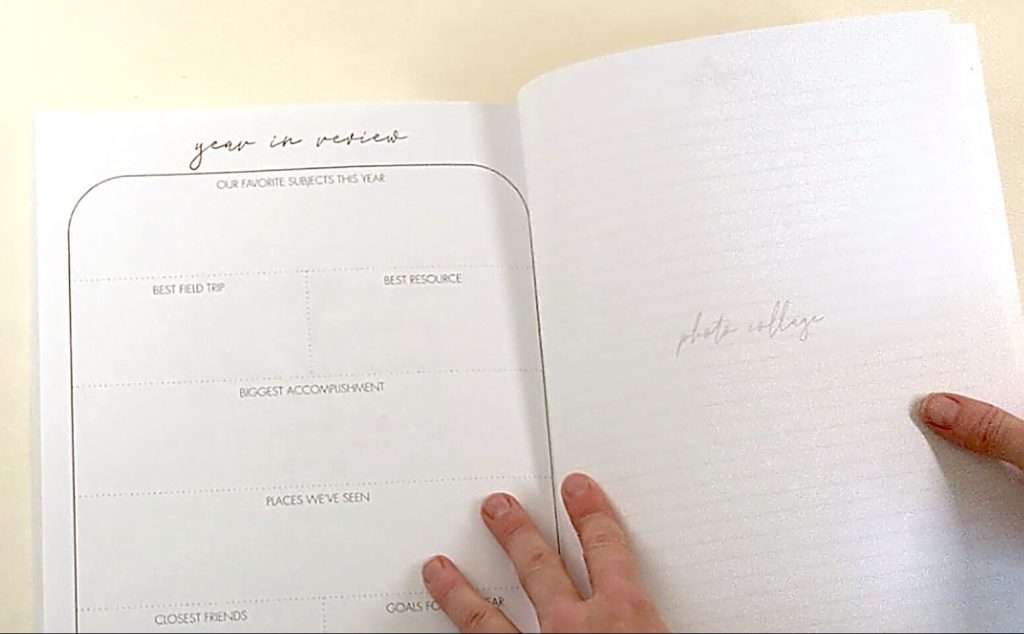 Notes
To finish the planner there are 6 lined pages leaving plenty of room to continue planning.
Best For – Minimalists
This is great for the casual planner who doesn't need a lot of extra space. It is a great option for parents who do reverse planning to record what they've done.
Pros and Cons list
Pros
Made with quality material
Has page dividers for the months
Clean design
Integrates family goals and household plans such as menu
Cons
Small size – Doesn't allow a lot of space to write.
Could benefit from more notes pages in the back of the book
Features
Undated
4 Students
Hard Cover
Spiral Bound
1 Year
Small Size (7.25 in. x 9.75 in.) – Lightweight (1.63 lbs)
Monthly & Weekly Planner
Extra Resource Pages

Several Goals Pages
Student Schedules
Menu
Small school/home/work sections
Notes
Book Wishlist
Reading log
Attendance
Field Trips
Grade Tracker
Appearance
Cover
This planner is made of a thick hardcover with gold metal corners. The gold and black colors complement each other and give the planner a classy feeling.
Binding
This planner has a gold spiral bound which makes it easy to turn and write on the pages.
Font
The fonts are easy to read and spaced in a way that gives the planner a clean feeling.
Page Design
The page design is very clean and formatted with a lot of tables, lines, and boxes to help you take advantage of the small writing space.
Intro Pages
The planner starts with a "Homeschooling With Vision" section. This can be used as a starting point for how you may adapt this planner for your homeschool year.
Pre-Planning Sections
This Year
The beginning of the planner guides you through planning the year. Here, you write your goals and vision for your homeschool.
Goals for the Year
The next 4 pages include goals for your students that you or your children can fill out. Create goals around all aspects of life such as spiritual, personal, academic, relational, and habit training.
Monthly Planning
Then we come to a page divider tab where you can fill in the current month. The Monthly Family Goals page is sectioned into 6 topics for you to fill in.
Topics:
Home
School
Spiritual
Work
Health
Relational
Monthly Calendar
The following page is an undated calendar view of the month. It has a small column on the right side for you to include notes.
Monthly Student Schedule
Following the calendar is the "Monthly Student Schedule". You can fill in the schedule for up to 4 students in a table format. The tables include a section for the subject and the days of the week.
Weekly Schedule
The planner provides a section for you to plan your weeks in more detail.
Each of these sections include:
Week of
Thankful for…
Word of the week
School
Home
Work
Menu
At a glance box for Sunday through Saturday
The weekly planning section repeats for 5 weeks in the month.
Although there are a lot of sections to get you organized, I did find each section very small.
Notes
The month ends with a lined page to give you space to include any notes for the month. This somewhat makes up for the small space within the weekly planner.
The month sections repeat for the next 12 months.
Extra Resource Pages
The very last tab in the planner takes you to all of the extra resource pages.
Book Wish List
This page includes a table with columns titled Book Title, Author, and Location.
Reading Log
There is a good amount of space to record the books your students read for the year.
However, there are only two pages dedicated to the reading log so you may have trouble fitting in what you need for up to 4 students.
The sections in the columns for this page include, Book Title, Who Read It?, and a star rating section. If you were in a pinch for space, you could use the star rating section as an additional log space.
Attendance
There are a generous 4 pages dedicated to login attendance. Many families record attendance altogether but this is useful if you need more detailed records.
Field Trip Planner
The field trip planner section has detailed boxes for you to fill out.
Location
Address
Date
Contact
Email
Phone
Cost
A couple of extra lines for notes
Although this section includes space for many details, it only leaves room for 8 field trips. If you are a family who goes on field trips frequently, you may have a hard time fitting them into this section.
Grade Tracker
The planner ends with a grade tracker for up to 4 students.
Best For – Families With Older Students
This planner is especially useful for families with teens. It has a lot of space to write plans and record grades.
Pros and Cons list
Pros
A lot of space to write
A large sized planner yet lightweight
Clean design and straightforward format
A lot of extra space to record grades
Cons
Could use more note pages at the end of the planner. However, the "Extra" pages included throughout may make up for this.
The design is a bit plain
Not a lot of extra resource pages
Features
Undated
6 Students
Paperback
1 Year
Monthly & Weekly Planner
Large size (8.5×10.9 inches) – Medium weight (1.8 pounds)
Extra Resource Pages

Year calendar
Goals for the year
Extras
Grades
Year in Review
Notes
Resources List
Appearance
Cover
The cover definitely gives the feeling of education with the science and math images on the front. Some parents have said that the design is plain and could use some improvement.
Binding
Like many planners, the binding is a soft cover which does have a stiff feeling as you open it. You'll need to crease the pages in order to write on the pages.
Fonts
The fonts are very easy to read and are organized well on the page. There aren't any distracting script fonts to doll up the design which keeps it clean and straight to the point.
Page Design
The pages are sectioned and organized well to help you take advantage of the writing space. The design is plain but made to be functional.
Intro Pages
How to Use This Planner
At the beginning of the planner, there is a useful "How to Use This Planner" section. It includes explanations and visual examples of ways to use each page.
Pre-Year Planning
Year Calendar
This is a space where you can list events by month that you'd like to remember. You can view all the months at once for a quick reference.
Goals For The Year
There are 6 numbered sections to list goals for up to 6 students. It also includes a large section for "My Goals" (the parent).
Months Calendar
Over the next several pages are the calendars for the 12 months of the year. To the side, it also includes small sections for a quote/tip, attendance, and notes.
Weekly Calendar
Right after the monthly calendar is a weekly calendar. Each day is labeled Monday-Friday with Saturday/Sunday sharing a column. It also accommodates 6 blank rows labeled 1-6.
This could be adapted to indicate subjects, students, or any other category you choose. Each line within the table includes a small checkbox.
Extras
The "Extras" page includes 6 sections that you can customize to write notes. This could be about your students, field trips, books, and more.
Grades
Right after the "Extras" page is the grades page. This includes a lined table labeled with Subject and Grade along the top.
It has 1-6 sections (assuming students) along the side. This feature may be nice for homeschooling parents with older students.
It could be used for detailed records of grades, big projects, or assignments.
Repeat
From here on out, the Weekly Calendar, Extras, and Grades pages repeat for the rest of the school year.
End Pages
The Year in Review
This page provides lined sections for up to 6 students and a "My Year In Review" section. This gives you the opportunity to write down memories and highlights of the year.
Notes
To conclude the planner there are two lined pages for you to add notes.
Best For – Heavy Duty Planning
This resource is for thorough planning. It has a space for everything you'll need from detailed lists down to daily planning.
Pros and Cons list
Pros
A lot of space to write
Monthly, weekly, and daily planning space
A lot of extra resources and notes pages
Formatted with lightly lined or dotted grids to help you write straight on every page
Cons
Large planner – heavy
No tabs or dividers to help you navigate
Binding makes it tough to turn through and write on pages
Features
Undated
Flexible on how many students the planner accommodates
Paperback
1 Year
Monthly, weekly, & daily planner
Large size (8.5×11 inches) – Heavy (2.51 Pounds)
Extra Resource Pages

Blank index
Year Overview
Curriculum Overview
Classes
Field trips
Book list
Curriculum progress trackers
Attendance tracker
Monthly brainstorm
Monthly reflection page
Weekly goals and notes
Weekly reflections page
Daily details (6 per week)
End-of-year reflection
Appearance
Cover
The cover has a pleasant design with a soft cover.
Binding
Like many in this list, the binding is a soft cover which makes it slightly more difficult to navigate through. This seems to be a bigger disadvantage for this book because of its large size.
Font
The fonts in this planner are generally easy to read and add to the overall design.
Page Design
The pages are large so there is a lot of space to write. There are boxes, lines, grids, and a variety of page formats to accommodate many planning styles.
Intro Pages
Index
This section has two full pages to write your own index for this beefy planner.
Year Overview
Here you can see all 12 months at a glance with some space below each to write important dates and notes.
Attendance
Track your attendance for the year on the two included attendance tables. Color in your family's attendance altogether to see an overview of the year. This attendance tracker is meant to track the whole family as a group.
Curriculum Overview
Next, you'll see 3 blank pages formatted for you to have space for 4 sections each.
You can divide this into subjects, curriculum, students, and more depending on what is most helpful for you.
Classes
Similar to the Curriculum Overview pages, this page is formatted almost the same. It is a single page with 4 blank sections for you to fill in how you see fit.
Field Trips
This section is formatted exactly like the Year Overview page where you can see all the months on one page.
It has a small space below each month to list the field trips you are planning that month.
It doesn't have space for detailed plans but is nice to see in a calendar-type view what field trips you have coming up.
Book List
The next four pages are dedicated to recording your book lists. The bottom of the pages has cute images of books for you to write the name of the book on and color in when completed.
Curriculum Progress
There are 6 pages dedicated to recording your students' progress through their curriculum.
Each page has 3 trackers totaling 18 mini trackers. You color in each time that your child works on the curriculum.
Planning
Here we are getting into a repeating pattern. These sections will be organized by breaking down the month, weeks, then days.
There are also repeating extra resource pages that you may find helpful.
Month Overview
The left-hand page is a blank dotted grid where you can write notes in a list or a brainstorm/mind map format.
The month overview page is customizable to fill in the month name at the top of the page and the dates in the table below.
There is an additional notes page on the back of the month overview page as well.
Weekly Planning
The weekly sections include helpful resources for weeks 1-4.
Weekly Goals
The first page you come across is the weekly goals and notes page for week 1. Here you have a blank dotted grid page that includes checkmark-like boxes to the left of the page.
This gives you the flexibility to write a list to check off or a mind map for you to brainstorm ideas.
Weekly Reflection
The next page is the weekly reflections page. This page is almost completely blank with only a title and a dotted grid.
Weekly Schedule
This page has a table that is numbered with the hours in the day from 9 am to 9 pm with 5 columns.
This way you can view and plan your family's general daily routine. This is helpful if you plan your homeschool around the time of day but can be adapted to your own style of learning.
Weekly Plan
This section has two pages side by side with a 7×7 table. This gives you the freedom to write in your days vertically or horizontally.
Daily
We now come to the section where you will plan your individual days for up to 6 days of the week.
Daily Details
This section has 3 pages divided into two for you to record plans for up to 6 days of the week.
The space is blank with only a lightly dotted grid. This helps you take advantage of as much writing real estate as possible.
Repeat, Repeat, Repeat!
Now we get to weeks 2, 3, and 4 where the month, week, and daily pages repeat. This will also repeat for each month until you come to the very last month of the year.
End Pages
End-of-the-Year Wrap-Up
This planner ties everything up with a simple two-page reflection. Each page includes a section for writing "What went well" and "Focus for Next year".
Best For – Detailed Planning
This is a great option for those who want to plan monthly and weekly. Even though this planner has "Minimalist" in its title, it still has a good amount of supporting resource pages.
Pros and Cons list
Pros
A lot of extra resource pages
Large space to write notes and plans
Clean and pleasant design
Cons
The months and weeks planning pages are located separately. This makes it necessary to flip back and forth when planning.
The binding is a bit stiff for writing.
Features
Undated
Accommodates many students
Paperback
1 Year
Monthly & weekly planner
Large size (8.5×11 inches) – Medium (1.53 Pounds)
Extra Resource Pages

Grid note pages
Year Calendar View
Field Trips
Attendance Tracker
Classes
Curriculum Overview
Book List
Curriculum Progress Tracker
End-of-Year Reflection Pages
Appearance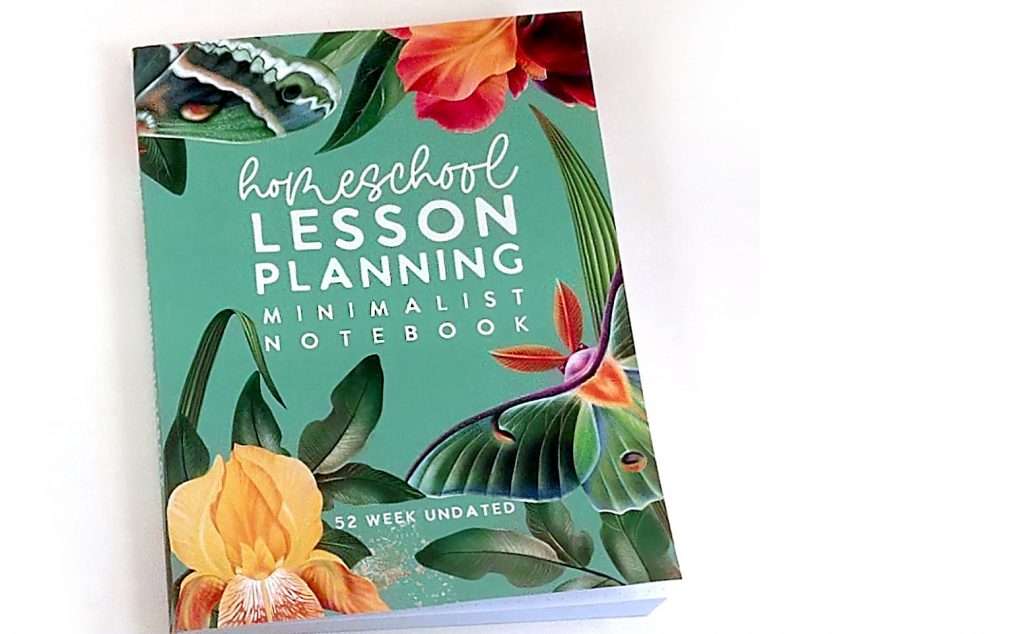 Cover
The cover design is cute and clean and the cover has a soft texture.
Binding
The binding is a soft cover which makes it stiff but with creasing, it can make writing a little easier.
Fonts
The fonts in this book are clean and organized well.
Page Design
Like the Homeschool Lesson Planning Notebook, there are a variety of page formats to satisfy a lot of planning styles.
Intro Pages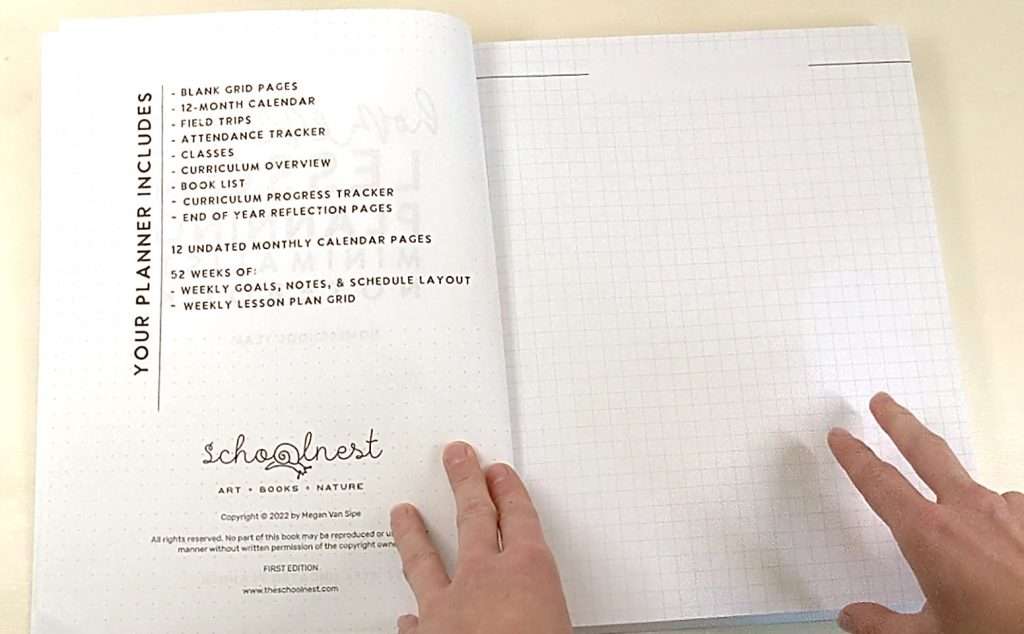 Blank Grids
The first three pages give space for you to completely customize. It is formatted as a grid so you can take advantage of the whole page in either a list or mind map style.
Calendar and Field Trips
The next two pages each have 12 small blank grid boxes. The calendar page is meant to include important events for each month this year.
You can organize the field trips by month or you can title the box with the name of your field trip. Use the space below to write more planning details.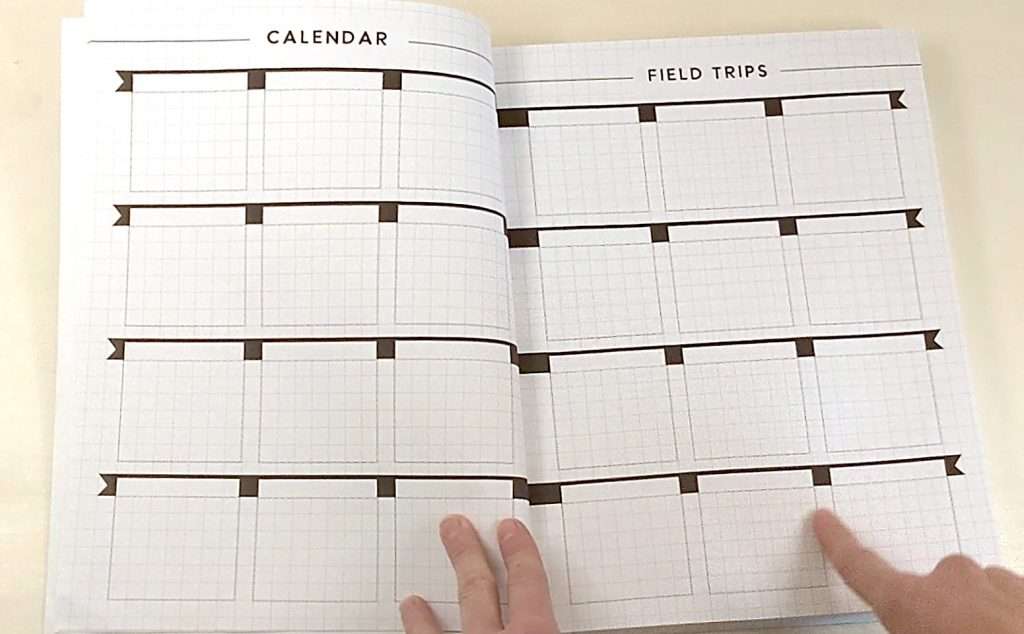 Attendance
The attendance page is made up of a large table meant for you to record the attendance as a family.
The 12 months are left blank so you can customize them. The dates are numbered within the column of each month.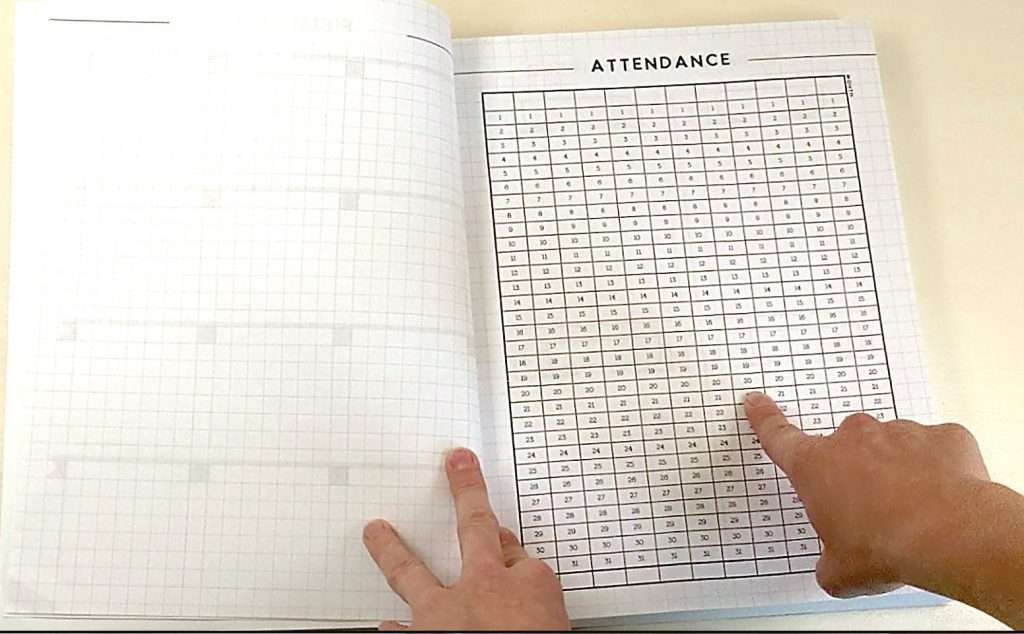 Classes and Curriculum Overview
There is one page separated into 4 sections for you to fill in classes and notes.
There are 5 generous pages for you to fill in the curriculum your students will be studying this year.
The pages are formatted identically to the classes page. Here, it is separated into 4 sections with a place to write the curriculum name and a note section below it.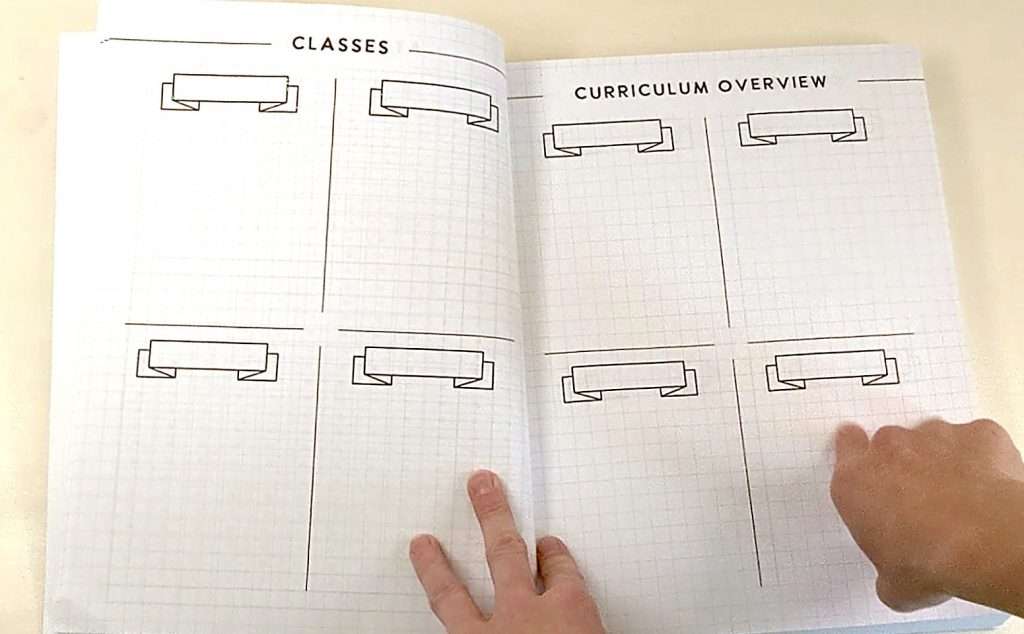 Book List
The next 4 pages are for you to record book wish lists, read-alouds, and/or the books that your students read this year.
At the bottom of these pages are cute pictures of book spines where you can track reading progress.
You can write in the title of books that your students read and color in when they finish.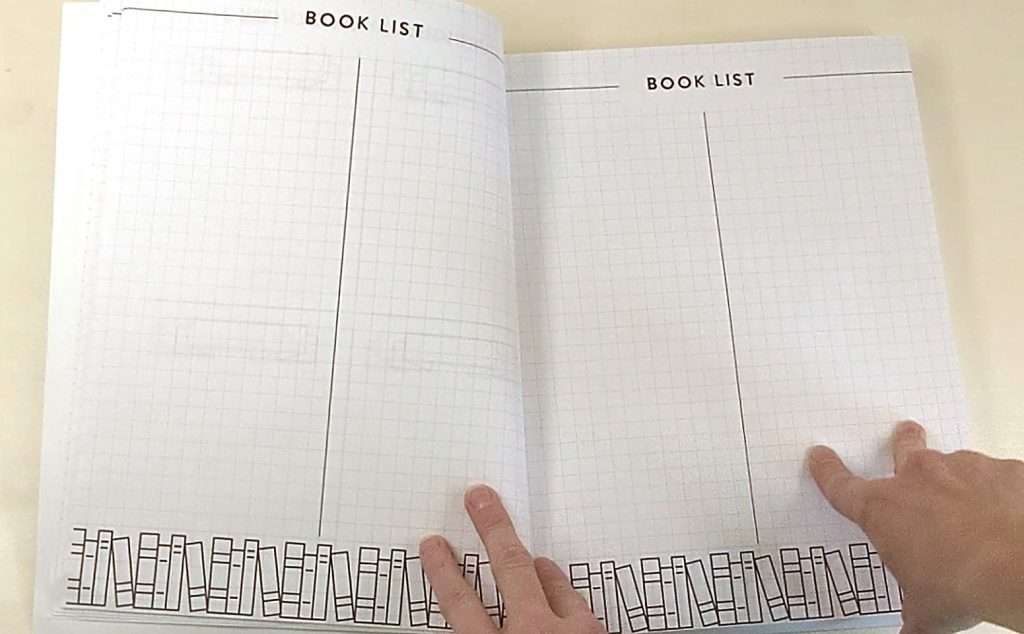 Curriculum Progress
The curriculum progress section is made up of 4 pages. They have 12 total trackers numbered 1-180 to track the curriculum.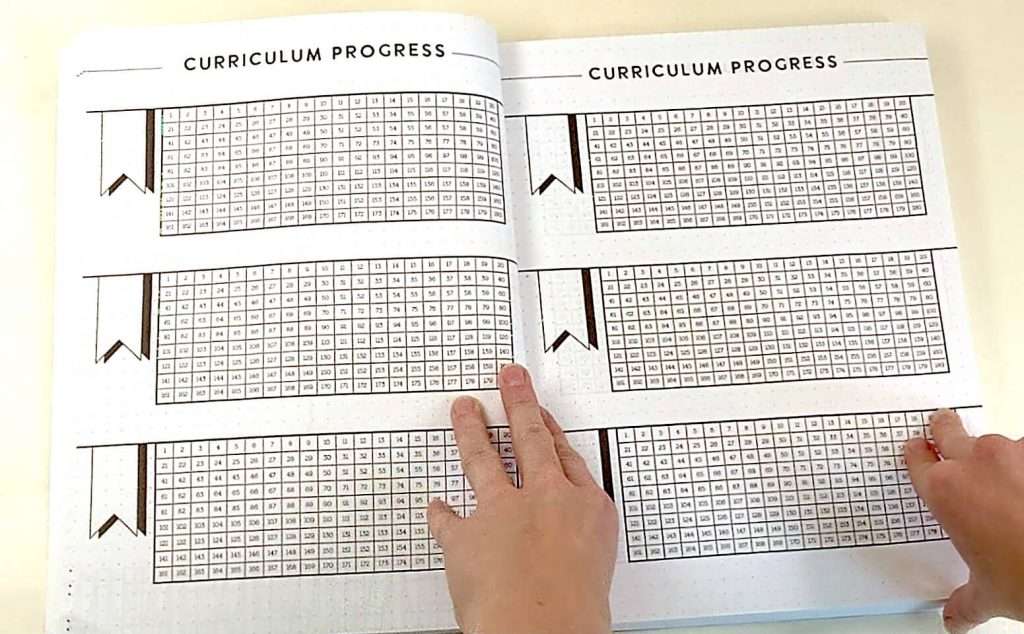 Planning Pages
Month Calendars
This section has a dotted notes page and a monthly customizable calendar page. This pattern repeats for all 12 months.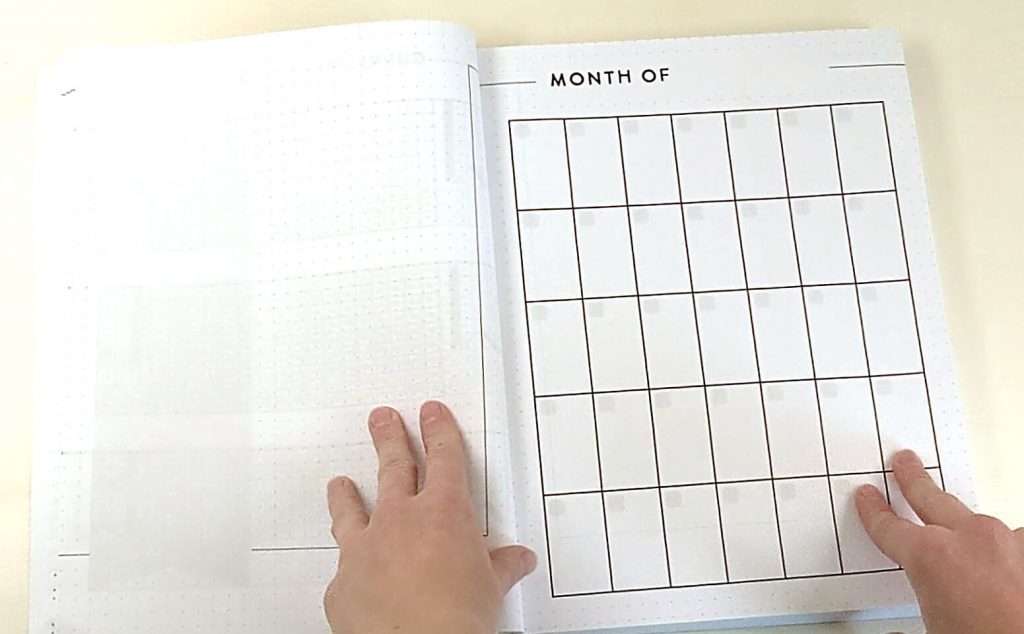 Week Overview
Once you have planned your months, you then have the opportunity to plan the weeks for the entire year. This planner also supplies supporting pages such as the "Weekly Goals & Notes" and the weekly "Schedule" page.
Write checklists and brainstorms to help you organize the week ahead.
Weekly Plan
Then there are two pages to write the days of the week. Either vertically or horizontally depending on your preference.
Just keep in mind that there are 6 columns and 7 rows. So if you want to plan all 7 days of the week, filling in the days horizontally may be the best choice for you.
The boxes within the plan pages are linked to help you take advantage of the space on the page.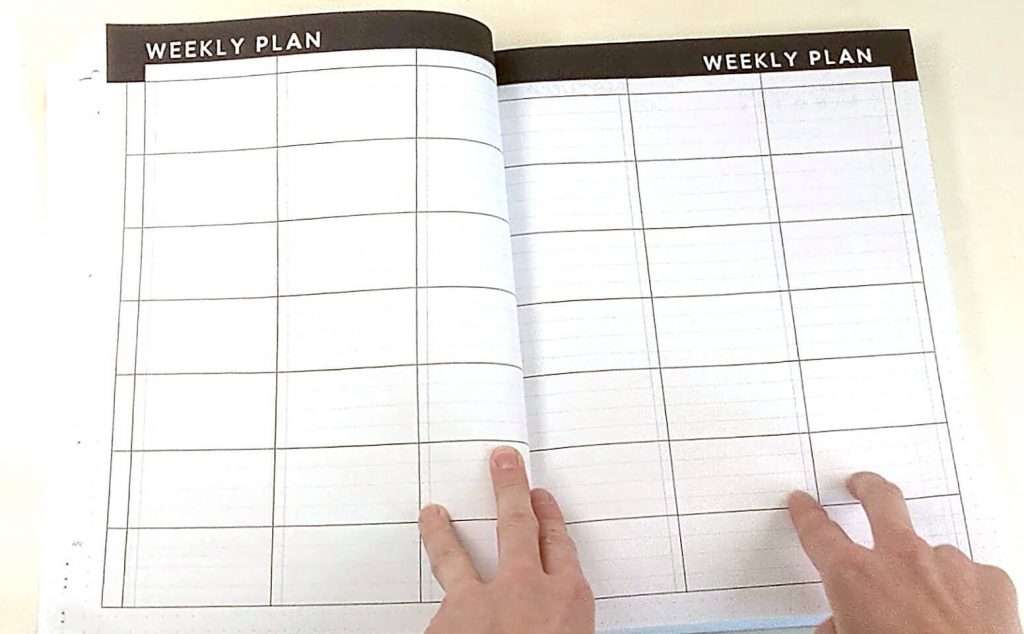 End Pages
End of the Year Wrap Up
The last four pages are divided to provide a place to reflect on "What Went Well" and "Focus For Next Year".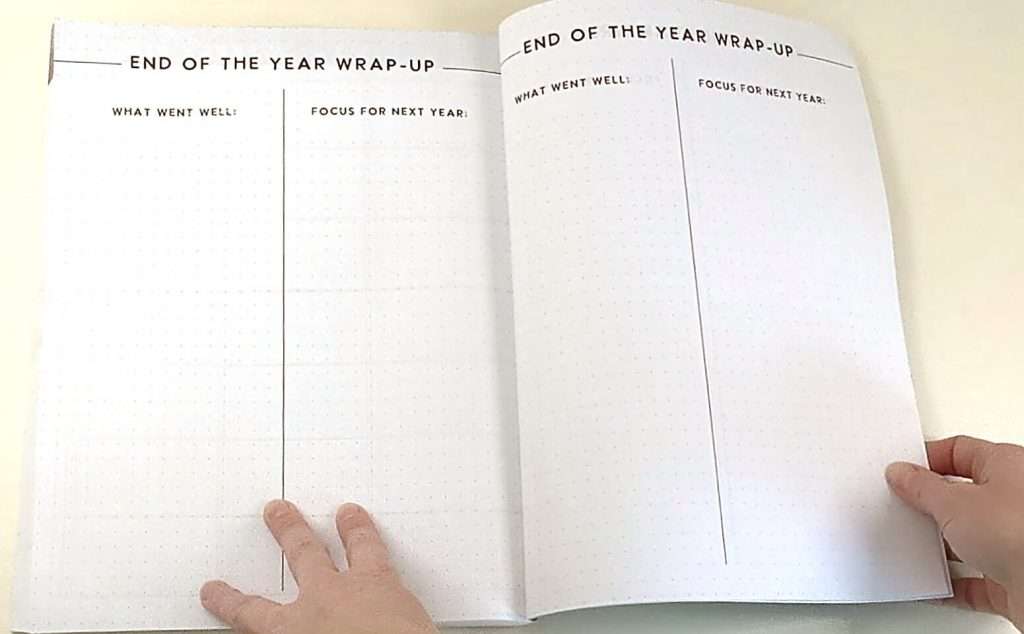 Final Thoughts
My goal for this article was to find the best planners for homeschooling available.
Remember, not every family needs a planner. Many homeschool parents use a planner for reverse planning and some don't even use one.
However, I've found the best of the best homeschool planners so you can settle your thoughts and create a plan on the right foot.
FAQ
What to look for when buying a homeschool planner?
Look for a planner that is clearly laid out and easy to navigate, so you can quickly find what you need. Second, check out the customization options. You want a planner that allows you to customize it to fit your family's goals, such as adding additional pages, setting up lesson plans, and more.
Look for a planner that is durable and able to stand up to daily use. Depending on your needs, consider whether the planner offers digital access, which can be a great way to stay organized wherever you are and make updates quickly. Finally, make sure the planner has room for you to organize any standards or regulations you are required to follow, such as state or local guidelines.
How much should you spend on a Homeschool planner?
That depends on your budget and what you are looking for in a homeschool planner. Some online homeschool planners charge monthly or yearly rather than a one time fee. Generally, you can find a planner for anywhere from $10 to $100, depending on the features and quality.
Should I have a digital and physical homeschool planner?
It really depends on what type of learner you are. Some people like the convenience and portability of a digital planner, while others prefer the tactile experience of writing things down in a physical planner.
Consider which type of planner would work best for you and your individual needs. For example, if you like having reminders pop up on your phone or laptop, a digital planner might be the better choice. On the other hand, if you find that writing your to-dos down helps you to stay focused, a physical planner might work better for you. Ultimately, it's up to you to decide what works best for your homeschooling journey.
What's Next?
Need help deciding what lessons to schedule inside your new planner? Take a look at these ideas for 167+ Easy STEM Activities!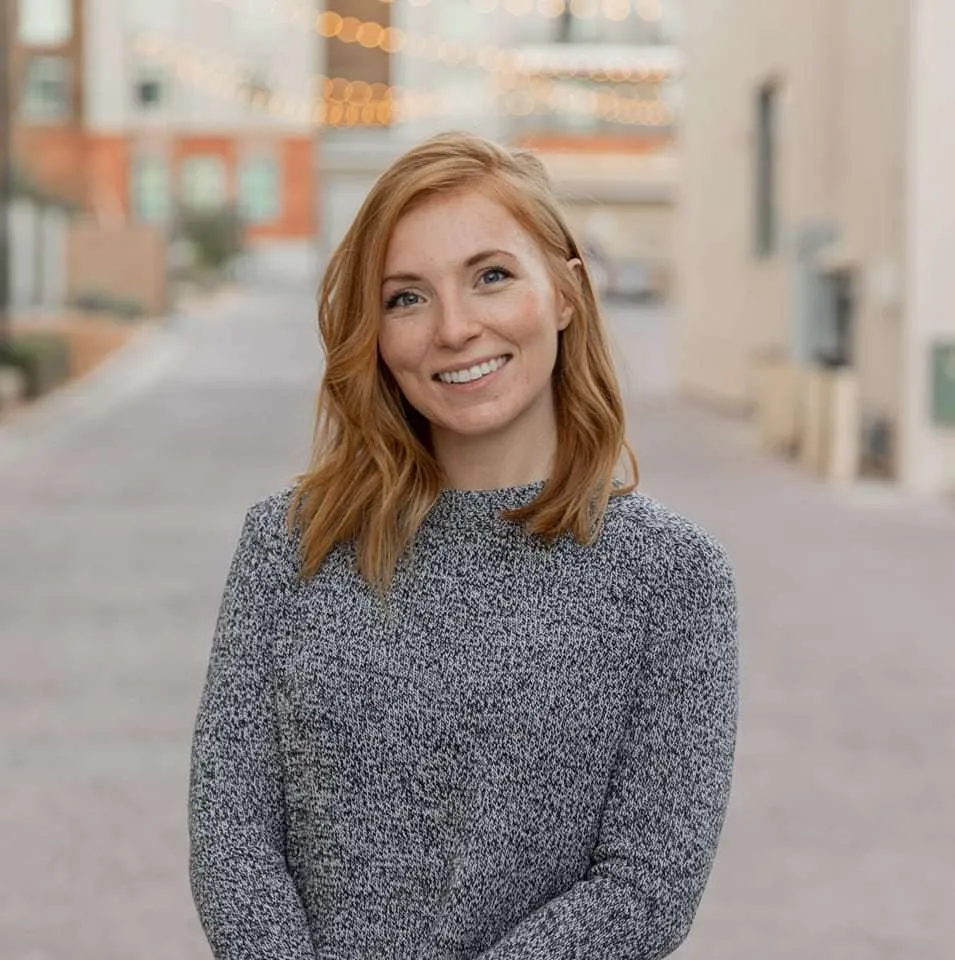 Hi, I'm Tori! I'm the founder of homeschoolnewbie.com. I'm a former elementary school teacher turned homeschool mama who has a passion for home education! I have 10+ years of experience working with children in all kinds of educational settings. As a new homeschooling parent, my mission is to navigate the world of homeschooling and share with you the best home education practices. If you want to learn more about me, check out my about page. See you there!