In this article, we'll delve into the world of Brag Tags – a creative and effective method that turns learning into lasting motivation. Discover a game-changing approach to motivating your young learners without resorting to bribes or treats. I've included a free editable tag template for you to use in your classroom/homeschool, lists of ideas to create brag tags, and a special discount only offered to my readers.
No time to read? Here's the spoiler…
If you just want to skip to the good stuff, in short brag tags are a great way to motivate your learner without needing toys or treats.
Check out the Lucky Little Learner's brag tag bundle or get their membership with a library of brag tag printables and access to all 17,000 educational resources for you to use at home or in your classroom.
Use my affiliate coupon code: TORI10 to save 10% on any of Lucky Little Learners products or membership at no extra cost to you.
Table of Contents
Hey friend, this post has affiliate links which means that if you choose to make a purchase, I may earn a small commission. This is what helps me run this blog so thank you for your support! You can read my full disclosure here.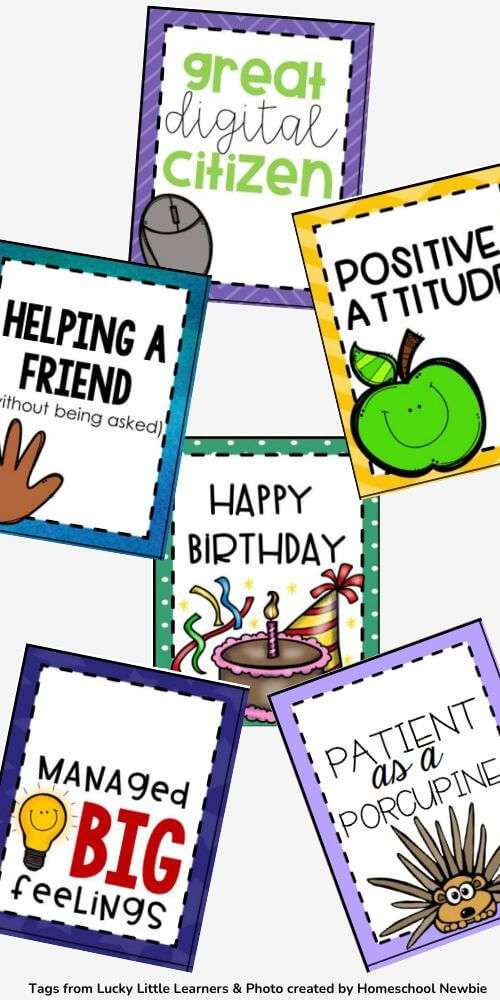 Using Brag Tags to Motivate Your Child
If you're anything like me, you know that keeping our little learners motivated and excited about learning is a constant goal.
The year starts off with the well-known "honeymoon" phase where everyone's excited to be back in the swing of things.
But when your child's bright eyes for school inevitably fade, what then?
Back in my days as a 3rd-grade teacher, I loved creating behavior management systems that sparked enthusiasm in my students.
Now that I'm homeschooling my own kiddo, I've been on the lookout for creative ways to infuse that same energy into our learning adventures.
And guess what? I've stumbled upon something pretty cool – brag tags!
What Are Brag Tags and Why Should You Use Them?
What are brag tags? Simply put, Brag tags are physical cards or tags awarded to students for achieving specific goals or demonstrating desired behaviors, serving as a visual representation of their accomplishments.
You know what's truly remarkable about brag tags? It's not the material aspect that matters.
Nope.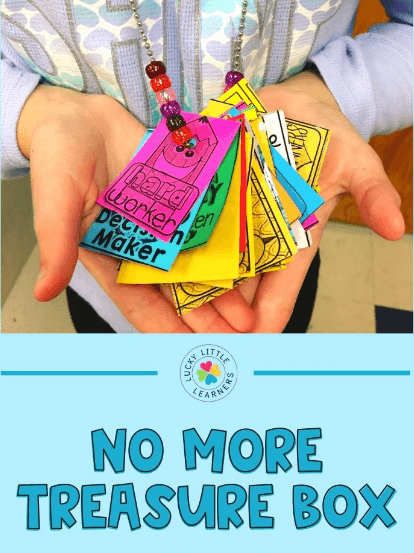 Why should you use brag tags in your classroom or homeschool?
They work like magic without resorting to the usual bribes of candy or toys – a win-win for both you and your child.
The brag tags themselves are essentially the reward. It's the journey of earning them, the personal growth, and the sense of accomplishment that shines through. 
Brag tags work like a visual portfolio of achievements, a charm bracelet, Pokémon trading cards, or a collection of girl/boy scout badges. Displayed for your child and others to admire, they remind your child of their progress and success.
How To Use Brag Tags In the Classroom
How to use Brag Tags in the classroom? The possibilities are limitless. If you can think of an accomplishment of any size, it can be made into a Brag Tag.
Here are some steps you can take to setting up your Brag Tags classroom management systems for your students.
Set Goals: Begin by setting achievable goals for your child and explain that they can earn these tags as they accomplish them. These could be academic milestones, behavioral achievements, or mastering new skills. Big or small, it doesn't matter as long as the goals are appropriate for their age.
Earn Brag Tags: As your child reaches these goals, they earn corresponding Brag Tags. It's a tangible representation of their hard work and progress. This step fosters a sense of accomplishment and encourages them to aim higher. You can make your own (see the section below) or you can find a library of them here.
Display and Celebrate: Display the earned Brag Tags in a prominent place within your learning space. Some like to create a necklace with a chain, or a metal ring, or display them on a bulletin board on your wall. This visual showcase serves as a constant reminder of your child's achievements, boosting their confidence and self-esteem.
Organization: As you are preparing to award your child with brag tags, you'll want to keep yourself organized. Many teachers use envelopes and small cubbies to display the possible tags their students can earn.
I talk in more detail about how to use and organize brag tags below.
How To Use Brag Tags in Your Homeschool
Let's dive into ways you can integrate Brag Tags into your homeschooling adventures.
1. Academic Achievements:
Reward your child's academic milestones with Brag Tags. Whether it's mastering multiplication tables, completing a challenging book, or acing a spelling test, each accomplishment deserves recognition. Brag Tags can be customized to showcase specific subjects or achievements, creating a collection that reflects your child's academic growth.
2. Character Building:
Foster positive character traits with Brag Tags. Recognize acts of kindness, empathy, and responsibility. Each time your child displays a positive trait, they earn a tag that symbolizes their character development. This approach encourages ethical behavior and emphasizes the importance of being a good person.
3. Creative Endeavors:
Encourage artistic expression and creativity through Brag Tags. Whether your child creates a captivating piece of artwork, writes a compelling story, or composes a melodious tune, reward their imaginative efforts with corresponding Brag Tags. This nurtures their artistic talents and boosts their self-expression.
4. Life Skills Mastery:
Life skills are essential for holistic development. From tying shoelaces to cooking a simple meal, these skills are worth celebrating. Design Brag Tags that spotlight each skill your child masters, creating a visual record of their growth in practical life.
5. Behavior and Habits:
Encourage positive behavior and habits with Brag Tags. From completing chores without reminders to consistently practicing good study habits, these small victories deserve acknowledgment. Brag Tags can act as motivators, encouraging your child to establish positive routines.
6. Personal Goals:
Set personalized goals and reward achievements with Brag Tags. If your child has a specific area they want to improve in, such as handwriting or time management, create Brag Tags that signify progress. This approach empowers your child to take ownership of their learning journey.
7. Field Trips and Learning Adventures:
Turn field trips and learning excursions into memorable experiences with Brag Tags. Design tags that commemorate each educational outing, creating a keepsake that showcases the diversity of your homeschooling curriculum.
8. Special Projects:
Highlight special projects and research endeavors with Brag Tags. Whether your child creates a science experiment, builds a model, or presents a history project, reward their efforts with tags that capture the essence of their accomplishment.
Here are some brag tags ideas you could make on your own or with Lucky Little Learner's editable brag tags.
Ideas – Brag Tags for Students
Topic Examples
Academic Brag Tag Examples
Brag Tags For Preschool Examples
Brag Tags For Kindergarten Examples
Brag Tags For Homeschool Examples
How to Make Your Own Brag Tags
How to make brag tags? You can make them as simple or complex as you want. I tried both. (See deets below)
Our First DIY Brag Tags Attempt: Laughable
I recently decided to give brag tags a try (DIY style) with my son to create our very own brag tags.
If you want to give it a try all you need to do is write and draw. Most of the time, kids don't care as much as we do about things being fancy.
If you like to craft, you can make them look creative with some scrapbooking paper, stamps, and other craft supplies.
But I was short on time so I kept ours simple. VERY simple.
As I was drawing stick figures on a piece of paper, my son saw me and wanted to create his own.
Let's just say, my artistic ability is limited and our handmade versions might be a tad "rough around the edges."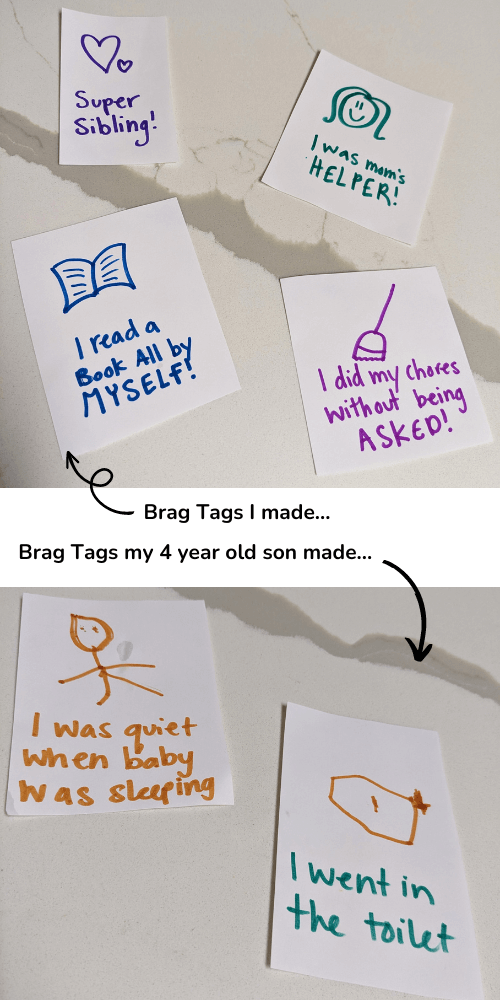 My son is 4 years old and I think he didn't do a half bad job for his age. I'm much older than 4 so I don't have an excuse.
We had a good laugh, but the excitement he felt for earning those tags was obvious.
That night, he ran up to me with some books and said that he wanted to "read a full book on his own." just like it said on his brag tag. Well, he went on to read two full books on his own then announced that he earned his brag tag fair and square. He was stoked.
Our Second DIY Brag Tags Attempt: A Little Better
My artistic abilities are much better suited for the computer so I decided to create the brag tag PDF you see below.
Free Brag Tag Template
Lucky Little Learners often gives away free templates, some of them are done for you, some are editable, some are digital/virtual, and some are blank brag tags that you can customize. If you sign up for their email list, they often give away helpful downloads for teachers.
But, if you want to skip the wait, go check out their library of editable brag tags here! (takes a few seconds to load FYI). Use my affiliate code TORI10 to get 10% off everything. It's the best deal to get their membership, however. You can find the membership here.
If you want a copy of these my blank tags that I made for you to make your own brag tags just sign up below and I'll send it to your email.
It was fun making these DIY brag tags but… it took a long time. My time (and yours!) is better spent with my son rather than spending hours making him tags. 😂
Read on for a better option. ⬇
Lucky Little Learners Brag Tags
You can also create your own brag tags like we did above or a better idea is to get the real deal. Lucky Little Learners has a bundle of brag tags for an affordable price. But their membership has a whole library of printable, editable, and custom brag tags  (thankfully much cuter than mine) for you to snag and print out for your kiddos. You can request custom brag tags inside the membership as well!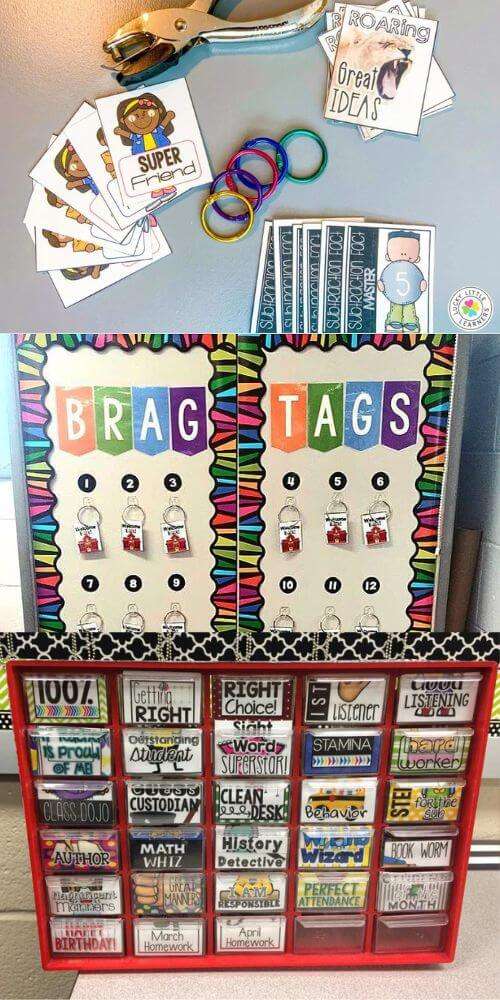 If you get their yearly membership, you can get all of their brag tags included, find editable brag tags, and request custom brag tags. Not to mention the whole library of other learning resources for students K-3rd grade. If you ask me, they are losing money with how much they are giving away in their membership.
If you want to save even more dough, then use my affiliate coupon to get 10% off with the CODE: TORI10.
To give you an idea of how you can display your brag tags for your child, here are a few ways that others have displayed them for their students…
Brag Tag Display Ideas
Now that you've embarked on your Brag Tag journey, it's time to showcase your child's accomplishments in a way that fills your learning space with pride and inspiration. Transform your home into a gallery of achievements, where each Brag Tag tells a story of growth and effort.
1. Brag Tag Display Board:
Create a dedicated Brag Tag display board that takes center stage in your learning area. Hang strings or ribbons across the board and attach Brag Tags, letting them dangle beautifully. As your child earns new tags, the display board evolves, representing their ongoing journey of achievement.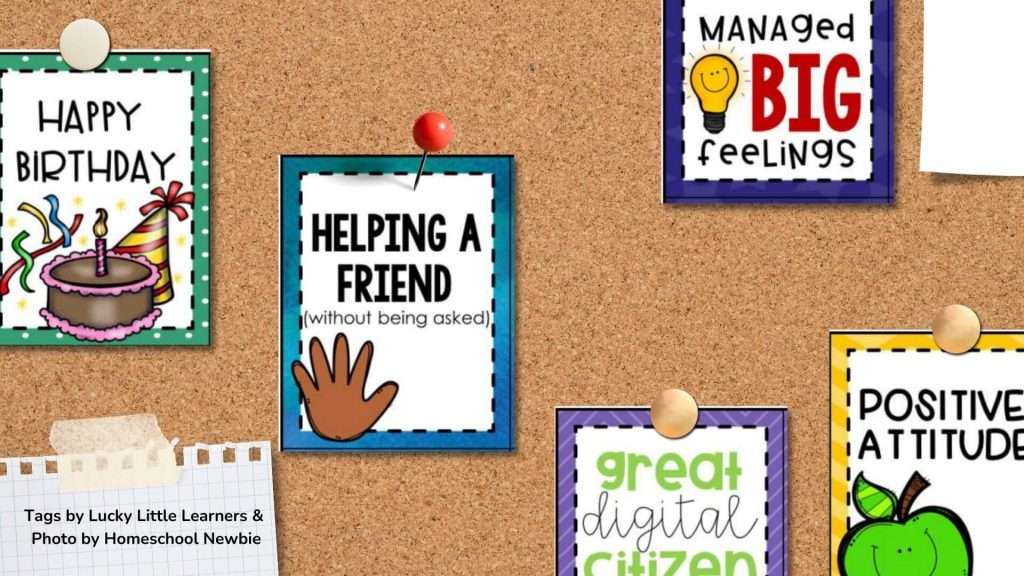 2. Brag Tag Chains:
Craft Brag Tag chains by stringing tags onto a necklace chain or a piece of twine. Hang these chains around your child's workspace, allowing them to admire their accomplishments as they learn. The physical presence of the Brag Tags becomes a source of motivation and pride.
3. Brag Tag Book or Scrapbook:
Capture memories and milestones in a Brag Tag scrapbook. Create pages for different categories of accomplishments and include pictures, drawings, or notes related to each tag. This personalized keepsake serves as a visual diary of your child's progress and learning adventures.
4. Brag Tag Gallery Wall:
Turn a wall in your homeschooling space into a Brag Tag gallery. Use frames or clips to display tags, arranging them in an artistic and visually appealing manner. This gallery wall becomes a constant reminder of your child's growth and a source of inspiration.
5. Interactive Brag Tag Chart:
Design an interactive chart where your child can place Brag Tags as they earn them. Use a poster board, a corkboard, or a magnetic board and create spaces for each tag. Your child can proudly affix the tags themselves, actively participating in their journey of achievement.
6. Mobile or Hanging Display:
Craft a mobile or hanging display using strings, hangers, and Brag Tags. Hang it near a window or in a prominent area, allowing the Brag Tags to catch the light and attention. This dynamic display adds movement and visual interest to your homeschooling space.
7. Brag Tag Jar or Container:
Keep Brag Tags in a jar or container on your child's desk. Each time they earn a tag, they can add it to the collection. The growing pile of tags serves as a tangible representation of their efforts and accomplishments.
8. Brag Tag Necklaces:
Encourage your child to wear their earned Brag Tags as necklaces. This mobile display lets them carry their achievements with them and serves as a conversation starter, allowing them to share their learning accomplishments with family and friends.
9. Brag Tag Bulletin Board:
Set up a bulletin board solely dedicated to Brag Tags. Pin the tags on the board, creating a colorful and dynamic display that highlights your child's progress and achievements.
How to Store Brag Tags
As your collection of Brag Tags grows, it's essential to have a reliable and organized storage solution that keeps your child's accomplishments safe and easily accessible.
Below are some Brag Tag storage ideas or helping you stay organized. You can use these for storing brag tags before or after your child earns them.
Brag Tag Binder: Use a binder with sheet protectors or clear pockets to create a Brag Tag binder. Organize the tags by category or date earned, making it easy to flip through and reminisce about your child's achievements.
Brag Tag Box: Get a decorative box or container to store your Brag Tags. You can label the box with different categories or use dividers to separate the tags. This method keeps the tags organized and protects them from dust and damage.
Accordion File: An accordion-style file with multiple sections is an excellent option for storing Brag Tags. Each section can be designated for a different type of accomplishment, allowing for easy access and organization.
Photo Album: Repurpose a photo album with clear sleeves to create a Brag Tag album. Slide the tags into the sleeves and label each page with the achievement. This approach turns the storage into a visual showcase.
Hanging Storage: Use a hanging storage solution with pockets to keep your Brag Tags organized. Hang it on a wall or the back of a door, making it both functional and decorative.
Drawer Dividers: If you have a drawer to spare, consider using drawer dividers to create sections for your Brag Tags. This method is neat, compact, and easily accessible.
Binder Rings: Thread your Brag Tags onto binder rings and hang them on a hook or in a closet. This method allows you to flip through the tags like a mini book and showcase them whenever you'd like.
Clipboard Display: Attach binder clips to a clipboard and clip the Brag Tags onto it. Hang the clipboard on the wall, creating an ever-changing display of your child's accomplishments.
File Folder System: Create a file folder system for your Brag Tags, where each folder represents a different category or achievement. Store the folders in a filing cabinet or a dedicated box.
Digital Album: If you prefer a digital approach, create a digital photo album on your computer or device to store pictures of the Brag Tags. This way, you can easily access and share your child's achievements digitally.
Conclusion: Brag Tags
I hope this article helped inspire you in the world of brag tags. By incorporating brag tags into your homeschool or classroom, you're nurturing a culture of enthusiasm and personal development that goes beyond the allure of material incentives.
What's Next?
Want to dive deeper into the world of Brag Tags? Check out the Lucky Little Learners membership where they have a library of brag tags that you can print out for your kids. Use my affiliate coupon code TORI10 to save 10%.
Read Next: Homeschool Reward System Ideas and How to Make Yours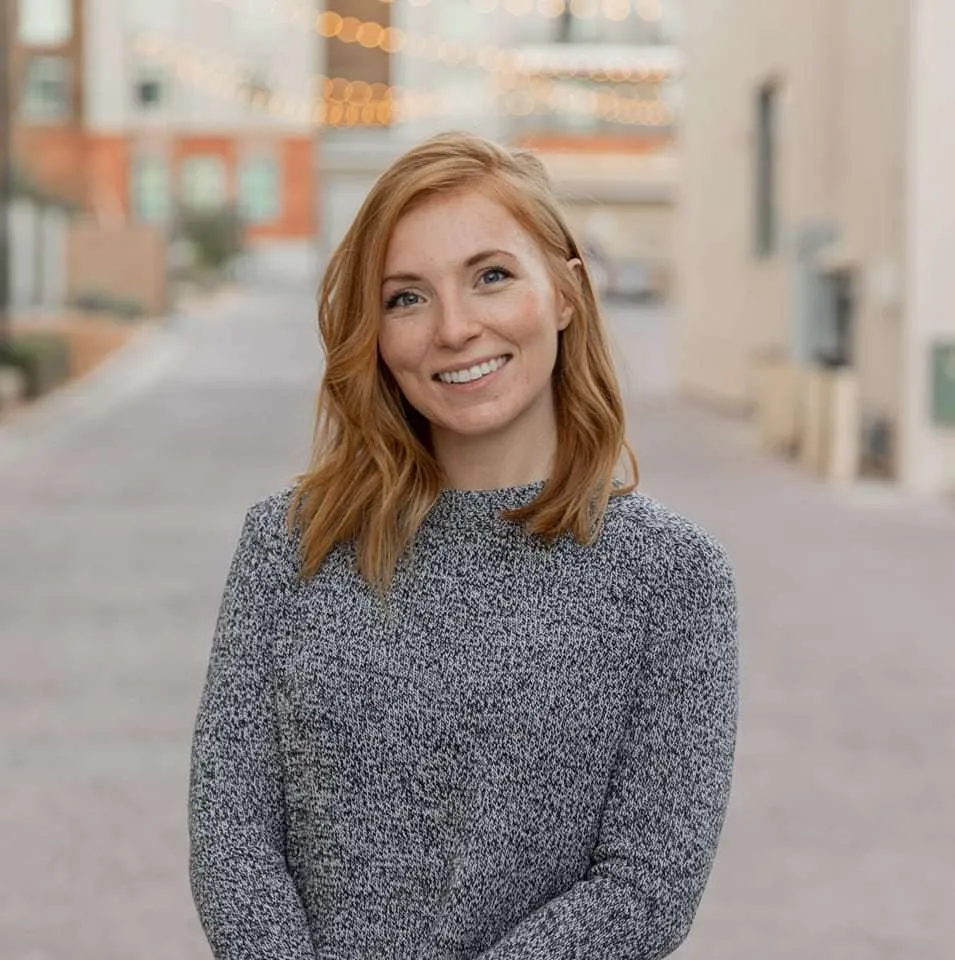 Hi, I'm Tori! I'm the founder of homeschoolnewbie.com. I'm a former elementary school teacher turned homeschool mama who has a passion for home education! I have 10+ years of experience working with children in all kinds of educational settings. As a new homeschooling parent, my mission is to navigate the world of homeschooling and share with you the best home education practices. If you want to learn more about me, check out my about page. See you there!